THE ELECTRO WADING STAFF IS HERE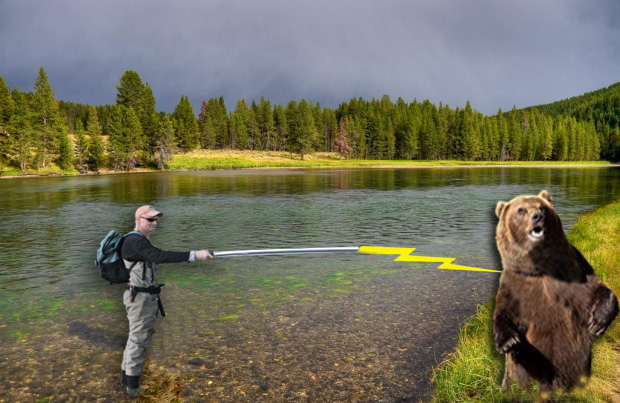 Does the added stability of a wading staff appeal to you? Do marauding bears sometimes ruin your fishing day by mauling you?
I think we can all answer yes to these two questions. Now we have just the product to solve these two inter related problems.
THE ELECTRO-WADING STAFF!

How it works: Simply slip on the backpack loaded with three full size car batteries. Attach the wires connecting the batteries to the staff and you are ready to fish in bear country. When that 800lb bruin gets a little too close send him a non-lethal but memorable message. Make sure to switch the power off before using the staff in water.

HELP WANTED
PRODUCT TESTER

The successful applicant will be willing to venture into remote areas of Alaska to test a new ground breaking product. Must be comfortable with electricity, able to wear a 190lb backpack all day, and have a can-do attitude. Lack of fear of bears is helpful.

Compensation is meager.
Workers compensation is not available.

INTRODUCING THE LEAF-DICATOR!
The Leaf-Dicator: Feel the Excitement.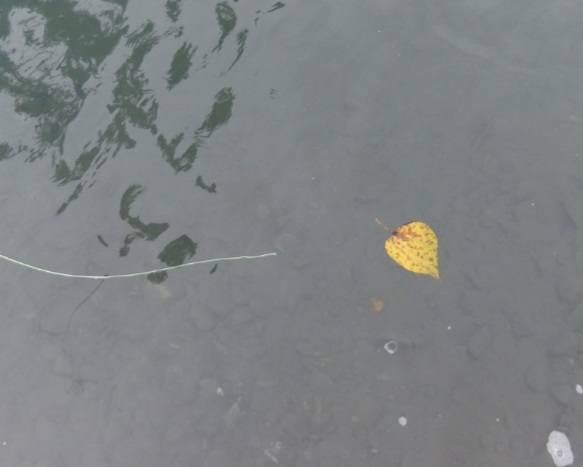 Do you look for every advantage when you fish?
Are the fish in your area ultra-spooky?
Do you brag about fishing without a strike indicator but secretly wish you had one?
Do you want to stay on the angling cutting edge?

If you answered YES (or NO) to any of these questions, you need the Leaf-Dicator in your life. When spooky fish are the order of the day and realism is a must, we think you will find the Leaf-Dicator has no equal.

Select From:
- Maple Leaf
- Alder Leaf
- Spruce Leaf (Limited Supply)
For best selection, order in the fall.

TOP WATER SCULPINS!
By Ivan "The Irish Lord" McDooley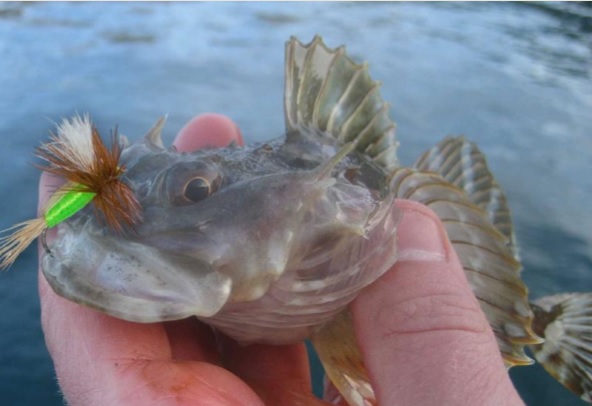 For years, this fearsome predator of the estuary has received little notice and even less respect. The saltwater sculpin (aka the Double Ugly) prowls the shallows of Alaskan saltwater beaches, looking for an easy meal. Fly anglers looking for sea run trout or salmon would all too often feel that unmistakable tug. The stripped streamer coming to a sudden stop, and the enthusiastic hook set followed by just enough resistance to get your heart rate up. But no violent head shake followed. No scorching run. Just a flat dead weight that felt kind of like foul hooking a plastic grocery bag… Bummer.

But all that changed when Alaska Fly Fishing Goods Angling Exploration team made a discovery. Sculpins are active pursuers of DRY FLIES! We all know that insects do not hatch in saltwater, but if the wind is just right to blow bugs out to sea and you happen to be standing on the beach with a 2-weight fly rod rigged with a dry fly, well then you are in for a treat.
With this exciting discovery, AFFG decided to be the FIRST in Alaska to offer fully guided trips for these denizens of the not so deep. Imagine casting a #16 Parachute Adams to these olive-backed risers as your guide prepares a delectable sculpin shore lunch. It is almost too much to think about.

Book your trip soon. Spaces are not filling up at this time but they could….



CUSTOM PRINTED BEADS

Do you sometimes take fish for granted?
Trout and steelhead give and give, but do you ever give back?
Do you lay awake at night, wondering how to say "Thank You" to our finny friends?
We have the answer for you. With Alaska Fly Fishing Goods proprietary new process, we can emboss a short message on a bead for you. Nothing shows a fish you appreciate them like a hand printed message.

Choose from:
- Be Mine
- Dollies Rule
- Call Me
- Fish Food
- Many more to come…

These beads may not hook more fish, but the fish you do hook will be happier!

50 PLACES TO DIE WHILE FLY FISHING
By Kris Santini

The NY Times calls it the "Must-Read Book of 2012"
"Gripping, Sensational Thriller will make you want to go where the action is!"
If you liked 50 Places to Fly Fish Before You Die, you will want to pick up your copy of 50 Places to Die While Fly Fishing right away. Alaska plays a major role in the page turner and we could not be more proud to be a part of it.
As an added bonus, Alaska Fly Fishing Goods has exclusive rights to book trips RIGHT NOW to these fabulous destinations. Don't miss the chapters on: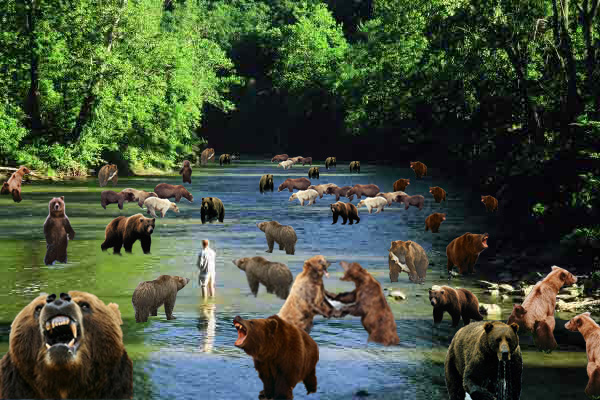 FORTRESS OF THE BEARS LODGE – Do you enjoy seeing wild brown bears in their natural habitat? You won't after your week long adventure to our newest lodge! The creek is right out the back door and it has a large salmon run. We estimate the proportion of brown bears to salmon is one to one. Wow. That is a lot of bears.

MOSQUITO GULCH – With the highest population density of biting insects in the world, this one of a kind destination had to make the list. Our week long trip combines marginal fishing and world class bug viewing.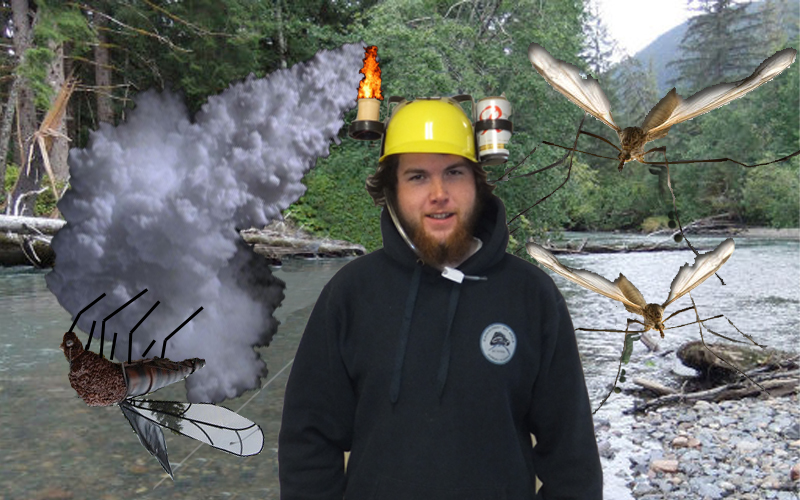 PETROLEUM FLATS – Fish the famous spot where oil was first discovered in Alaska. And through a marvel of nature, you can see where seeping oil and sandy river bottom combine to form asphalt. You will be able to say you fished on the only PAVED river in the world. Talk about easy wading! Just watch out for the bottomless oil pits. We sent a group there last summer and are expecting to hear back from them any day now...



SHISHALDIN VOLCANO CAMP – Fly fish at the foot of an active volcano. And when we say active, we don't mean maybe. We guarantee the mountain will be erupting while you are there! Nothing gets the bite going like the ground shaking and the water temperature going through the roof.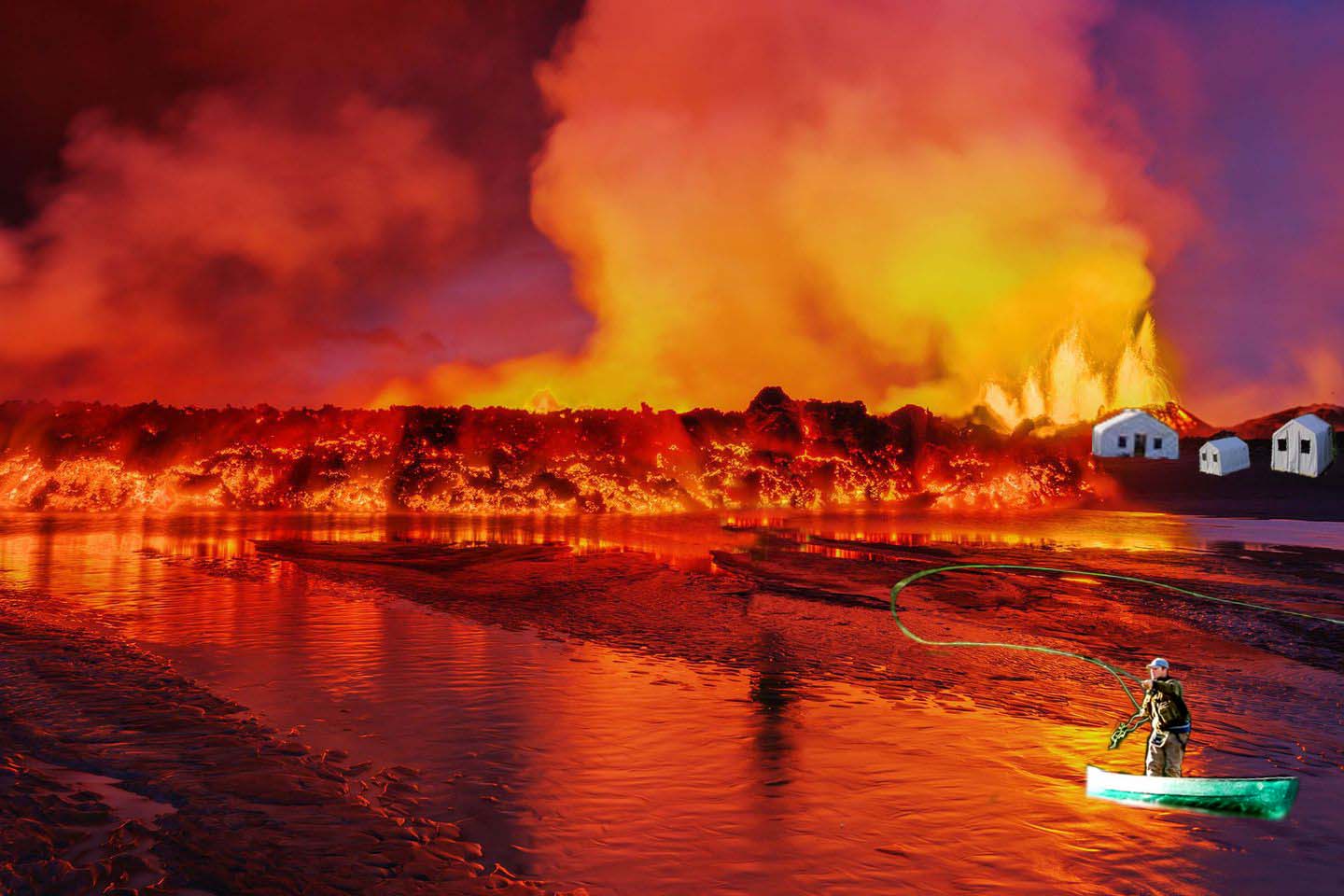 SPENARD – Enough said.