As I stepped off the plane at Anglers Alibi lodge, I was greeted as though I was an old friend returning home.

Everything about the lodge is comfortable and accommodating. From being woken up each morning with a hot cup of coffee, to the fresh towels, flushing toilets and hot showers. The food is impeccable (you may just gain 10 pounds in a week) and the wine and beer is always flowing.





The Alagnak River is located 23 miles north of King Salmon, Alaska. To explain it on a greater scale, King Salmon is about 290 miles southwest of Anchorage, in the Bristol Bay region. The river itself is about 76 miles long, while the Anglers Alibi lodge sits about 8 miles from tide water. Further up the river, the Alagnak flows into a variety of braids often where you can find spawning chum and loads and loads of Grayling, Rainbows and Char.

Depending on what week you arrive, you could spend your days chasing sockeye, king, chum, silver or pink salmon. While at Anglers Alibi, you also have the option of a fly out fishing trip to target trout in surrounding creeks, head to Brooks falls to watch bears, or take a rip in the jet boat up to the Alagnak River braids.





Most of my mornings were spent either pitching gear or flies to kings cruising up river, while the afternoons were spent working on my two-handed rod casting abilities and fighting feisty chums. Now, I have to be honest here... coming from Southeast Alaska, I didn't think too highly of the Chum salmon. In Juneau, the chum fight about as well as a wet door mat, doggedly holding in the current. On the Alagnak river, however, they are a completely different beast. You can throw a single hand or two-handed rod, dead drift big flashy streamers, and watch your reel scream as the fish runs repeatedly into your backing. If I didn't know any better, I would absolutely mistake the chum for a silver salmon, some were so bright I couldn't tell until they were at my feet!

Of course, I had to see the Alagnak River braids for myself. And, let's just say they did not disappoint. The area is teaming with life. From the countless eagles, osprey, brown bears and fresh sockeye we passed, to the spunky rainbows and grayling we caught, heading into the Alagnak braids is well worth the admission fee.





While at Anglers Alibi, I greatly enjoyed getting to know the guides and staff of the lodge. While not all of them call Alaska their home year-round, most of them have spent more than four years on the Alagnak working at Anglers Alibi. It is apparent that all of the crew members are there because they love fish. From the respect they show the fish, to the very helpful tips they give anglers, these guides love their days spent on the water. The crew is knowledgeable with everything from spin rods, bait casters, single hand fly rods, and two-handed rods. Myself, I came to the river with one spey lesson under my belt, and by the time I left I had caught countless chum, and a few rainbows on the set up. To experience a new river with new equipment, and not feel like you're in the dark because of greatly experienced guides is something to speak highly of.





To sum it all up, here is a list of things that I learned during my week at Anglers Alibi:

1) Chum are a very fun fish to catch on the fly, quickly becoming my target species. My best patterns being the Hot Cone Stinger Bunny,

Fish Taco

,

Wild Thing

, and

Polar Starlite Leech

.

2) King are a difficult beast to catch on the fly in the Alagnak River. Also, casting the

Fat Freddie

under a sink tip feels like you're casting a wet sock. Spin casting for kings however, I had my best king fishing days ever.

3) When you hear "that's a sexy bottom" from a guide, they are not referring to your bottom, rather the bottom of the river and that 'tick, tick, tick' you feel when your gear has a good drift.

4) Rainbows love the dolly llama and egg sucking leech. While, Grayling seem to like anything that floats on top of the water (there are some great hatches on the river).

5) Sets are free, teamwork makes a dream work, and if you pick on your guide enough they may give you a cool nickname like Princess Dances with Chum.

Would I go back? Absolutely. I am already saving for the next adventure out there…. Silvers next, maybe?

To get in contact with the folks at Anglers Alibi, visit their web page

here

.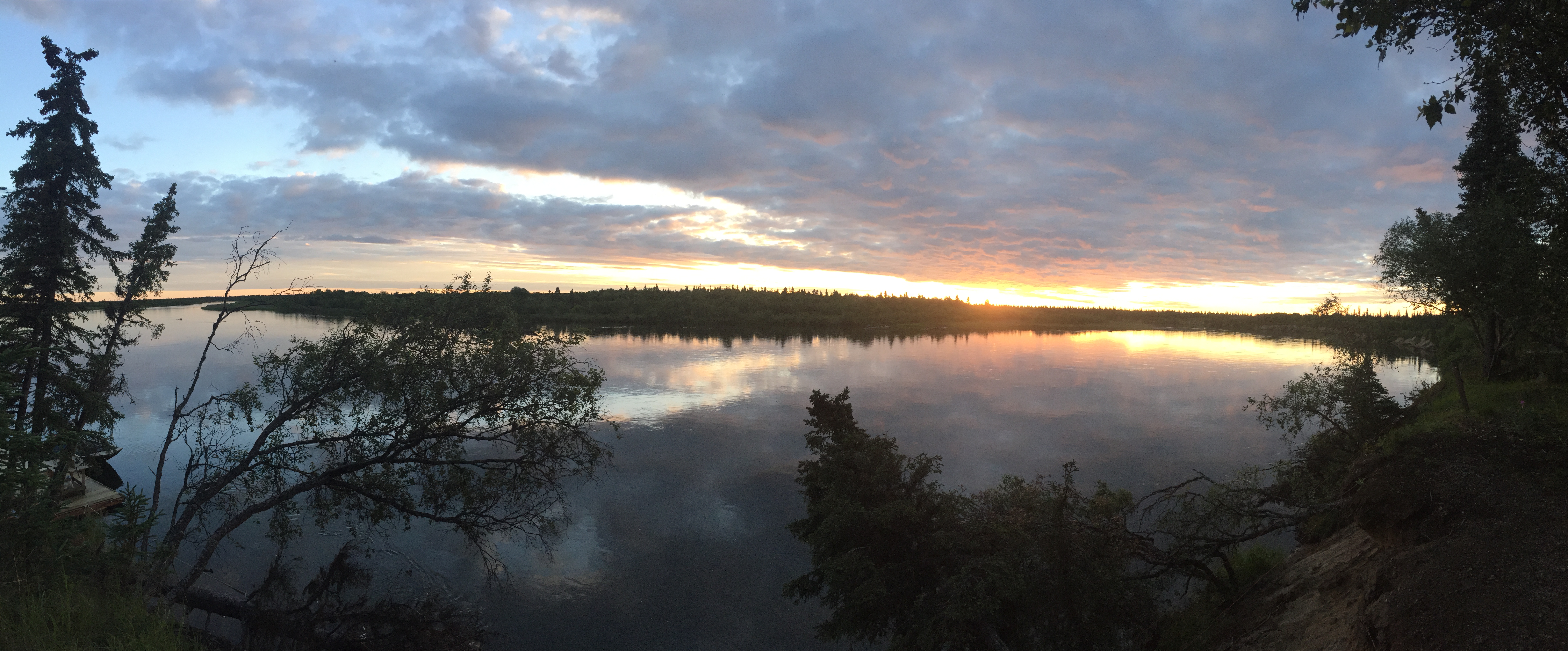 Photos by Anglers Alibi, Kayla Roys &

John Taunton-Clark (TC)