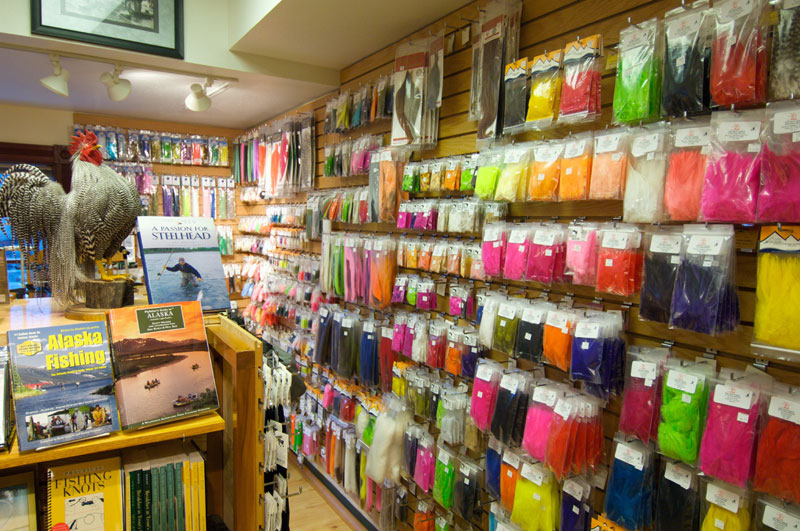 Welcome to our Juneau page.

Here you can find the lastest information on what is going on at our Juneau shop. Classes, casting nights, fly fishing club activities and community events are all listed here.
Spring Hours
Monday - Friday 10:00am - 5:30pm
Saturday - 10:00am - 5:00pm
Sunday - Closed
---
Fly Casting Lessons
Friday April 26 2019
6pm at the shop.
Our first casting class of 2019! Join us for a two hour free casting lesson. This class is geared towards beginning casters, but experienced casters are welcome as well. Bring your own rod & reel set up or borrow one of ours. Instruction will focus on building solid casting fundamentals. Dress for the weather as evenings can be cool in April.
The class is free but spaces are limited. Please RSVP at 586-1550 to reserve your spot.

Community Casting Night
Wednesday May 22nd
6-8pm at Twin Lakes
Come join Trout Unlimited, Raincountry Flyfishers and Alaska Fly Fishing Goods for our annual casting night. We'll have beginning casting lessons, a free barbeque and drinks, demo rods to cast, great camaraderie and new for this year an accuracy casting game. The casting game will have a series of hula hoops at various distances that you will try to land your fly in.

There will also be a free raffle for kids only! Kids 12 and under can enter to win one of 3 Echo Gecko kids fly rod & reel packages. A generous member of our fly fishing community has donated these outfits in the hopes of more kids taking up fly fishing.

Spey & Switch Casting Lessons with George Cook
June 8 & 9
Ready to give switch and Spey casting a try? Or do you want to take your casting up a notch? This is the event for you. George is one of the top casting instructors in the Pacific Northwest and we are super excited to have him coming to town again. He is a talented and patient instructor and everyone leaves with greater casting skills.

Spots are limited so call the shop at 586-1550 soon to reserve your spot!
---
Raincountry Fly Fishers
The Raincountry Fly Fishers are Juneau's local fly fishing club. They meet on the 2nd and 4th Wednesday of each month from February - May.
Meetings are held from 7-9 PM at the Thunder Mountain High School Library. New members are always welcome. $10 Annual Dues.
Contact Tony Soltys at tsoltys@aol.com or call 789-9159 for more information.
---
Juneau area fly fishing map
We have created two maps of fishing areas on the Juneau road system.
You can click to view either map and print them out.
To find out what areas are currently fishing well, check out the latest Juneau Fishing Report or contact us.
Map #1 shows the entire road system as well as a blow up of the Mendenhall Valley.
Map #2 has detailed maps of four local areas: Echo Cove, Fish Creek, Peterson Creek, and Sheep Creek.
Please contact us for more information (907) 586-1550.
6:00 – 8:00 pm
Hosted by Chris Orman and Kayla Roys. Maybe composite loops, maybe traditional vs. nontraditional materials, topwater flies, or dries… We haven't decided yet. This will be a more advanced instruction than the last. If you have your own vise and tools, we suggest bringing them along. Space is limited as are tools. All materials will be provided.