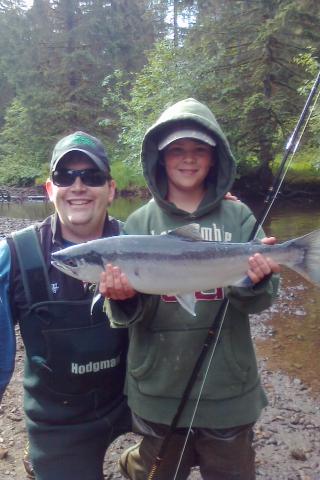 Windfall Sockeye lead off our report this week. Check out the chromer that 10 year old Mikel beached last week. Nice going, Mikel! The fishing has been consistently good for sockeye this June. A very strong run of fish, decent water levels, and good chunks of time when the bite has been on. Along with the usual Green Lanterns and Red Hots, a few new flies have been kicking butt. Sockeye Lightnings in Chartreuse and Copper Swans in Red and Copper Swans in Silver have been getting the job done. Only two days left, this Saturday June 26 and next Wednesday June 29, and then Windfall Creek is closed to ALL fishing for the rest of June and all of July. Gotta let the rest of the sockeye get through so they can go make more!
King fishing is at its peak this week. Lots of bright fish coming in and quite a few jacks, too. Since Fish Creek and the Channel are in the terminal area, there is no size limit so feel free to keep those small kings, too. Last week Chartreuse was the hot color and this week it seems like Pink is back in the lead. Along with the usual steady strip retrieve, try swinging the fly in the current with no retrieve. They have been crushing the swing. Just have a good grip on your rod because the take is jolting.
Cowee Creek is starting to fish well for Dollies and will just keep getting better as we roll into July. The first pink salmon are out in Echo Cove off the beaches, too. Look for the rollers and have plenty of Humpy Hookers in your box.
See you out there. Brad