July is here and so are the Pinks and Chum!  What does this mean for you Juneau and South East anglers?  Well it means that there are a lot of fish to be caught! Echo Cove is loaded with the annual return of a billion pinks, and being that it is an odd year, it might  mean 10 billion.  Anglers are already reporting a lot of chrome Pinks falling for the ever famous pink fly, the Humpy Hooker.  Want a little more of a challenge, try throwing some dry flies: Popper Wogs, Puget Sounds Sliders and the Kiss of Death. A lot of Chums are in Amalga Harbor and along the beach at the Shrine of St. Theresa.  Humpy Hookers, Krillers and Neon Shrimp in hot pink can be the ticket for the finicky canine toothed beasts.  Try a long slow retrieve if the Chum aren't going for the regular strip retrieve.
Those of you looking to fish moving water, look to fish the pools and runs for both Pinks and Chums . Pink or purple Egg Sucking Leeches and Starlite Leeches are often the fly of choice.  Try short erratic strips for Pinks and try either dead drifting or a slow swing to get the Chum. These guys can be a blast right now as they are just arriving from the salt.
There are still a few hatchery Kings around, but the bite has slowed down a lot since last week.  Fish Creek is probably the best bet.  Try hitting it one hour after the high.  Big pink streamers can still produce, but also try darker patterns like black/blue or black/red streamers.  The Jumbo Critter can be a good fly in the darker colors.  These can entice some of the more weary fish.
Sockeye fishing is now CLOSED for the year at Windfall Creek.  The next Sockeye fishery is down at Sweetheart Creek, but be ready for crowds and bears.  Other Sockeye fisheries should be happening now too.  A little research can help find other fisheries like that off of the Haines road system.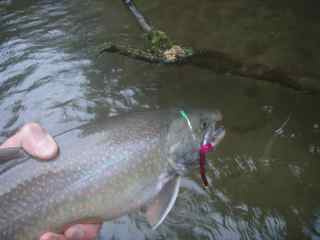 Dollies and Cutthroat have been transitioning back into the freshwater for the last couple of weeks.  If these fish haven't started feeding on eggs already, they soon will be, as the spawn isn't far off.  Clouser Minnows, BH Buggers and other small bait fish looking patterns can work.  If these aren't doing the trick, then it is time to start dead drifting egg patterns or beads.   Want to knowmore about beads?  Check out the Beads 101 article on our website.                               
We hope every one has a GREAT 4th OF JULY weekend.  Have fun and be safe.
Tight Lines,
Brad, Mike, Cory and Chaz.