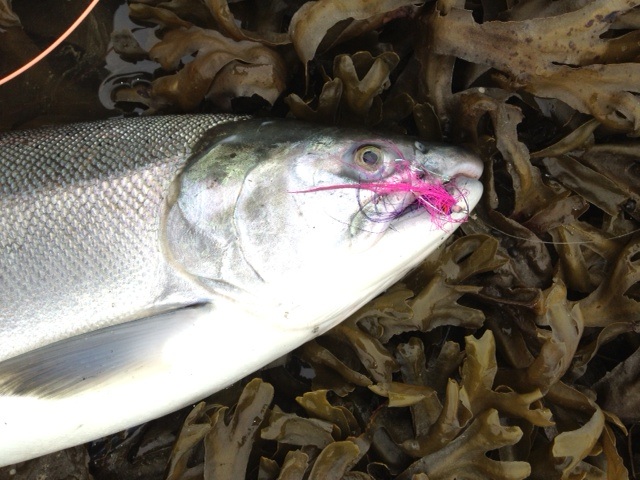 Rain heavy at times…periods of sun…and so fall has sprung! Silvers are in and we are experiencing true SE Alaska Fall weather. When the weather, water clarity and tides permit, the channel has been producing well. Standard flies like Clouser Minnows, Half n' Half Deceivers and Polar Starlite Leeches are all working. Black & White has been a sleeper color of late that should be in your fly box. When the water is off color, try S&B String Leeches in White or Party Girls in White.
Montana and Cowee Creek have been bouncing between too high and too low over the last few weeks. The best time to hit these streams is when the water is just coming up or when it is receding following a heavy rain. Typically a floating line with a long leader and heavy pattern like the Jig Spanker will be the ticket. If fishing during high water, try any holding water, back channels or sloughs with a fast sink tip line and white leech pattern. The Rio Streamer Tip fly line is perfect as it has a 10 foot super fast sink tip. You can still mend it easily and it gets down quick in those small holding areas. S&B's Super String Leech, Dolly Llamas and Strip Teases in White and Black & White are good fly choices as they put off a large profile and stand out in murky water.
Dolly and trout fishing is fair to good. Beads and egg patterns are becoming less effective as there are less and less spawning pinks. But do not count them out as good "dead" eggs are still floating around and can entice a hungry fish. When fishing around deeper pools and log jams, try fishing small flesh patterns in white, cream or washed flesh. Battle Creek Specials, Twofers and Two Egg Omelets are all good bets. The high water can kick up a lot of flesh from the spawned out carcasses which creates a good amount of late season food.
The fishing season is in the final stretches. Now is the time to get out and get your fish on!!