Big & Bright!
Coho fishing continues to crank up around the Juneau area. Last weekend's huge tides are over and they definitely pushed more fish into Gastineau Channel as well as up our local creeks. This coming week the tide swings are much smaller and the fishing will be substantially easier. Less water moving means that the fish linger more, stay in the shallow parts of the channel even during the low and there is less seaweed and debris in the water. All around a good situation.
To start off, Sheep Creek saw a huge surge in coho numbers starting Tuesday. Big schools of fish are cruising from the cove near the creek mouth all the way around to the old Thane Ore House site. The whole beach area is productive so there is no need to elbow in amongst a big group of anglers. Find a spot you like and fish it. That being said, numerous spots along Thane Road area are also fishing well. Check out some of the pull outs along the road before you get to Sheep Creek. Regarding the best tide to fish, pretty much any tide is good. Of course the action dies off at dead low and the top of the high tide, but the drop and the flood are both producing fish. Don't over think it. When you have some time, get out and give it a go.
Hot flies have not changed much since last week. Dolly Llamas in Black/White #2 and Pink/Purple #2 are leading the charge. Mr. Bodangles in Chartreuse/White has been good as well.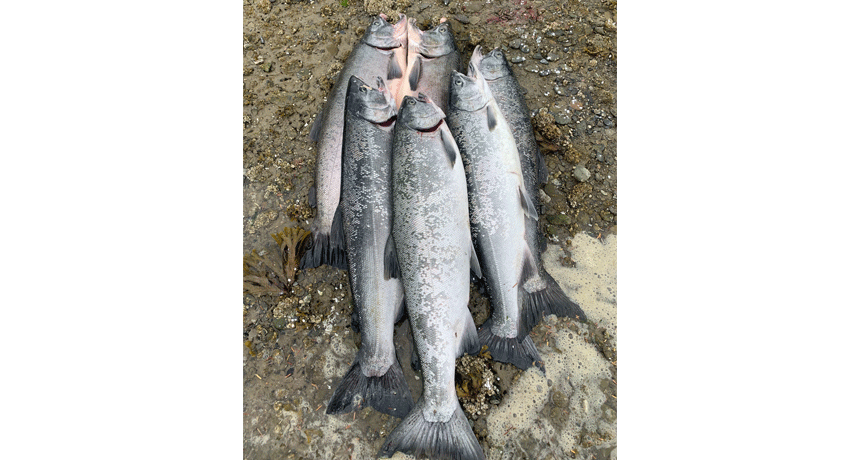 Limit of Big Coho from Tuesday
The Channel around 9 Mile and 5 Mile is looking good as well. With smaller tides it is easier to get out and hit these spots. Look for jumpers and rollers and position yourself accordingly. Water clarity at both spots is very good now.
Wild coho are pushing into Montana and Cowee as well. Cowee seems to be the more productive of the two. It has better water flows and coho are up past the bridge already. Note that there are still sizable numbers of spawning pinks in Cowee and even a few old chum. This means Dolly fishing is still in the cards if you are so inclined.
Finally this week, an often overlooked species on the fly is dungeness crab. We have heard reports of crab being landed off local beaches on the fly. Or actually the fly line......If you are interested in pursuing this challenging species, we have an expert in the shop who can give you some tips! Enjoy the weekend and we'll see you out there.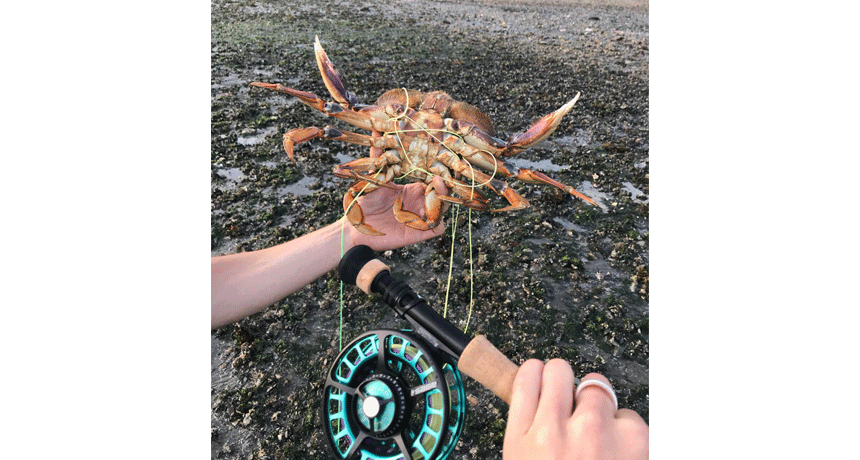 Well played......