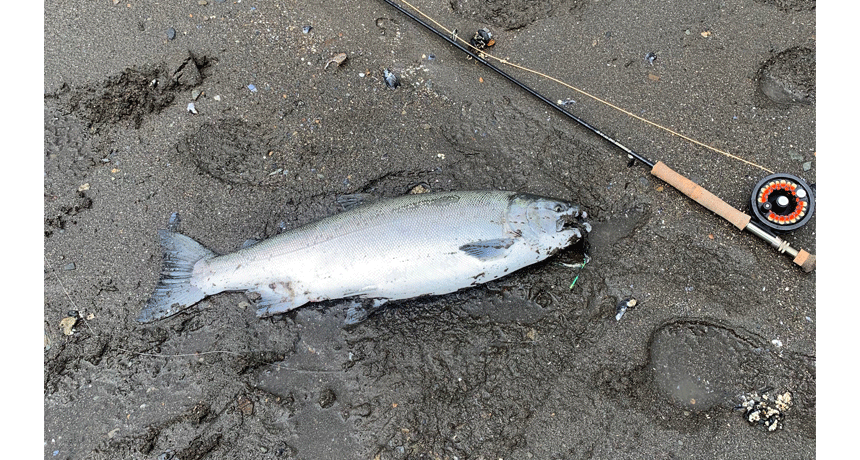 Late September Sheep Creek Coho
You can feel it in the air. The day time temps are cooler, the wetlands are changing color, and there is even termination dust on some of the peaks around town. Along with the shift in seasons the coho season is transitioning too. Non-stop rain the past week kept almost everything unfishable except Sheep Creek and parts of Thane Road. Sheep Creek was very good last weekend with just about everyone catching at least a fish or two and quite a few limits on the beach as well. Coho were jumping everywhere and many of them were right up on the beach.

Termination Dust on Ridge Line
However, the last few days the jumpers have been much fewer and some of the coho seem to have moved up the channel. Big rains are often a signal to coho to move and most Sheep Creek coho are destined to end up at the DIPAC Hatchery at some point. Water clarity around Sheep Creek has improved and compared to the rest of the Channel it is excellent. Salmon Creek, 5 Mile and 9 Mile are all still pretty muddy.
This coming weekend looks to be dry and a couple of rain-free days combined with tide changes should help clear out the muddy water. Of course, Sheep Creek is the most promising spot to try. But keep your eye on the rest of the Channel too. Hopefully after it clears up a bit there will still be coho there to catch.
Area rivers that were at flood stage will drop back into shape soon, too. Cold nights are a quick way to drop river levels. As Cowee Creek and Montana Creek clear up there are sure to be fish in them. Take note that these up river fish can get very sulky when the water is clear and low.
As coho get further into their spawning run, they prefer darker flies. Dolly Llamas in Black/White, Black/Black and Black/Purple are solid choices. As are Clouser Minnows #2 in Black/White and UV Polar Starlite Leeches in Black/Pink. If you are freshwater fishing smaller flies are often more effective. UV Hareball Leeches in Purple or Black are good patterns.
Get out there and give it a go as we may not have many days left this fishing season! It has been a great coho year and don't pass up the chance to put a bend in your rod before it all wraps up. See you on the water!