The Silver salmon continue to pour into town with each incoming tide. From Sheep Creek to Fish Creek, the Gastineau Channel has been lit up with silvers this year! As most of you know, the daily bag limit on terminal hatchery silvers is 12 fish per person, per day. And, we have seen photos of people hitting those limits!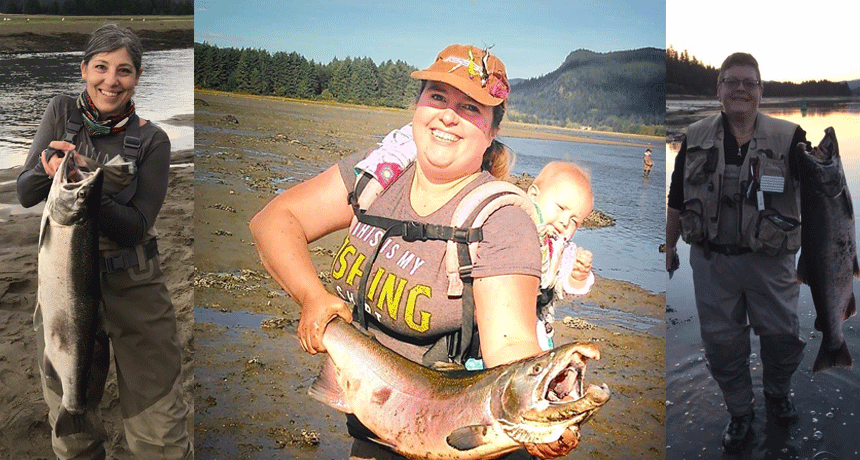 Can we say... *girl power!!* From left, Theresa Miller with her first silver of the season, Mara Jennings with daughter Bianka on her back, and Michelle Prebula with her first silver ever on the fly.
We really don't have a bunch of new intel to report from last weeks report other than the fact that although there are so many fish out there, at times they can be very tight-jawed. Give it a bit of time and patience and you will in deed find a Silver willing to play ball.
The Thane and Sheep Creek area are still fishing fantastically. Chartreuse is hot color in that part of town. Try throwing flies like the Dolly Llama, and Megawatt. Bracketing either a high outgoing, high incoming, or whenever you can make it out seems to be the name of the game.
The Mouth of Salmon Creek has also continued to be productive for anglers this week. Bracketing lower tides, these fish push up to the shoreline and have been actively eating both pink and chartreuse flies. Our favorite flies here are the Clouser Minnow, Alaskan STS Leech, and Starlite Leech.
The Free Candy and 5 Mile areas have begun to fish better this week with the movement of new returning fish. These destinations fish best at lower tides, so try bracketing an outgoing or incoming from low. Smaller patterns like the Deep Six, Polar Starlite Leech, and Hot Shot Comet.
The 9 mile and Bayview area has also been fire this week. Pink seems to be the go to color for these spots, but tutti fruiti has been working well too. Try throwing a variety of Half and Half, Clousers, Deep Six and Flash Flies. Focus on bracketing an incoming or outgoing tide, and keep your bearings on how far you have to walk out as the tide starts pushing in… Nobody wants to have to swim back from a sand bar!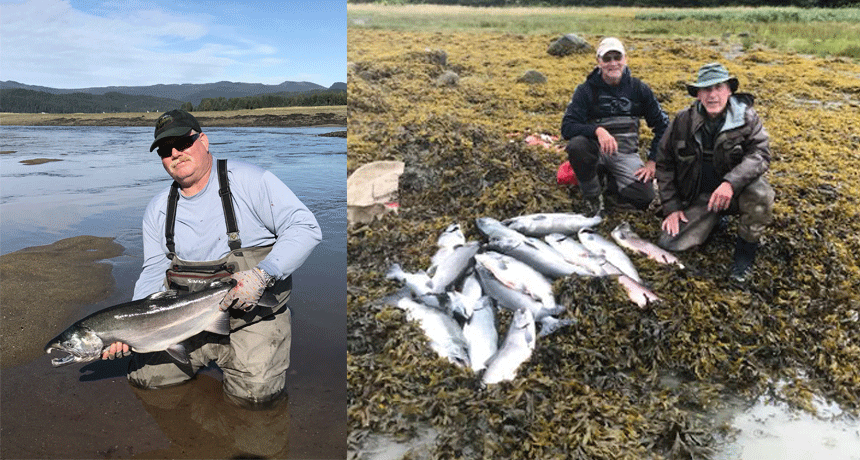 Another hatchery harvest! From left, Troy Guise with a chrome silver. Darrell Marsolais and Oly Welke with (close to)hatchery limits.
And, a note to all customers; This Sunday will be the LAST Sunday we are open for the fishing season. Starting Monday, September 24th, the shop will be open Monday – Friday 9am-6pm, Saturday 10-5.
Keep sending your fish pictures to Kayla@alaskaflyfishinggoods.com, we love to see them!
Happy Fishing!