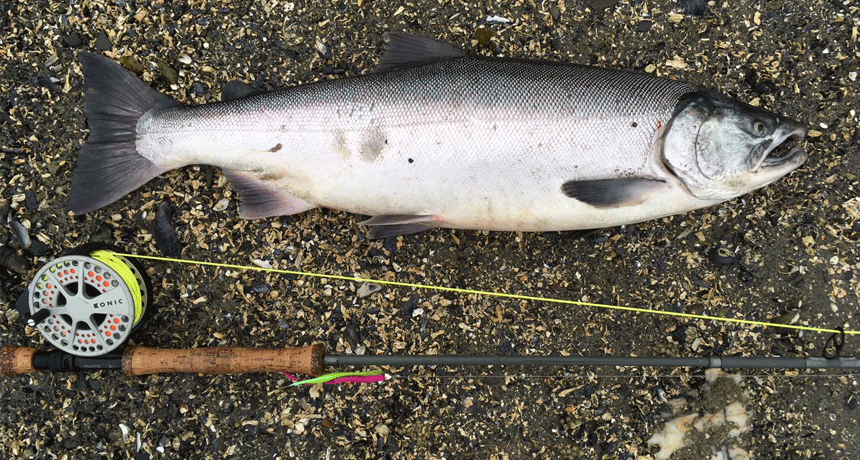 First Juneau Coho caught in the Channel by Rocky Estrada. Well, we sure have had a lot of rain the last few days… That means that most of the creeks are blown out with mud and high waters. Not good for fishing today, but this weekend it should make for some good fishing around the area! With creek levels dropping, and high water flushing dead fish out, the creeks should be in pristine condition.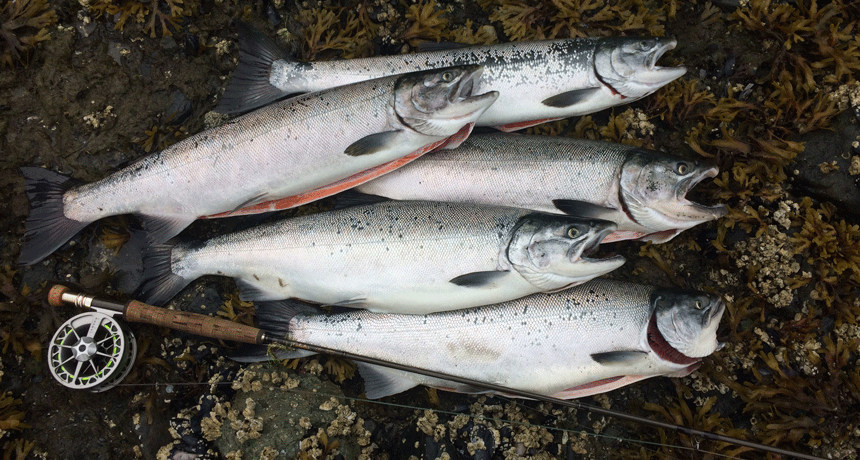 Not quite off the road system, but close enough to get our hopes up for a solid Coho season! Caught by Seth Bader and friends.
As we begin the first week of August, we hear a lot of questions about where the Silvers are... And, good news… They have begun to trickle into town already! Good places to go hunt for an early season silver is around the mouth of Sheep Creek, Salmon Creek, and Auke Creek. As the Coho begin to cruise towards the Macaulay Salmon Hatchery, we should begin to see them more in places like 5 mile, 9 mile, and under the Douglas Bridge. Flies to try and target these early Coho are Clouser Minnow- Chartreuse/White, Pink/White, Tutti Fruiti, Purple/Pink and Chartreuse/Yellow. Half n' Half in Chartreuse/White or Pink/White, Mr. Bodangles in Pink, Chartreuse are also good flies to have in the arsenal.
The Pink Salmon are few and far between, but if you choose to hunt down one of these illusive salmon, they have been caught around Cowee Creek and the sand spit at Echo Cove as well as the mouth of Fish Creek. Try flies like the Humpy Hooker, Searunner Special, Deep Six- Pink, and L.E. Egg Sucking Leech- Pink.
The Dolly Varden fishing continues to be in full swing in the freshwater creeks around the area. Sheep, Salmon, Montana, and Cowee Creek continue to be strong fisheries as the Chum in the area are in full spawn and now beginning to die off. Try drifting egg like patterns like the Glo Bug- Peachy King, B.H. Gorman Egg- Pink, Fish Emission Egg- Pink, Orange, and Salmon Egg. If you are bead fishing, try alternating 8mm and 10mm beads, drifting them in pockets behind the spawning salmon. As the dead Chum begin to leave the creeks more and more, flesh patterns come into play. If you are fishing around log jams, stumps and deeper pools, you can try fishing Egg Sucking Leech- White/Pearl, B.H. Bugger- White, Twofer-Flesh, Battle Creeks and mini Dolly Llamas.
As always, we'd love to see your fishing photos, and hear your fish stories.
Send photos and stories to:
Photos@alaskaflyfishinggoods.com
Instagram: @alaskaflyfishinggoods
Facebook: www.facebook.com/AKFlyFishingGds/
#alaskaflyfishinggoods
Happy Fishing!