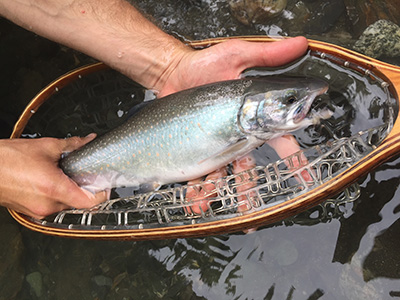 As the season progresses, the fishing just continues to heat up... The Pink and Chum have pushed up into the creeks and into their spawning grounds and they have begun to drop eggs like crazy. The Dolly Varden are sitting behind the spawning salmon and gorging themselves on eggs, which means fantastic bead and egg pattern fishing! Just about all the creeks around town have been hot, remember at Sheep Creek to bracket the low tide so that you actually have fishable creek area. Try beads in the 8mm and 10mm variety in peachy colors such as peachy king, peach roe, mango, and orange clear. If you are using Glo Bug's we suggest the Peachy King or Illiamma Pink. Drift these beads/flies in pockets and pools behind said spawning salmon and you are almost guaranteed to pick up a few hungry trout. Last year about this time, we posted a short video on bead and streamer fishing in tight places, now is a great time to revisit that video, you can do so here.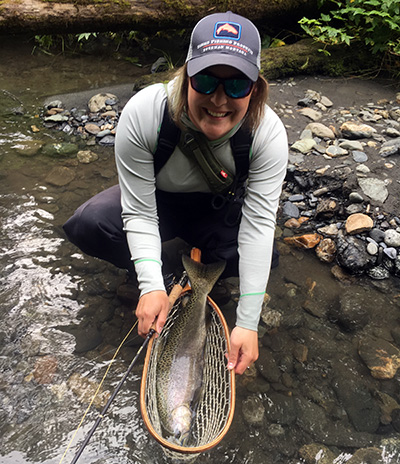 On the salmon front, it is officially a pink year. Although they are beginning to turn, you can still find schools of pinks milling around the Echo Cove and the Shrine area. Last year, we saw a few of the first coho's caught off the road system in mid-August, so we are getting closer! Really, we never really know when the fishing gets good until one of you anglers gets out there and catches one (so get out there)! Early places to go on the search for a silver would be the channel around 5 mile, 9 mile, and Sheep Creek. If it were us, we'd try the Clouser Minnow in Chartreuse/White, or Pink/White or the Dolly Llama for those early silvers.
And, apparently there are still a few kings milling around the Juneau road system....
Should we do another hat contest for the first coho fly caught on the fly in Juneau? Let's do it! First person who can send us a photo of themselves, with a 2017 Juneau road system silver, fly caught, wins a hat of their choice from the shop! Photos must be sent to Kayla at: kayla@alaskaflyfishinggoods.com.

* Heads up: Mike will be leading a Intro to Fly Casting Lesson Friday - August 4th from 6:00-8:00pm *
We would love to see our fishing reports in action, and what you've been catching!
Send fish photos to:
Photos@alaskaflyfishinggoods.com
Instagram: @alaskaflyfishinggoods
Facebook: www.facebook.com/AKFlyFishingGds/
#alaskaflyfishinggoods