When it's hot!
Our rainy stretch last weekend definitely helped the fishing this week. The rivers came up, cleared out some of the old pinks and chums, encouraged the coho to start pushing in, and generally gave us a nice little taste of fall. Sheep Creek and Thane Road continue to be the coho hot spot.
Schools of fish coming through has been the name of the game. It will be dead for several hours and then suddenly they arrive and the catching begins. When the bite is on get your fly in the water! Dolly Llamas in Black & White #2 have been the #1 fly since last weekend. Pink & White #2's are still good, but not as hot as they were before. Pink & Purple #2's are also fishing quite well.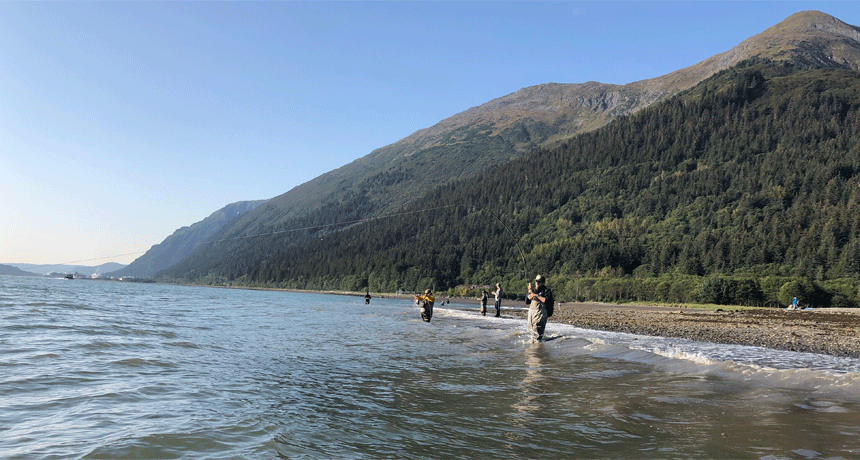 Beach anglers hooking up!
If Dolly Llamas aren't your favorite, Clouser Minnows, Dirk Wigglers and S.T.S Leeches have all accounted for fish on the beach.
Aside from Sheep Creek, other spots have produced some nice fish. North Douglas around 9 Mile was quite good until the rains blew it out. It has cleared again now and the big tides this weekend should replenish the fish. 5 Mile was muddy for the last week so it never got fished. As it clears up it will be a good spot to investigate.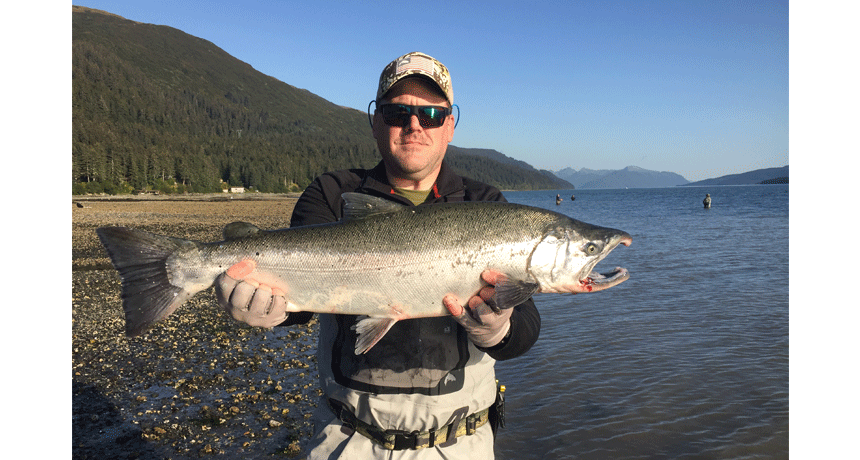 Rich with a dime bright coho.
Montana Creek has dropped quickly and a few coho are around but not many. Cowee Creek was producing some fish as well right up to the big rains. If at all possible, we encourage you to release the wild fish in the creeks and keep the hatchery coho from the channel.
The tides this weekend are really big. Like 22 foot tide swing big.......which should flush more fish into fly range. The North Douglas end of the channel can be a challenge to fish when the tides are this huge as the fish blow by in a hurry. Make sure you have a good exit strategy so you don't get caught by the incoming tide!
FYI, the shop will be open this weekend as well as Labor Day. Enjoy the long holiday weekend and we'll see you on the water!