Well, we will keep this short and sweet this week. The Silvers are in. Early. Strong. Big.

Mike Cole with a bright buck picked up out Thane on a Pink/White Dolly Llama.
These hatchery fish are big, feisty, and eager to eat a fly this year compared to others. Most productive spots have been the Thane and Sheep Creek areas, bracketing either the high or low tides. The fish don't seem to mind a tide, as they are schooling around. But, they do like movement in the water… so, you will see it slow down between high slack and low slack, and pick back up as the tide swings. No surprise that the Dolly Llama in Black and White has been the most productive fly of the season. If you're looking for something a little lighter (easier to cast) try the Clouser Minnow, Deep Six, or Alaska STS Leech.
You can try to either dead drift your fly in the current, or strip it back to you. If you see rolling or jumping fish, cast to them!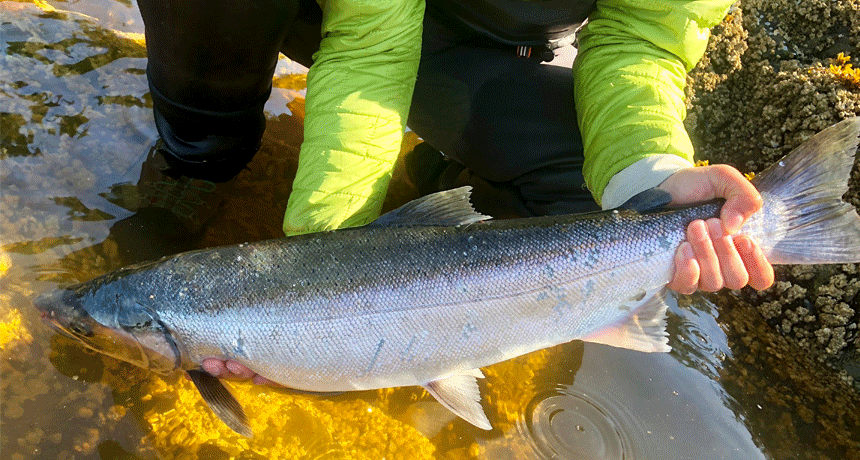 Bright female silver caught by Kayla Roys on the Alaskan STS Leech.
As far as other species off the Juneau road system go, the Dolly fishing has slowed down, but you can still find some cruising around Cowee and Montana Creek. With the Chum and Pink spawn winding down, they are feeding on a variety of attractor patterns as well as beads, egg patterns and small flesh patterns like the Twofer and Mini Llama.
For now, the shop is still open 7 days a week, so if you need help gearing up for coho's, swing on through!
As always, we'd love to see your fishing photos, and hear your fish stories.
Send photos and stories to:
Photos@alaskaflyfishinggoods.com
Instagram: @alaskaflyfishinggoods
Facebook: www.facebook.com/AKFlyFishingGds/
#alaskaflyfishinggoods
Happy Fishing!