This report is lucky #13 of the season! And, you know what… The fishing continues to hold strong and productive for us anglers.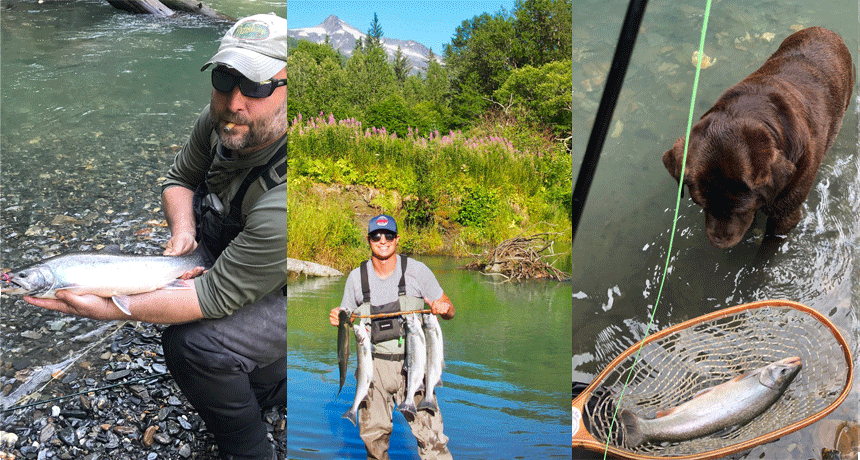 From Left: Matt Roys with a hungry Dolly Varden caught on a streamer. Josh Fleetwood with dine bright Pink salmon headed for the smoker. Fly shop dog Lego making new Finny Friends.
The Chum fishing season is beginning to slow, after a strong show early on. The chum that are high in the creeks now are pretty well into their spawning season although feisty chums are still being caught at the mouth of Montana Creek, Peterson Creek and Sheep Creek. With rain in the forecast, it would not be surprising to see a fresher batch of fish push into the creeks for a second wave of spawning. For now, if you wish to target chum, head to the mouth of the creeks and throw chartreuse or pink colored patterns such as the Dolly Llama #6, Starlite Leech, UV Calamari, or the Clouser Minnow.
As for the Pink salmon, the fishing has continued to be spotty, but a few can be found around the Echo Cove and Cowee Creek area. Low tides at Echo Cove are the easiest times to target these salmon, by walking out to the sand spit, or fishing along the sides of the cove. Cowee has been a fairly productive fishery, as long as you're the first to hit the holes. Try using pink flies such as the Humpy Hooker, Sea runner Special, Karluk Shrimp, and Dolly Llama.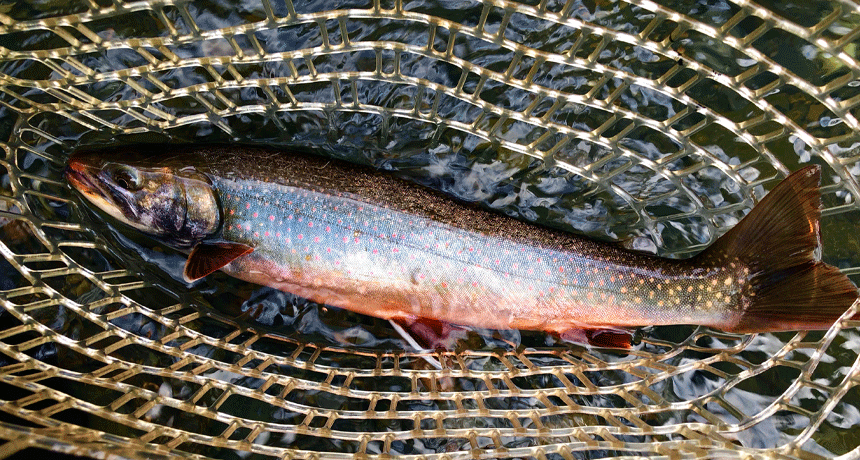 Dolly Varden beginning to show his fall colors off, caught by Kayla Roys.
The Dolly Varden fishing has continued to move forward full steam ahead. Now, with a full transition into freshwater, you can find Dollies hiding in pockets behind spawning salmon in Sheep, Salmon, Montana and Cowee Creek. They are very keyed into eating salmon eggs, so try drifting orange and pink Glo Bugs, Gorman BH Eggs, Billy's Crystal Egg, Fish Emission Egg, and Battle Creek Special. Bead colors such as M. Peach Roe, M. Glo Roe, M. Tangerine, M. Mango, and M. Peachy King in 8 mm and 10 mm have been working best for the last few weeks. Remember, if pegging the beads above a hook or fly, the bead must be within two inches of the hook. Otherwise the bead must be able to freely slide the entire length of your leader. If you choose not to throw beads and glo bugs, try throwing small streamers such as the mini dolly llama, uv mini leech, and small egg sucking leeches in blacks, purples and pinks.
And, it's almost time for Silvers! Now is a great time to make sure your fly line, leaders and flies are all in good working order for when they return. Last year, we saw a few of the first Coho's caught off the road system in mid-August, so we are getting closer! We never really know when the fishing gets good until one of you anglers gets out there and catches one (so get out there)! Early places to go on the search for a silver would be the channel around 5-mile, 9-mile, and Sheep Creek. If it were us, we'd try the Clouser Minnow in Chartreuse/White, or Pink/White or the Dolly Llama for those early silvers.
The last couple of years we have given away a hat for the first angler to catch a silver off the road system with photographic proof, and we've decided to do it again this year! So, send your finny photos to Kayla@alaskaflyfishinggoods.com!
As always, we'd love to see your fishing photos, and hear your fish stories.
Send photos and stories to:
Photos@alaskaflyfishinggoods.com
Instagram: @alaskaflyfishinggoods
Facebook: www.facebook.com/AKFlyFishingGds/
#alaskaflyfishinggoods