Another fine week of fishing in the Capital city. As we move into the month of August, we all begin to get antsy as we anticipate the Silver Salmon return to the Juneau road system. We have heard rumors of Coho close to town with no solid proof at this point. However, there is still a hat up for grabs for the first photographic roadside coho caught!
The first week of August marks the prime time to begin poking around the channel in search of dime bright silver salmon. It is also good time to pull out those rods/reels/flies of yours that were shoved to the back of the closet in late September of last year, make sure you have adequate leaders (12-16lb Salmon/Steelhead leaders) and your flies aren't completely shredded from last year. Good early season destinations are Sheep Creek, 9 mile, and 5 mile. 5 mile and 9 mile are tidal fisheries that require you to bracket the low tides, where as Sheep Creek/Thane Ore house area seems to fish at any tide. Tie on some chartreuse or pink Clousers, Dolly Llamas, or Bodangles and away you go.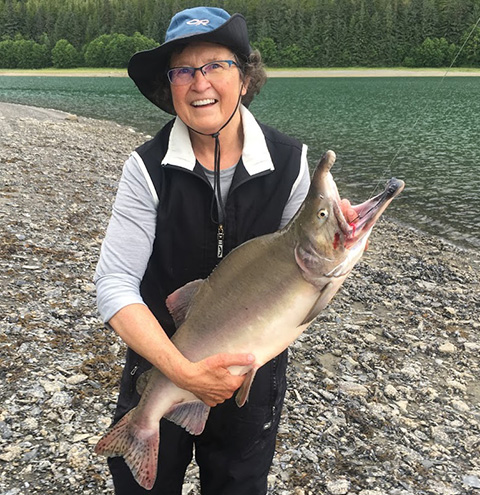 As far as creek fishing goes, it still continues. The creeks are now plugged with spawning chum and pink salmon, and the Dollies have been gorging themselves on just about anything they can find. From beads to leeches, and pink streamers to small flesh, the trout are hungry! Although today, a lot of the creeks are low water and silty, after a bit of fresh rain this weekend should be a good time to get out there and try your hand at some hungry Dollies.
As far as other salmon fishing goes, there still seem to be pink salmon milling around around Echo Cove and Sawmill Creek, as well as Cowee Creek. They are still pretty bright and spunky, too. Try using pink flashy flies to target the humpies this time of year. Oddly enough, there are a bunch of kings in the creeks that are very eager to eat a bead, too.
Moral of the story: Get out there. Go fish. Send fishing photos to kayla@alaskaflyfishinggoods.com. There's a hat on the line for you.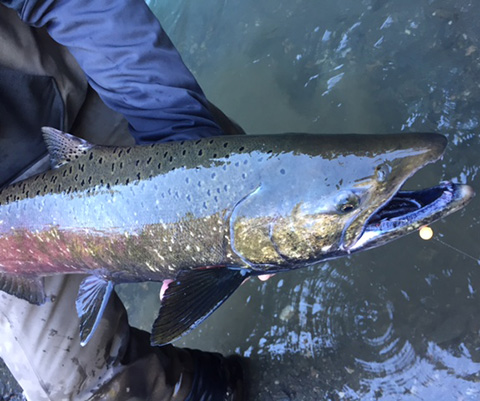 We would love to see our fishing reports in action, and what you've been catching!
Send fish photos to:
Photos@alaskaflyfishinggoods.com
Instagram: @alaskaflyfishinggoods
Facebook: www.facebook.com/AKFlyFishingGds/
#alaskaflyfishinggoods