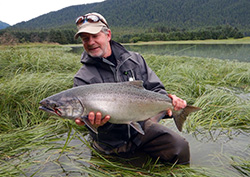 This week the fishing has continued to heat up around town, and this weekend will only be getting better.
The weirdest fishery that just continues to give this year is the king salmon fishery. Big, bright kings continue to be caught off the roadsystem around Fish Creek, Auke Creek, and Lena Cove. Try casting big flashy pink patterns, sometimes off of a light sink tip. We can only assume we won't have much longer at trying to kings, so get out there while you can!

The Pink Salmon fishing out at Echo Cove has continued to be awesome throughout the week. The fresher fish have been found towards the sand spit, while the darker fish seem to be holding closer to the boat launch. Try your hand at catching some chromer pinks at falling tides using pink flies such as the Humpie Hooker, Searunner Special, Starlite Leech and Striptease.
The Pinks have also now moved into Cowee Creek. You'll need a bit more weight to your flies in the river, you could try flies such as Mr. Bodangles-Pink, Starlite Leech-Pink, and Pink topwater wogs.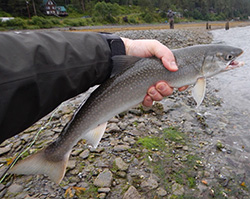 As for Dolly Varden, we assume they are in the Montana and Cowee creek areas following the pink salmon return, but haven't seen too much in the way of Dollies as there are so many pinks. Sheep Creek on the other hand is jamming with Dollies eating eggs. Try drifting beads and glo bugs behind these spawning beasts, and you are sure to hook up with some dime bright Dolly Varden. If you have questions about getting into bead fishing, check our our article Beads: The Bare Naked Truth, or stop into the shop and we can help.
As always, Happy Fishing!
We would love to see our fishing reports in action, and what you've been catching!
Send fish photos to:
Photos@alaskaflyfishinggoods.com
Instagram: @alaskaflyfishinggoods
Facebook: www.facebook.com/AKFlyFishingGds/
#alaskaflyfishinggoods