Well, well, well…. Another week has come and passed, and more and more fish are showing up around the Juneau area. For some reason, this year the runs seem to be showing up just a touch late. From the spring Dollies to the hatchery kings, they are all on their own schedule this year. That being said, there are a lot of fish out there just waiting to be tricked into eating a fly and caught by you!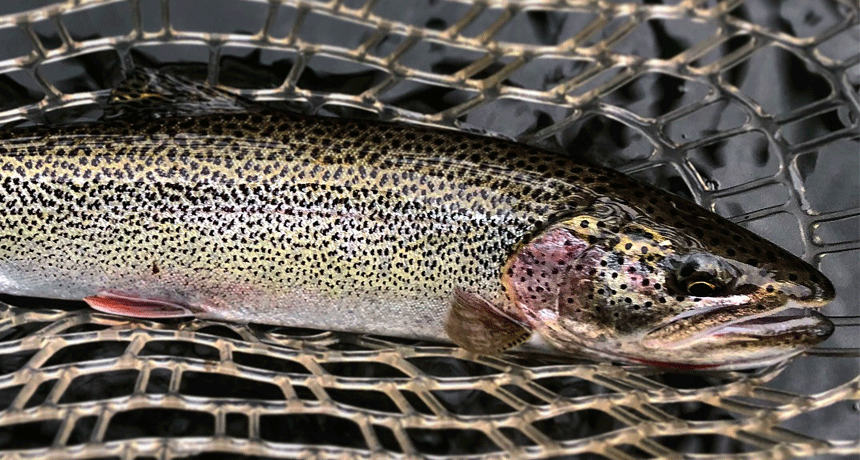 Cutthroat Trout caught just a short distance away from the Juneau area.
First thing, the Kings are still milling around the Lena, Auke, and Fish Creek areas. Some are turning into smoker-status, but others are still dime bright. Catching a king on the fly definitely takes some rod hours and dedication, but as long as you have a head net and some big flashy pink or chartreuse flies, you're definitely in the running. Try bracketing the higher tides around these areas, throwing big flashy flies like the Mr. Bodangles, Dolly Llama, Mega Clouser, and Rockstar. Sink tips help, but aren't absolutely necessary for catching, especially if you're hucking heavier flies.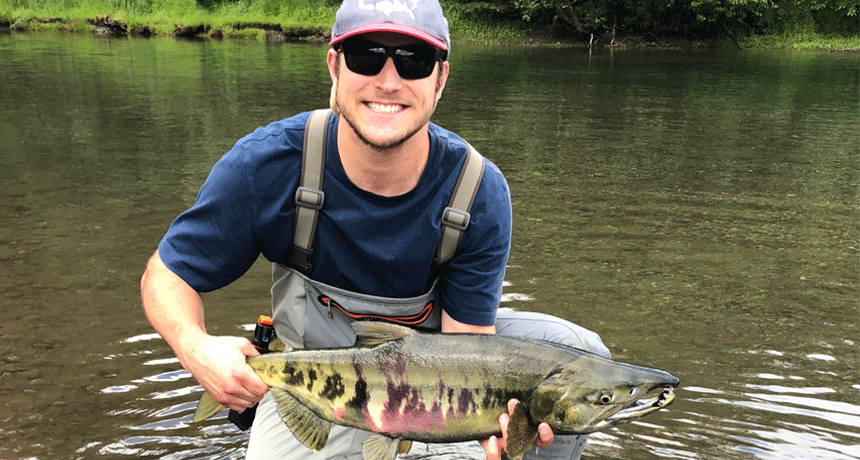 After work adventure paid off for Zach with the Mr. Bodangles fly.
Next, the Chum salmon are beginning to swarm all around town. They've been pretty feisty and eager to take a fly this year, too! To target chum, rig your 8 weights with 12-16lb leaders and flashy flies. We have seen Chum this year eat a variety of flies and colors… Chartreuse seems to be the hot color out at the Amalga/Peterson Creek estuary, and pink has been the hot color at the mouth of Montana and Sheep Creek. The Clouser Minnow, Humpy Hooker, UV Calamari and Mr. Bodangles are all good flies to try.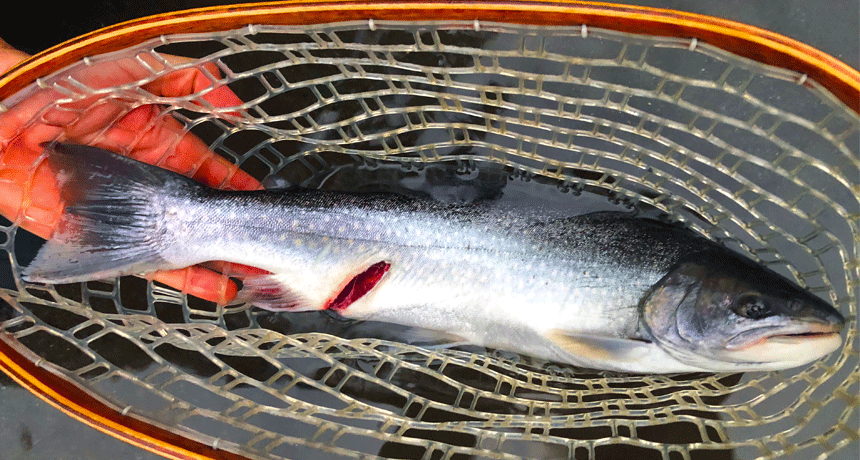 A Dolly Varden seemingly unphased by a fresh flesh wound, still hungry to eat flies caught by Jake Fleetwood.
The Dolly Varden and Cutthroat have officially begun their annual migration back into freshwater around town. The rain we had the last few days muddied up the waters just enough for slabs of fish to push into Cowee, Montana, and Sheep Creek. Although there are Chum in these areas, they aren't quite laying eggs yet, so try using attractor patterns as well as beads to catch these hungry trout. Flies like the pink/orange AK Clouser, UV Mini Leech, Peachy King Glo Bug, and 8-10 mm beads in the peach and orange variety.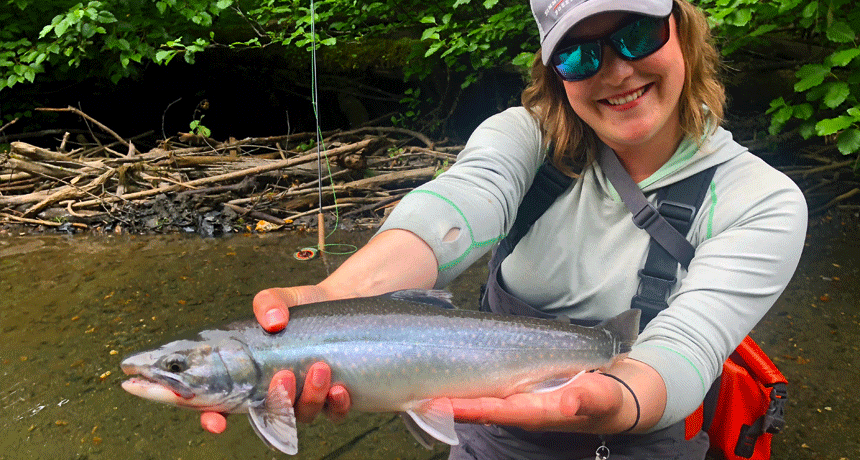 Kayla's days off were spent well; hunting down hungry Dollies.
Now, what you've all been wondering about… the Pink salmon. It's been slow to start around the Juneau area, but that's no surprise as everything else has been late, and we are projected for an 'off year.' That being said, there have in fact been a handful of pinks spotted off the road system. Good places to try for pink salmon is Echo Cove, Lena Cove, Cowee Creek, and Peterson Creek/Amalga area.
The weather report this weekend is looking good! We look forward to seeing you all out on the water!
As always, we'd love to see your fishing photos, and hear your fish stories!
Send photos and stories to:
Photos@alaskaflyfishinggoods.com or Kayla@alaskaflyfishinggoods.com
Instagram: @alaskaflyfishinggoods
Facebook: www.facebook.com/AKFlyFishingGds/
#alaskaflyfishinggoods