Beach Dolly Fishing is at its Peak!
The Dolly fishing keeps heating up as we go deeper into the beach fishing season. There are still huge amounts of fry and smolt in the water. DIPAC recently released their king salmon smolt and the 4 inch little footballs are all over Gastineau Channel. They are grabbing flies like crazy (which is probably how kings get so big) and often you have to move to get away from them and into the Dollies. Out the road has been super hot as has Sheep Creek. Salmon Creek has had its moments but it seems to be better on the low or flood tide. The drop out there has only produced a smattering of fish. Hit this fishery hard now as it will taper off quickly when the fry and smolt swim off into the big ocean.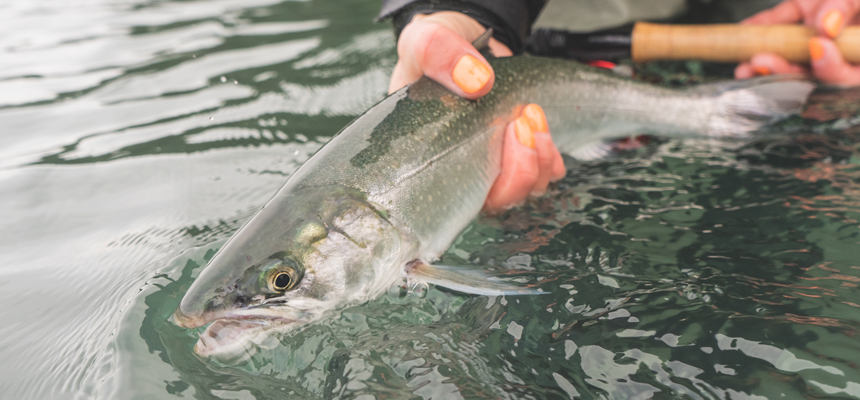 Dollies on the attack!
In sockeye fishing/Windfall Creek news it sounds like the Herbert was running fairly high on Wednesday and this back flooded Windfall Creek a bit. When the Herbert is high it acts like a dam and turns the mouth of Windfall Creek into a very slow moving lake. Not ideal for hooking sockeye.....Plus Windfall Creek was off-color which adds another level of difficulty to hooking fish. Hopefully this Saturday will bring better fishing conditions up there!
Finally, although king fishing doesn't open until June 15th, a fair number of kings have been spotted rolling in the channel. That is pretty exciting news as kings aren't usually in the channel in sizeable numbers this early. It is just about time to dig out your king gear, do an inventory check of your king flies and replace those old spools of 25lb Maxima. If you are interested in targeting kings this season come on in and check with us. We are happy to suggest flies, spots to fish and prime tides not to miss.
Last call for those wishing to give Switch/Spey casting a try or brush up on their skills. George Cook's class is totally full on Saturday but we have a few spots left on Sunday. This is an amazing opportunity to learn from a real pro and it likely will be a couple years before we can get him back. Don't miss out! Give the shop a call at 586-1550 to grab a spot.