King, Sockeye, Chum, Pink Salmon, and Dolly Varden... What are you going to fish for this weekend?!

Brad Elfers and daughters with a bright hatchery king salmon.
Let's begin by saying that King fishing, although slow and frustrating at times, is still going strong. We have seen a fair number of Kings pulled out of both the Fish Creek and Auke Creek and the Lena Cove area. Surprisingly, a lot of Jack Kings this year too. A bit tight lipped, we are all hoping that the bigger tides in the forecast will get these fish moving and grabby again. We have had luck on big flashy patterns in the pink and chartreuse variety. Think Bodangles, Dolly Llama, Rockstar, and Squidro variety. Investing in a small sink tip could help get your fly into that strike zone and allow you to cast lighter flies like the Chinook Intruder, and Trailer Trash fly.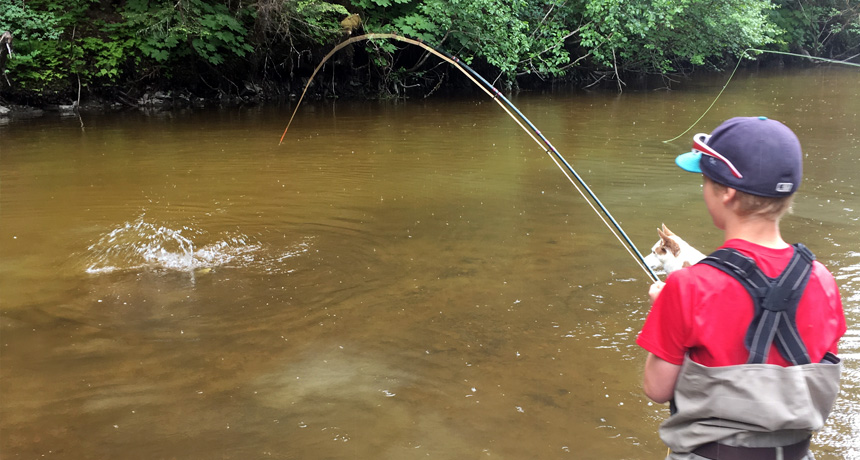 Reed Maier with a feisty Windfall catch.
Only one try left to pick up a Sockeye at Windfall Creek before the creek closes to fishing for July. And, good news; we had all good reports this week. Looks like the water levels in Herbert came down, and the flow in Windfall has settled a bit. The sockeye this week were grabby, and quite a few people walked out as happy anglers. Try small and sparse flies such as the Copper Swan, Sockeye Lightning, Sockeye Lantern, and Red Hot. Dead drift these flies through the deep sloughs and holes, when you see your fly line stop, set the hook!

From left, Garrett Boyt, Emily Timm and Devin Bertholl show off their fresh sockeye in hand.
The Chum have returned to the Amalga Creek area, and Salmon Creek areas. They can be a tight lipped fish but try throwing small and sparse patterns such as the Mini Krystal Shrimp - Chartreuse, and Humpy Hooker. Bracket low tides, try varying your strips, and you will find yourself with a chum on the end of the line.
On the Pink front, we have yet to see any solid photos of pinks being caught yet, but there are rumors running through the mill. This is the time of year that Pinks begin to return to Juneau, which means this weekend will be a great one to get out and hunt one down! Try using the Humpy Hooker, Sea Runner Special, or just about anything pink. Good early places for Pink Salmon is Echo Cove, Point Louisa, and Cowee Creek.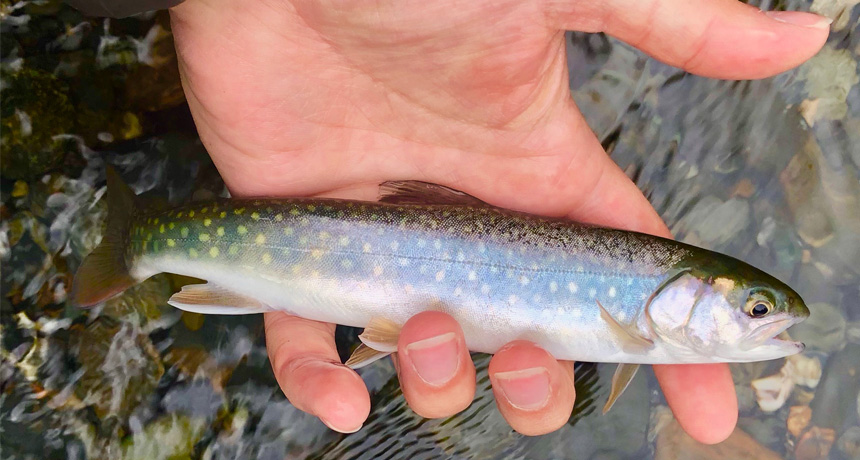 Kayla Roys with a Dolly Varden caught on the AK Clouser Minnow.
Dolly fishing has been a bit sporadic this last week. They are sort of in the salt, sort of in the fresh, they are everywhere and nowhere at the same time. We have seen Dollies being picked up still using Clouser Minnows, as well as bead and leech patterns. We are in that in between two-week time where anything goes. We suggest going to your favorite Dolly destination and giving it a try, what do you have to lose?!
Side Note: The shop will be closed for July 4th in observance of Independence Day. Normal business hours will resume the following day. We hope to see you at the parades as well as out on the water!