Good news this week: fishing has been great. Whether you are targeting Pink, Chum, Chinook, Sockeye or Dollies, fishing has been getting better by the day.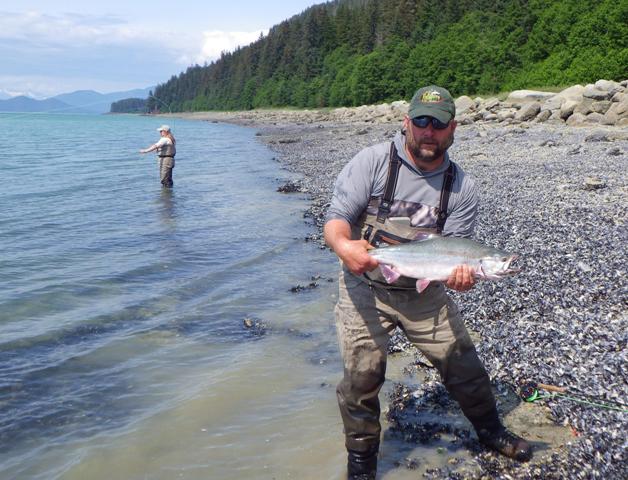 For Dollies, head out to Cowee Creek and fish from the bridge down, the Dolly Varden have begun to transition back into the freshwater and are feeding on gray/white, olive/white Stinger and non stinger Clousers, and Humpie Hookers. We have not had many reports of Dollies in the estuaries, but we are sure there are at least a few milling around at Auke Creek, and Salmon Creek.
For Kings, Auke Creek has been the most productive fishery thus far. Fish Creek is another great destination for Kings, however it seems to be fishing tide for tide. Try the incoming tide or outgoing from high at either location, using a short sink tip and flies like the Mega Clouser Minnow, Mr. Bodangles, Rockstar, and Jumbo Critter. If there is current enough, try swinging your fly through the current, Kings are notorious followers of the fly.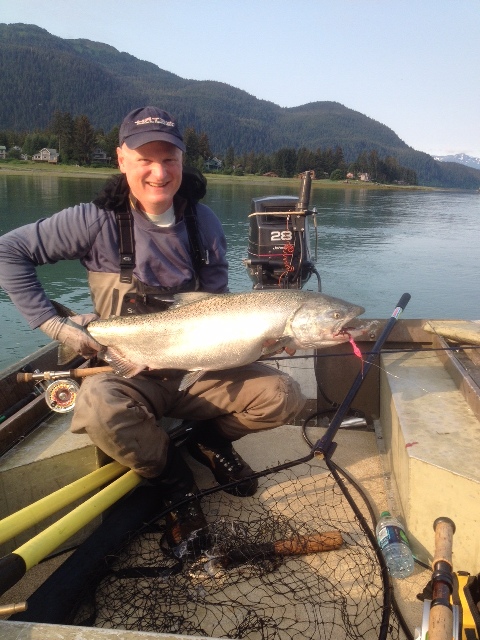 For Chum, head to the mouth of Peterson Creek, the Shrine, Point Louisa and Sheep Creek. Try flies like the Striptease- white, Flash Fly- Pink, Party Girl- White or Black, and Squidro- Salmon Pink. These destinations are best fished at a falling to low tide.
For Pinks, across from the sand spit at Echo Cove was great fishing this week. There are a surprising amount of early Pinks in the Echo Cove area, which means this years Pink run could be massive. Try using the Humpie Hooker, Searunner Special, Smoltzilla- pink, Karluk Shrimp…. just about anything pink with a slight amount of weight. This area fishes best at an outgoing or incoming tide, once the tide gets too high, the Pinks seem to be too far out of casting range.
For Sockeye, Saturday is the last open day to fish Windfall. The fishing has been good, so be sure to get up there if you get a chance. Try flies such as the Montana Brassie and Sockeye Lightning.
Also, our last scheduled FREE casting lesson is tomorrow night from 6-8pm at the shop… If you or your friends are interested in a casting lesson, be sure to come to this lesson with Mike.
See you on the water!
We would love to see our fishing reports in action, and what you've been catching! Send fish photos to Kayla@alaskaflyfishinggoods.com.