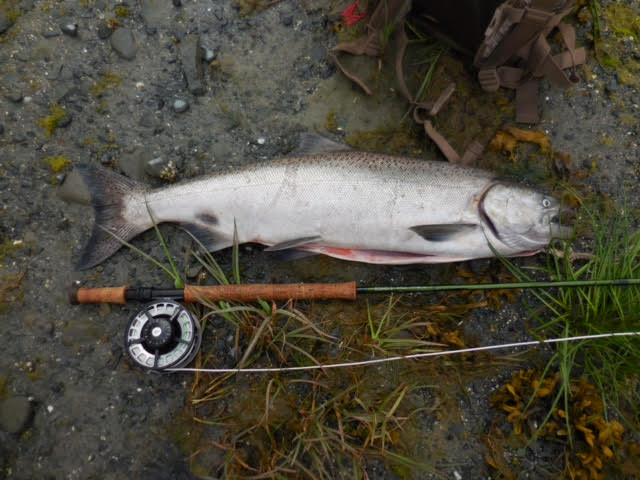 Today is opening day for saltwater King Salmon fishing! Although, things are a bit different this year... According to ADF&G, there will be no determined terminal area. That means this year, residents can keep 2 fish per day with a minimum of 28".... Throw the jacks back! Non-residents should read the regulations to be certain of their take home limits.
Assuming there are fish around, places to target these Kings are the mouth of Fish Creek, and the creek itself, Auke Creek and Salmon Creek.
Big flies are the ticket in flashy colors such as chartreuse and pink. Try fishing the Dirty Hoh, Party Girl, Guide Intruder, or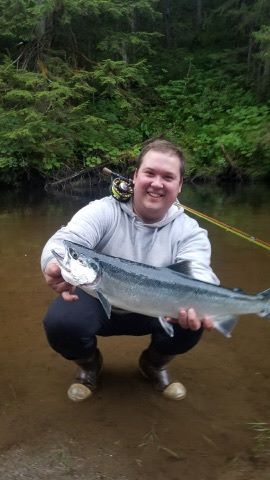 Mr. Bodangles. As far as tides go, Salmon Creek is best fished at the dropping tide and into low. Fish Creek area traditionally fishes well at dropping tide from high. Auke Creek can be fished well at both a high and low tidal range.
The sockeye fishing at Windfall has continued, and the fishing has been good. Fish are actively moving into the creek, and are actively taking flies. If you are nymph style fishing under split shot, try fishing the Sockeye Lightning and Sockeye. If you are using a short sink tip, try dead drifting the Copper Swan, and Montana Brassies, occasionally stripping long and slow. Remember, the creek is only open Wednesdays and Saturdays through June, and then closes to fishing in July.
Chum and pink salmon are in the neighborhood of returning to town. Chum tend to like small patterns such as the Chartreuse Krystal Shrimp, Humpie Hooker, and UV Calamari Chartreuse or Pink. Pinks like anything pink, the Humpie Hooker and Searunner special are our favorite. Try places such as Peterson Creek area, Point Louisa, Sheep Creek, and Salmon Creek bracketing the low tides.
Dollies around town are about to perform their annual disappearing trick, as they transition from saltwater to freshwater. People have still been picking them up here and there at the mouth of Salmon Creek, Sheep Creek and a few at Peterson Creek. A good freshwater place to try is Cowee Creek. Try fry patterns such as the AK Clouser, and attraction patterns such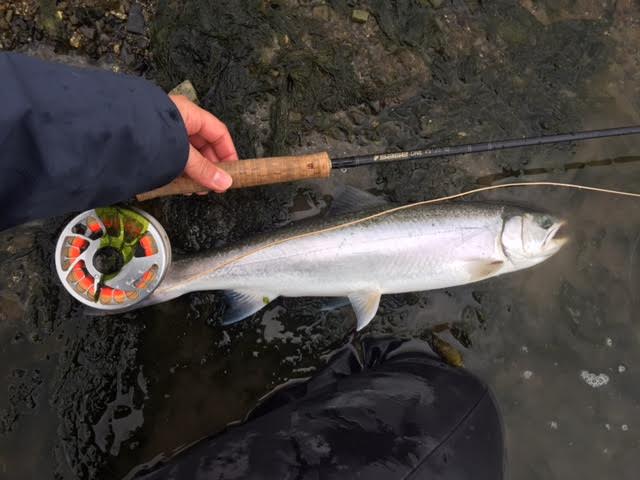 as the Humpie Hooker or Battle Creek Special.
Moral of this fishing story, get outside and wet a line!
Side note: Brad will be leading a FREE intro casting lesson TONIGHT from 6:00-8:00pm at the shop. See ya there!
As always, we'd love to see your fishing reports and hear about what you're finding out along the road system!
As always, we would love to see you out on your fishing adventures!
Send photos to: Photos@alaskaflyfishinggoods.com
Instagram: @alaskaflyfishinggoods
Facebook: www.facebook.com/AKFlyFishingGds/
#alaskaflyfishinggoods