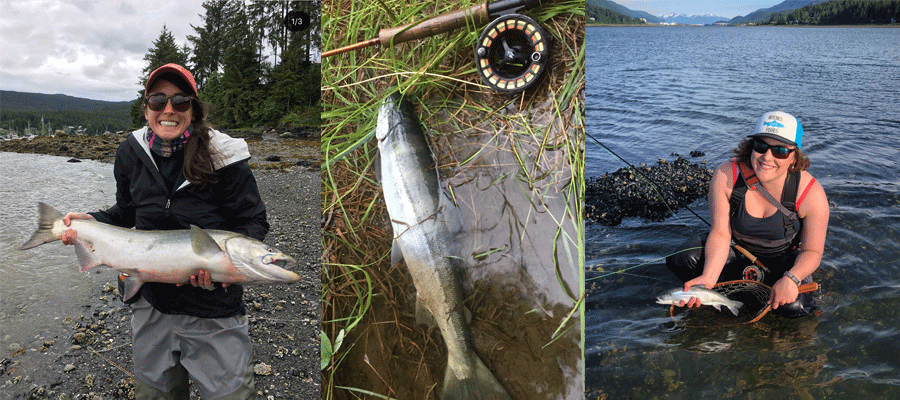 From left: Katie Harms with a King salmon on Dolly gear (don't worry, it was safely released). Garrett Hoyt's chrome Windfall Creek Sockeye Salmon, and Kayla Roys with a sea-run Dolly Varden in the Gastineau Channel. Let's see... What should we talk about first? Dolly Varden fishing continues. Slowly, but it continues. There is an incredible amount of food out there for them, so getting yourself on a school of Dollies has been seemingly difficult this year. Folks have found Dollies in and around the mouth of Salmon Creek and Peterson Creek. A good freshwater place to try is Cowee Creek. Try fry patterns such as the AK Clouser in olive/white, gray/white, pink/orange, and attraction patterns such as the Battle Creek Special and pink egg sucking leech.
Sockeye season up at Windfall Creek has officially begun.
There are fresh sockeye pushing into the creek everyday, so going up on Saturday is a great idea! Dead drifting flies such as the Sockeye Lightning, Sockeye Lantern, and red hots through the deeper pools is a good way to try your hand at a sockeye. Other good flies are the Montana Brassie, Sockeye Killer and Copper Swan. Remember, Windfall creek is only open to fishing Wednesday's and Saturdays for the month of June, so get out there while you can!
As for the mighty Chinook, the terminal fishery opens tomorrow! We have heard a ton of reports of Kings rolling and caught near Auke Creek, Lena, and Salmon Creek, as well as a few picked up (and released) on Dolly gear. This year, the daily bag and possession limit is two king salmon of any size, and any harvested by non-residents in hatchery areas do not count toward annual limit. Try big flashy attraction patterned flies like the Rockstar, Stu's Chinook Intruder, Squidro, Mr. Bodangles, Kriller and Articulated Hareball Leeches. This Kings haven't been fished to anywhere yet, so let's hope they are feisty and ready and ready for us this season!
Finally, Chum have slowly begun to school around in small numbers around Juneau particularly around the Peterson Creek/Amalga Harbor area. Although these beasts can be a bit tight lipped, if you get one to take a fly, they can give you a run for your money. Try flies like the Mini Krystal Shrimp, Chromer Snack, Starlite Leech - Purple or Pink, and the Humpie Hooker.
Well, if that's not enough to get you out this weekend, not sure what is....Go get 'em!