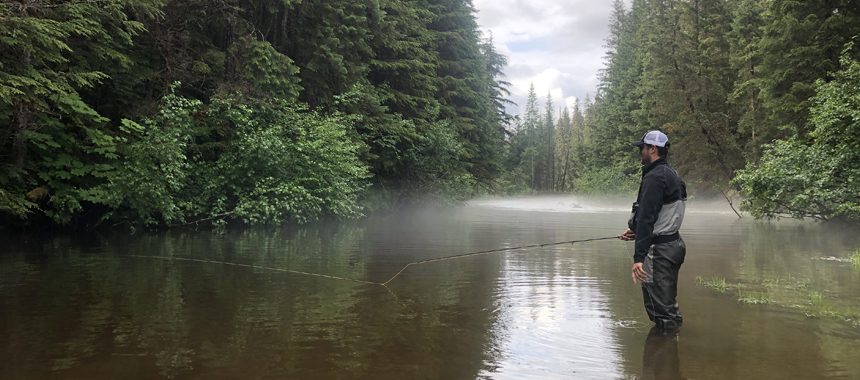 Windfall Creek in Lake Mode. June 13 2019.
Sockeye and king fishing are the big topics this week. As we mentioned last week, sockeye fishing at Windfall Creek is open on Wednesdays and Saturdays for the month of June. The first few open days have been a bust as they typically are. Water conditions more than anything else have hampered anglers looking to hook into some chrome sockeye. The photo above was taken on Wednesday June 12th this year. As you can see, all the rainfall Juneau received had the Herbert River running high and backing up Windfall Creek. This caused Windfall to flood at the mouth. The island that anglers typically fish off of was completely submerged and getting to it was a bit treacherous. It also meant Windfall Creek current was at a stand still which made drifting a fly nearly impossible.
The hopeful news is that the rain has subsided and the Herbert should start dropping. Once that happens Windfall will be able to drain and there will be current once again. And a good rain is generally a huge incentive to bring in fresh fish from the salt. This Saturday and next Wednesday could be a good day to go hit it. Sockeye Lanterns in Green and Sockeye Lightnings in Red are proven winners. Fish them off a 9 foot 12lb leader with just enough split shot to get them down. A 3/4" Thing-a-ma-bobber Indicator or Air Lock Indicator are very helpful for detecting strikes.
Second on the agenda are Kings! The freshwater portion of Fish Creek is open to king fishing already and kings have been sighted and a few even hooked up. Fish are coming out of the snag pond, which means they are in the creek and they have to swim by the lower creek to get there! The ideal tide to fish is from high as it drops out. The three hours after high will typically keep kings circling and milling in front of the prime fly fishing spots. Don't forget your No-See-Um head net as the bugs are epic this year.
This Saturday, June 15th, the saltwater spots all open up to king fishing. In the terminal area the limit is 2 fish per day any size. So you can keep jacks if you catch one. Outside the terminal area (Sheep Creek) it is also 2 fish per day but they must be over 28". Check the ADFG regs if you want more intel. Prime kings spots are Fish Creek, Auke Creek, Lena Cove and new this year Sheep Creek! The first return of kings is expected to Sheep Creek. We don't know exactly how they will behave, but DIPAC expects them to school off the beaches and in the creek mouth just like the coho do. After a couple weeks they will swim up the channel and back to the main hatchery site.
Some of our favorite king flies are Rockstars in Pink, Dirty Hoh's in Chinook Pink, Party Girls in Pink and Mr Bodangles in Pink. For a change up try any of these same flies but in chartreuse. Fish them on a light sink tip if possible and go with 16lb or 20lb leaders. The season is really cranking up now. Get out there and get after it!