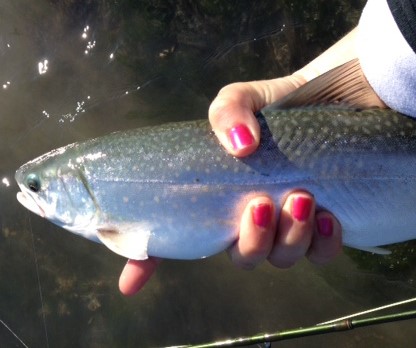 The seasons are changing around Juneau when it comes to fly fishing, and here is what you need to know:
The Dolly Varden fishing continues to be a constant fishery, but we need to remember that with the anticipation of the salmon spawn, the dollies begin to return to the fresh water creeks, thus become harder to find. For now, dollies can still be found in creek estuaries and off of beaches from Point DuPont to the Echo Cove sand spit. Continuing to use rather large fry patterns to catch these Dolly Varden in the salt water and estuaries is your best bet. We expect the dollies to begin to transition into Cowee Creek and Sheep Creek soon, so you can begin to use pink and white, and all pink clousers to catch these early returns.
Sockeye fishing at Windfall Creek has fully begun. The salmon seem to be moving into the creek in waves, depending on the tides. The Sockeye Lantern has been the best fly thus far; other flies to try are Sockeye Lightning in red or chartreuse, along with Mercer's Sockeye Fly or the Copper Swan. Remember that Windfall Creek is only open to fishing Wednesday's and Saturday's until the end of the month.
Finally, the King Salmon are beginning to appear around town. The Auke Creek area has seemingly been the best fishing spot so far, but we do expect that the North Douglas and Fish Creek area will begin to see Kings later on this week. Check in with us about hitting the right tide because each spot has its prime window. Some new flies to try are Squidro: 12th Man Edition, Squidro: Pink/Orange, Mr. Bodangles: 12th Man Edition, the Rock Star in Pink or Chartreuse, or 2/0 Clouser Minnows.
As always, if you have any questions about your next fishing adventure stop by the shop or give us a call.
Happy Fishing!
-Brad, Mike, Kayla & Chas