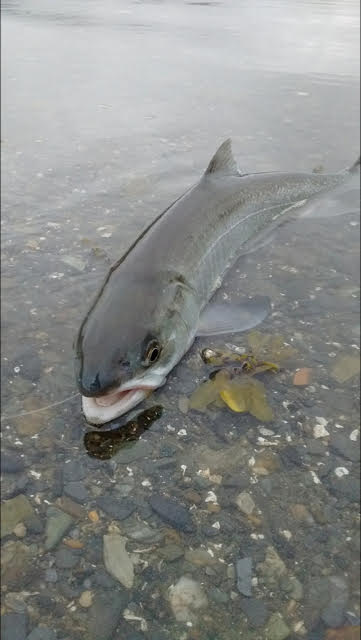 Well, this week began a bit rainier than all of us asked for. With the rain came a lot of muddy water. As of today, the channel is beginning to look a bit cleaner. The next couple days it'll only get better! The Dolly Varden and sea run cuts have been cruising beaches around town, gorging themselves on salmon fry.
Try fishing off the beaches from Sheep Creek, Salmon Creek, Boy Scout Beach and the sand spit at Echo Cove, bracketing the low tides. Typically we suggest searching for a fry bust on the surface of the water and casting into it, but since the hatchery has been pulsing their fry releases and there are now tens of thousands of salmon fry in the water, the Dollies have become more of subsurface feeders than normal. Do not be afraid of blind casting to where you think the Dollies may be hiding, and trying different stripping variations from fast and short to slow and long.
Variety has been the name of the game when it came to flies this week. As soon as one fly works the fish seem to change their mind and it is time to dig through the box and come up with a new pattern. Clousers in Olive/White and Gray/White, Salmon Fry, Floating Smelt, Stinger Clousers, Clones, and Fryolators are the real deal.
Cheers to another beautiful weekend. We hope to see you out on the water!
We'd love to see your fishing photos! Send photos to:
Photos@alaskaflyfishinggoods.com
Instagram: @alaskaflyfishinggoods
Facebook: www.facebook.com/AKFlyFishingGds/
#alaskaflyfishinggoods