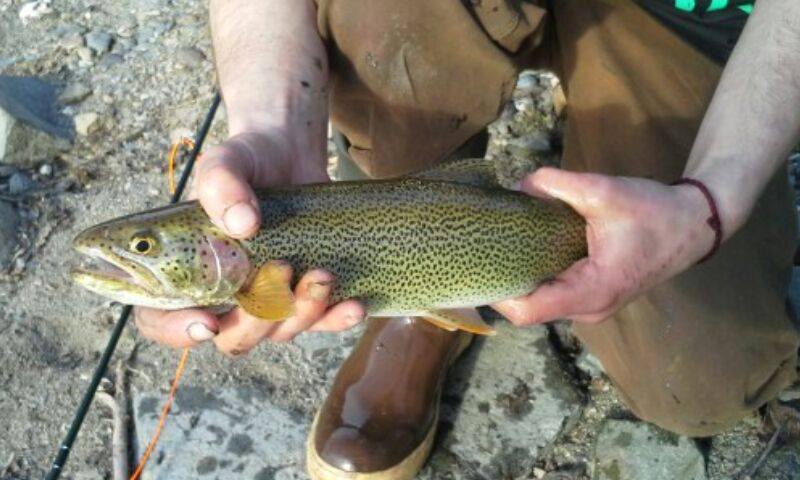 5-1-14
Like so many years before, the fishing is beginning slow, but is getting better everyday. Cold nights, rain, and snow pack are keeping the streams and lake temperatures low. However, the warm sunny skies that are coming in the next few days are sure to push the smolt out of streams and allow a few steelhead to sneak in.
As of now, pink and chum fry are beginning to be spotted at the mouths of creeks and around boat harbors. These are great spots to target Dolly Varden. For dollies this time of year, check out Sheep Creek on a falling tide and the mouth of Salmon Creek at the low. Small, sparse fry patterns are what you will need for these early season Dolly's. Try using the Green and Gold Fry, Little McFry, and the Clouser Minnow in a #6. For areas that see Hooligan and Sand Lance, try Pop's Sand Lance or Gummy Sand Eel. If you are thinking of targeting some Cutthroat, try lakes around the area as they open up, they will be hungry for small fry, sculpin and leech patterns.

For you steelhead enthusiasts, it's time to get busy. When the water is warming up those usually sulky fish can turn aggressive. In this situation, try swinging or drifting larger patterns like Squidro's, Articulated Hareball Leeches or other bright flies in shades of pink, orange, or fuchsia. When the going gets tough or swinging is not possible, switch to dead drifting egg patterns like Steelhead Glo Bugs, Money Bugs or beads. Put in a little time and your patience will pay off in the form of a nice chrome steelhead.