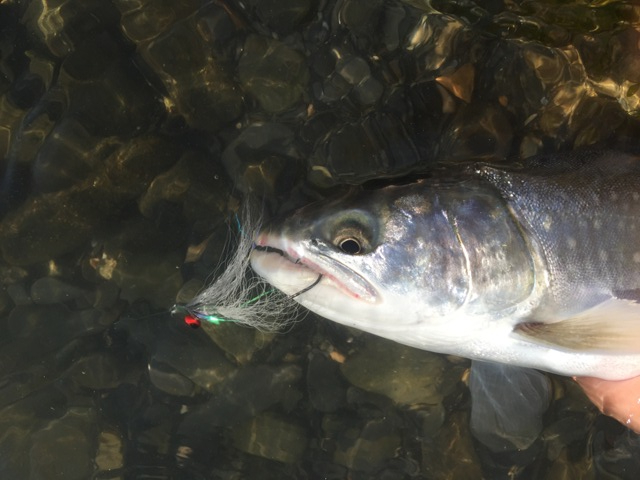 The 2015 fishing season is starting to wrap up for us here in Juneau and it was a good season to say the least. Let's take a look at the season…
Spring came early with coldwater and sunny skies. This provided us with great estuary dolly fishing and although the water was low we had a couple great days chasing steelhead.
As June began, so did the King salmon fishing… very slowly. This year the run seemed to be small and sparse compared to last, but a few lucky anglers did catch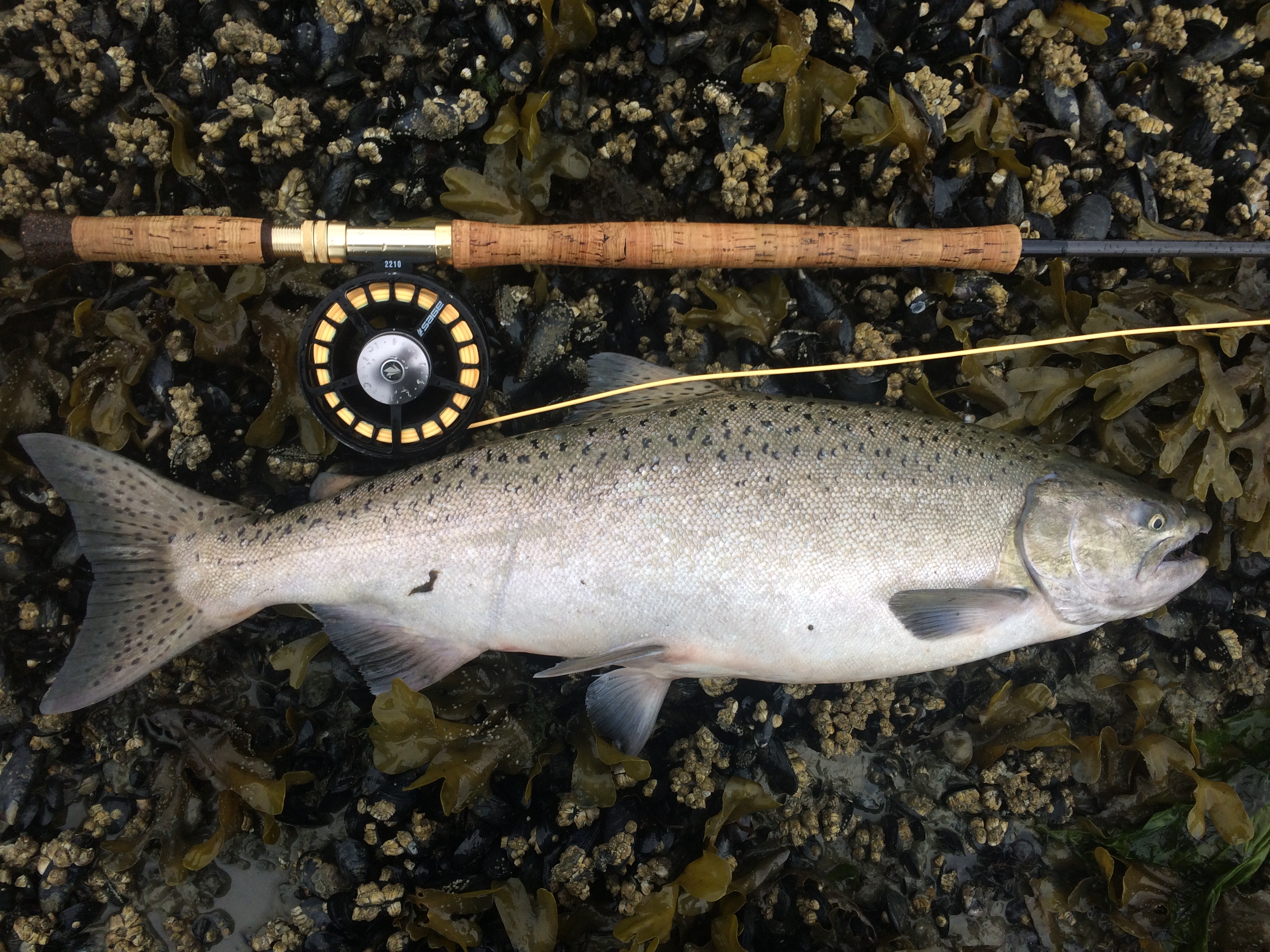 some mighty kings on the fly! Both Auke Creek and Fish Creek turned up a few Kings, but as the hatchery return was low this year, so were our catch rates.
In July, like clockwork, the hoards of Pink and Chum salmon swarmed town. This translated into some fantastic Dolly fishing in creeks like Montana Creek and Sheep Creek, as long as you could get your bead below all the Pinks in the creeks. The Pink salmon returned in numbers like we have never seen, from mid-June to mid-August we were catching dime bright Pinks covered in sea lice. What this means for next year's return is a mystery, the Pink run could turn in to a dominant odd year, big year… Only the fish Gods know.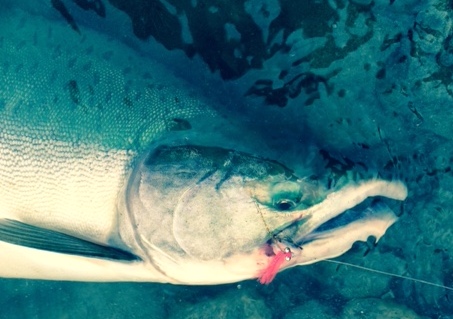 As August began rolling by, so did the Silver Salmon. The real highlight this Silver season has been location and size. Who knew that Sheep Creek would have such a massive run of Silvers returning? I have a feeling that DIPAC is pretty happy with themselves this year! Mind blowing good fishing, where tides didn't seem to be a factor and you could easily see 50 other people on the beach around you, all catching fish. Sheep Creek was a very exciting fishery that fly anglers really seemed to dominate (YAY for fly anglers!). Beyond Sheep Creek, 5 mile and 9 mile were both producers, beginning a bit later in the year than Sheep Creek. And, the creek fishing continues.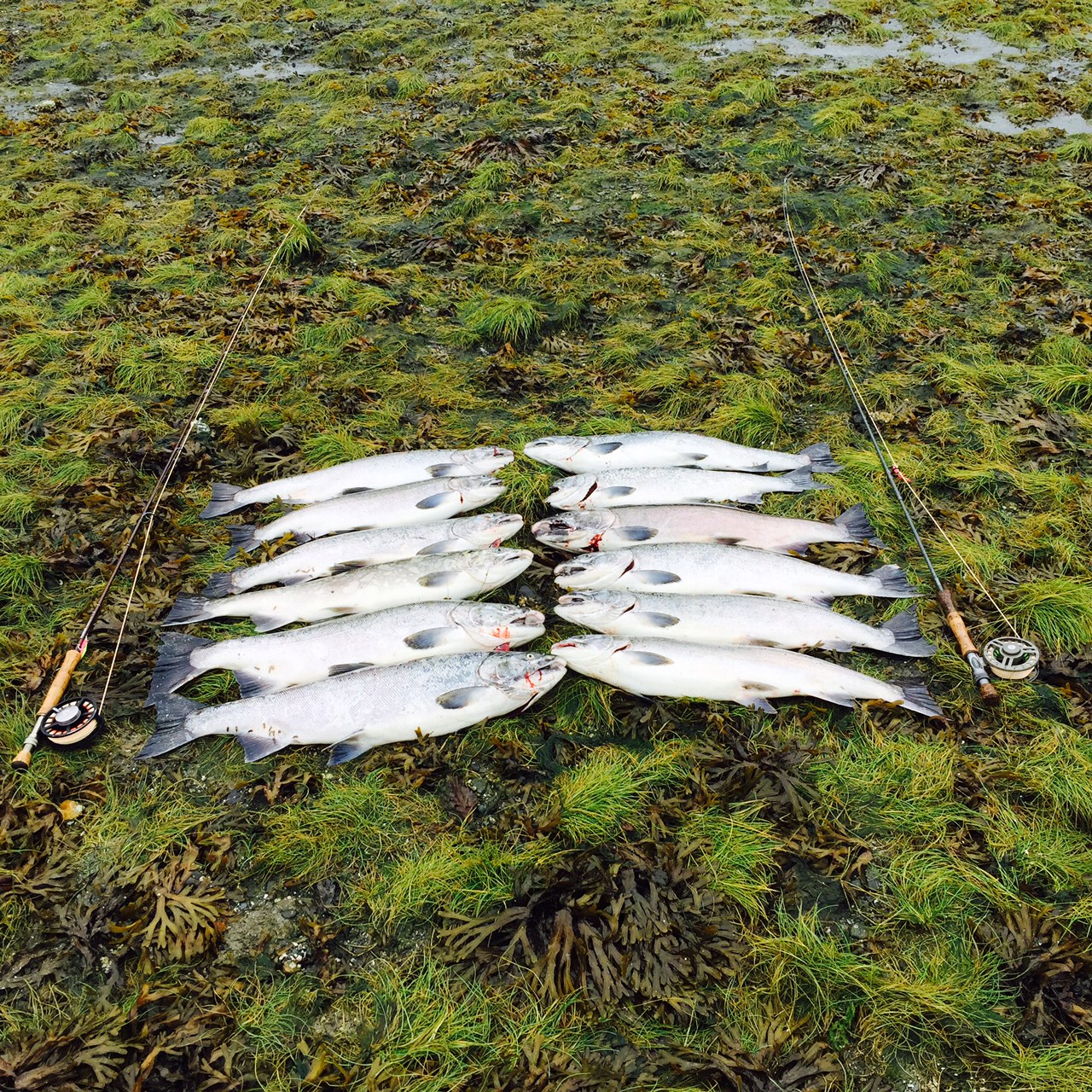 Silver fishing has slowed quite a bit this week as the bulk of the run has entered into the freshwater creeks anticipating finding just the right spot on their spawning grounds. With the high water and rain levels we have seen this week, it ensures that the fish that were still in the Channel have most likely powered into the creeks. Silvers will continue to enter areas like Montana Creek and Cowee Creek over the next few weeks. When water levels allow, there will be some good stream fishing to be had. We expect the channel fishing to roll on but catches are more likely to be in one's or two's rather than limits. For creeks like Montana, dark colors can be more productive than the bright pinks and chartreuses. Try Egg Sucking Leeches, Hareball Leeches and variations of Dolly Llamas. Don't be afraid to throw small flies and dead drift them; late season fish can be sulky and often respond better to smaller, darker flies and dead drifts.



Dollies are getting ready for their annual spawn. Some Dollies and Cutthroats may still be found in the deep pools and in log jams, in places like Montana and Cowee Creek. In the next few weeks, they should be transitioning from their spawning grounds back to the lakes where they will spend their winter in a zombie-like trance state. Egg patterns or small streamers can be the ticket for fooling the last few hook ups for the season.
If you haven't heard, our annual Rainy Day Sale begins TODAY! Stop in or take a look online for some killer end of the season deals.
We want to thank each and every one of our passionate customers for your patronage and support this summer, it is because of you that we are around! We look forward to seeing you this winter, we will be hosting a series of events, so be sure to check in to our site from time to time!
Happy Fishing,
Brad, Mike & Kayla
Monday, October 5th we will be switching to winter hours which are:
Monday - Friday 10:00am - 5:30pm
Saturday - 10:00am - 5:00pm
Sunday - Closed