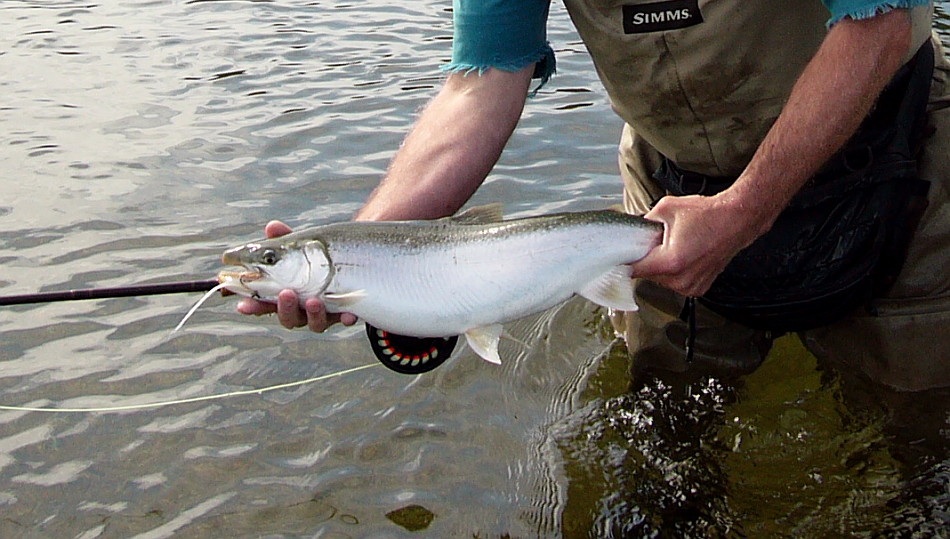 As some of you may already know, roadside fishing in Juneau has started as a crawl this year, but has been moderately picking up as of late. Dolly fishing has been a bit spotty; the best producing areas being the mouths of Sheep Creek and very recently, Salmon Creek. The late spring we have had, and brisk stream temps due to snow melt are keeping the dollies out in the salt and away from the bigger estuaries. As stream temps start to warm the dolly fishing should improve immensely. In the next few weeks, you may want to keep an eye and ear out for them rolling on into Montana and Cowee Creek.
Starting Saturday the 1st, Eagle Beach and Auke Bay re-open to Dolly fishing. These could be really good spots to check out over the next week or two; before the fish start to migrate back into freshwater in preparation for the return of pinks and chums. Good patterns to try are Clouser Minnow, Stinger Clousers and other baitfish patterns.
Word from the Macaulay Salmon Hatchery is that due to the late spring, Chum Smolt releases have been held back because of slow growth rates. Their first expected release will be around June 8th. After that, Dolly fishing in the Gastineau Channel should really pick up.
Now, we have all been wondering about the expected King and Silver return this year, and the guys over at the Macaulay Salmon Hatchery have reassured us that the forecast this year is a good one! Both species are expected to have about a 15% increase over last year's returns. This should make for some good fishing in the next few weeks and then again in mid August when the silver start to show up.
Looking for some more good news? Kings are already showing up at the Auke Creek release site and in front of the hatchery! Fish Creek should start to see salmon returning soon, with the fishing picking up between June 10th-15th and peaking between the 25th and July 1st. Try big Chartreuse/White, Pink/White and Tutti-Frutti Clousers, and Herring patterns such as the Bad Sea Habit for these early fish and transition into the big, bright patterns like the Seeker and Rockstar in a few weeks.
Pinks and chums shouldn't be too far out, the first chum typically begin to return to Amalga Harbor this coming week, with fishable numbers usually showing up between June 7-10. That said, these early chum are often picky and can be difficult to catch; but when you do hook into one, hold on! The first pinks should show up at Echo Cove around the Summer Solstice. The good ol' Humpy Hooker is the fly for these bright little bombs when they get here. And, they should return in force this year as the numbers predicted to return are substantial. If you would like a challenge-- take the Pink Wog Test and try to hook a few fish on the surface!
It's time to get your fish on!
We'll see you on the water,
-Brad and crew