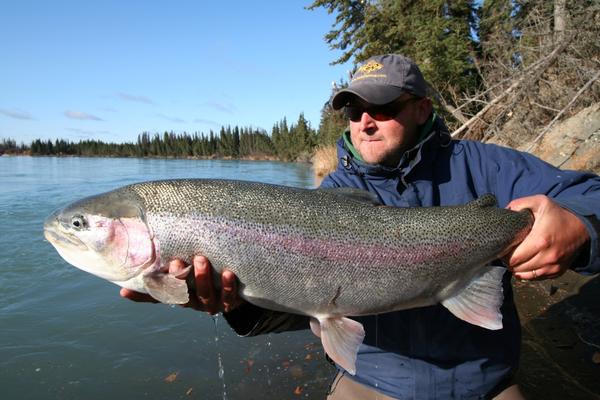 If you are looking for monster rainbow trout, the Upper and Middle Kenai are second to none in Alaska. Any day you fish the Kenai River, there is the potential to catch the largest wild rainbow trout of your life! We know that is a big statement to make, but it is true. The Kenai River's aqua-blue waters are home to some of the richest salmon and trout habitat on the planet. With millions of salmon returning and laying their eggs every year, lets just say Kenai rainbows are not on the "Weight Watchers" program. Only a two hour drive from Anchorage, it is the most affordable and accessible place in Alaska to find huge rainbows, Dolly Varden, red salmon, and silver salmon.

You don't want to float and explore the Kenai with just anyone. It is a big river and takes a lot of experience to know where the big boys lay, what they want to eat, and how to present it to them. Dusty, Billy, and the crew at Troutfitters are our choice for expert guides. Not only are they experts on fishing the Kenai, they are great folks to spend time with.

Trips are booked on a per-day basis so we can tailor your trip to be as long or as short as you like. Just give us a call at 907-586-1550 and we'll start putting it together.
TRIP OPTIONS
UPPER KENAI
This is where it all begins. The mighty Kenai River originates out of Kenai Lake and steadily runs seventeen miles downstream through the drift-only Kenai National Wildlife Refuge before entering into another massive glacial lake called Skilak Lake. Its entire length is a massive spawning ground for the millions of Pacific salmon that call this river home. It is also home to some of the best fly-fishing for trout in the world, and is the perfect section of river for the beginner or expert to experience Alaska trout fishing for the first time. Surrounded by the massive peaks of the Kenai Mountains, the upper Kenai is a breath-taking display of Alaskan beauty. With its many braids, back channels, and gravel bars, the upper Kenai offers many unique ambush points for rainbow trout and char on the fly. Fish average 16-18 inches with trophy fish in the 26-28 plus inch class caught regularly. The fishing begins in this section of river on June 11th and continues through the end of October. We fish and float this section of river with our custom 20 foot Willie drift boats with a maximum of four anglers per boat.

FULL DAY $275 + TAX (8 hours) UP to 4 Anglers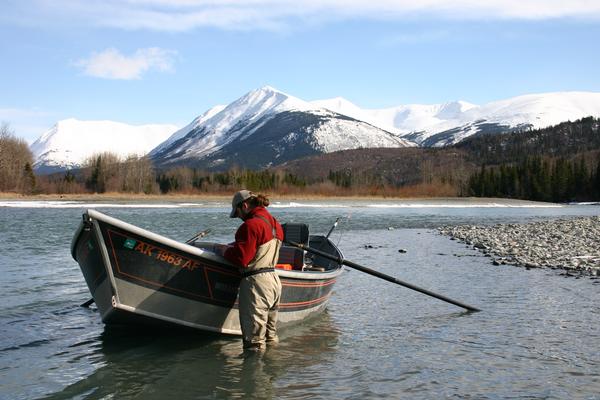 UPPER KENAI & CANYON
This trip is the Upper Kenai Trip plus the last 3 miles of the Kenai River before it empties into Skilak Lake, and is also the most wild and remote section of the Kenai. This is an awesome addition to our full day Upper Kenai River trips. The canyon section offers anglers the chance at hooking some of the upper Kenai's largest rainbows and char, as well as providing scenery that will take your breath away. From whitewater canyon runs to the smooth, braided sections of river just above the lake, this section of river is truly legendary. At the end of the day, kick back and enjoy the glacial views as you cruise out across Skilak Lake. Please note that Canyon trips may be delayed or canceled due to the uncontrollable weather on Skilak Lake.
FULL DAY: $275 + TAX (8-9 Hrs) Up to 4 Anglers
HALF DAY: Upper Kenai Only-$175 + Tax (4-5 Hrs) Up to 4 Anglers
MIDDLE KENAI
This section of river begins its flow out of Skilak Lake and slowly winds downstream before it enters a gorge called Naptown Rapids. The Middle is a very wide and deep section of river with tons of classic submerged river structure and massive salmon spawning areas. Fish average 18 inches and fish in the 26-30 plus inch class are seen almost daily. More rainbow trout in the 12-18 pound class (that's right, pounds) have been caught and released in this section of river over the last 10 years than any river in the world. Alaska Troutfitters guides pioneered fly-fishing tactics and techniques for the monster rainbows that inhabit and migrate into this section of river. This is primarily a boat fishery and is highly recommended for experienced anglers searching for their fish of a lifetime. This is where some of the biggest and baddest rainbow trout in the world come to party, are you ready? Maximum of four anglers per boat. (Please note that Middle Kenai River trips may be delayed or cancelled due to the uncontrollable weather on Skilak Lake.)
$275 + TAX (8 hours) Up to 4 Anglers
HIKE IN FISHING

RUSSIAN RIVER
The Russian River is a major tributary of the Upper Kenai. It originates out of two crystal clear mountain lakes and rapidly runs its short course through the Chugach National Forest eventually merging into the aqua blue waters of the Kenai River. The Russian is a textbook pocket water trout fishery with plenty of boulders, riffles, and crystal clear pools. This river fishes well from its opening on June 15th through September and can provide some of the best dry-fly fishing in Alaska for rainbow trout in July and early August. The Russian River receives two distinct runs of sockeye salmon providing insane amounts of flesh and eggs for the trout to gorge on.
Half Day: $175+TAX (4 HOURS) Up to 2 Anglers
Full Day: $275 + TAX (8 HOURS) Up to 2 Anglers

QUARTZ CREEK
This crystal clear, slow moving creek originates out of the Kenai mountain range and gradually winds through spruce forest before entering Kenai Lake. In August, this quiet stream becomes a sockeye salmon spawning war zone that attracts thousands of Arctic char/Dolly Varden into the fray. Sight and indicator fishing egg patterns for these worthy game fish among hundreds of spawning sockeye salmon is the name of the game. Be ready for that sleeper rainbow hiding in the log jam. We begin fishing this creek July 25th and offer trips through the month of August. This is a wonderful hike-in trip for beginners and mellow hikers.
Half Day: $175+TAX (4 HOURS) Up to 2 Anglers
Full Day: $275 + TAX (8 HOURS) Up to 2 Anglers
SOCKEYE SALMON TRIP
Imagine a fish with the power-surging runs of steelhead combined with the aerial displays of silver salmon. Now multiply that by over one million fish and you will start to understand why the sockeye salmon is a fly fisherman's dream come true. Every year the Kenai River gets flooded with these chrome rockets and provides anglers with some of the most fast and furious fly fishing known to man. The Kenai River receives two distinct Sockeye runs. The first run begins entering the system around the end of May and peaks out June 11th-June 25th. These are fish primarily bound for the Russian River, a major clear water tributary of the Upper Kenai River.
First run sockeye average 5-8 pounds and are mainly targeted on the drift-only section of the Upper Kenai. The second run begins July 15 and continues into the first week of August. This run consists of the largest numbers and size of fish. With second run fish regularly hitting the scales at 12 pounds, broken rods and sore backs are guaranteed. If you want to experience some of the craziest fly fishing ever, hit the gym and then call us for reservations. Maximum of four anglers per boat.
Full day (8-hours) is $275 PP + Tax. Up to 4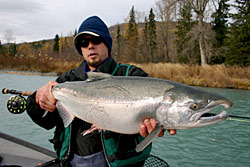 .
SILVERS SALMON TRIP

Every fall the Kenai river offers anglers the unique opportunity of fly fishing for one of the most aggressive salmon that swim, the silver. We primarily target the many backwater sloughs of the upper and middle river sections for these fly destroying fatties. If you're a light tackle spin fisherman, you just found the love of your life. Silvers begin entering the Kenai system in mid-August with peak times being mid-September through October. Fish average 8-10 pounds with 12 plus pound fish being hooked up consistently. Early mornings and late evenings are best. We usually combine silvers with our trout trips for a truly legendary fishing combination. Please refer to our trout fishing page for prices.
BOOKING A TRIP
A 50% deposit is required to book your trip. Please call us at 907-586-1550 to discuss trip options and book your dates.
Cancellations over 30 days before a trip receive a refund of the deposit minus a 5% processing fee. Inside of 30 days the deposit is non refundable.
If you think there is a chance your trip may have to be cancelled, we strongly encourage you to purchase travel insurance.
Occassionally, Troutfitters does not have any space available. In this situation we work with several other very good guide services in the area. If we book you with anyone other than Troutfitters we will let you know at the time of booking. Your meeting place may be at a different location.