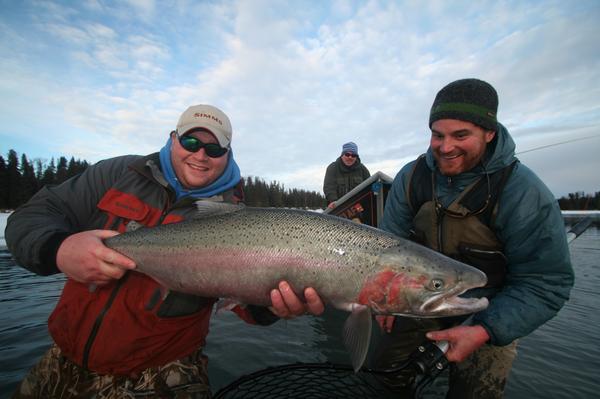 Troutfitters can supply all your tackle and waders if you don't want to bring your own.
If you prefer to fish with your own tackle, the following is a general list:
For rainbow trout, a 10 foot 7 weight is the rod of choice. That's right, a 7 weight! These aren't 5 weight fish. The 10 foot length makes mending easier and allows you to land fish while using a long leader and strike indicator. A reel with a solid drag is a must for these big fish. Weight forward floating lines are the way to go for the majority of the fishing. The standard Kenai rig is a long leader with split shot and an indicator to get down to the fish. Sink tip lines are used early and late season for swinging leeches and flesh. However, once the sockeye are in, sink tips will foul hook too many salmon.
For silver and red salmon, a 9 foot 8 weight rod is preferable. Once again a full floating line and high quality reel is the way to go.
The Kenai gets hit with the full menu of Alaskan weather. High quality rain gear, breathable waders, gloves, and layers are all a must.
Depending on the fish you want to pursue and the time of the season, Alaska Fly Fishing Goods would be happy to help you select the best tackle and flies. Give us a call at 907-586-1550 and we will start putting it together!