In our opinion, Dove Island truly takes wilderness accommodations to a new level of luxury.
The Dove Island complex is a 10,000 square-foot resort, located on a private island, which includes five two-room suites complete with private bathrooms, hot tubs, satellite television, refrigerators, coffee makers, and personal ocean front balconies. Guests can choose from twin or king-size beds with Serta mattresses, and some rooms even come complete with fireplaces. It's personal touches like these that make them a premier luxury fishing lodge in Alaska, and will make your stay peaceful, comfortable, and unforgettable.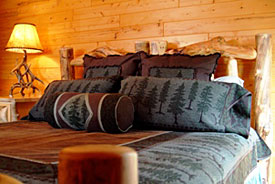 Another part of what makes Dove Island unique is their ability to cater to small groups or families with a pair of private two-story cabins. Each cabin is built with rich Alaskan yellow cedar and features personal entrances, a spacious living room, two separate bathrooms, bar, and private decks complete with hot tubs.
Meals are truly an event at Dove Island. With two professionally trained chefs on staff, the meals are the finest Alaska has to offer. Before heading out from the lodge for a day on the water full of bent rods and screaming reels, we make the most important meal of the day hearty and made-to-order. Omelets, fresh fruit, cereal, pancakes, eggs, bacon, and fresh coffee get the day started right.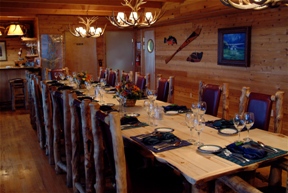 The breakfasts at Dove Island Lodge cater to any dietary need, from vegetarian to meat lover.

A unique lunch buffet includes a wide variety of various breads, meats, and cheeses, hot handcrafted soups, as well as an array of fresh fruit and chips. Dove Island Lodge is famous for its fresh-baked cookies, certain to delight the palette.

The best surprise at Dove Island Lodge appears at dinnertime when the Crown Jewel of our luxury resort is served; five-course gourmet meals with an Alaskan twist. The menus typically include fare straight from the clean, cold waters such as fresh salmon, spotted prawns, hand-made sushi, Dungeness and Alaskan king crab. These northern staples are the pinnacle of Alaska fine dining, but the menu is not limited to the ocean's bounty. Dove Island is also known for its fine prime rib, hearty steaks, tender lamb, and succulent venison. The owners, who hail from Napa Valley, are adept at pairing meals with fine wines from their own private cellar.*** At Dove Island Lodge we pride ourselves on offering the best, and will accommodate any special dietary need.