Photos and Report by Alan Corbett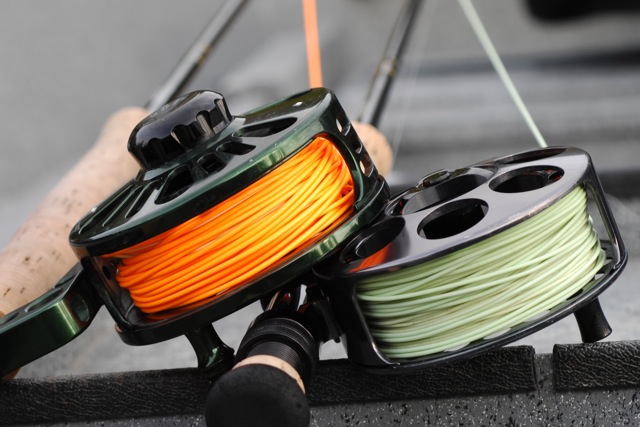 I love Alaska in the fall. It is the time when rainbow trout are at their fattest, Dolly Varden are in full spawning color, and we get one more chance to hook a huge fish before winter sets in and rods and reels get put away for the season. The mornings are crisp, first snow dusts the mountain peaks, and trees turn orange and golden. The fishing on many rivers in Alaska slowly fades out as the season nears an end. But there are a handful of rivers where the fishing actually gets better at the end of the season. Fishing on the Naknek, Kvichak and Kenai Rivers ripen and peak as fall progresses.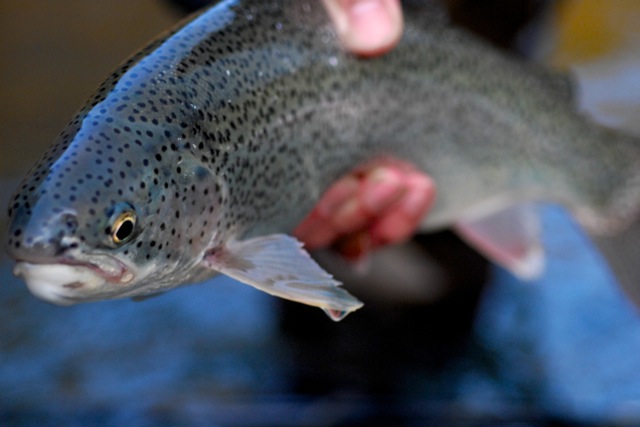 Since I can remember, I have dreamt about chasing big rainbows on one of these legendary rivers. This September the dream became a reality. All the arrangements were made for a trip to the Kenai River. Plane tickets were purchased, time off from work was arranged and a friend in Anchorage was supplying a drift boat and local knowledge. It would be perfect.

As the trip grew near, I read fish reports and checked river levels daily. Just before I was set to leave, a large storm rolled in and started dumping rain on the Kenai Peninsula. I watched from my laptop in Juneau as the river sprang from a leisurely 5,000 cfs to a raging 11,000 cfs.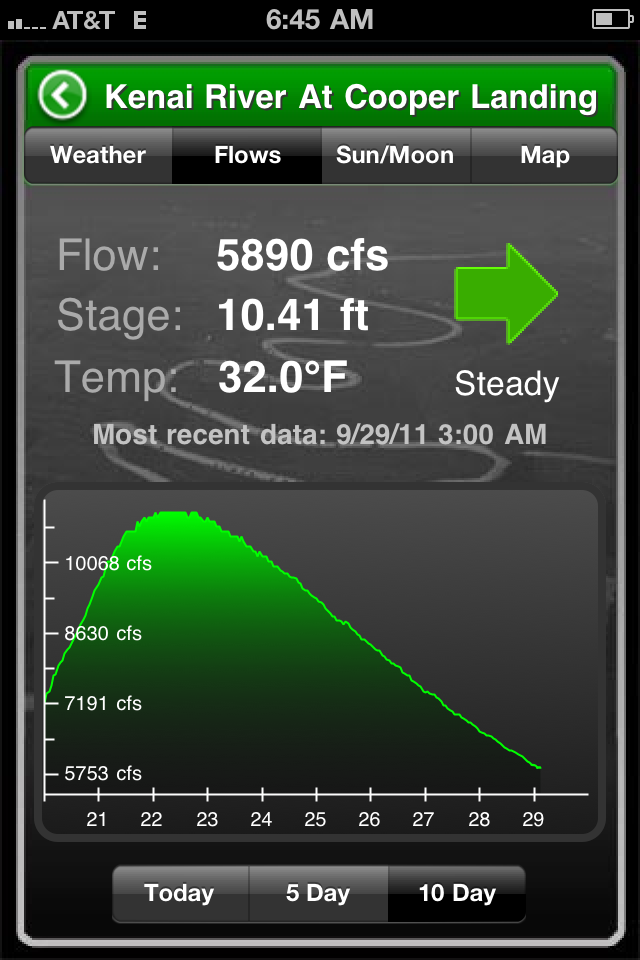 Collin met me at the airport in Anchorage and I prepared myself for the bad news; blown out river, totally unfishable, try again next year. But, the news did not come. Collin didn't seem too perturbed that the water was high and he was confident we'd find fish. A short two hours later we were in Cooper Landing on the Upper Kenai River.
Although Collin seemed calm, I could tell the fishing was going to be difficult. The Kenai was running very fast and was up in the bushes. The majority of sockeye were washed off of their redds and the trout were no longer confined to their usual spots and could be anywhere.
Since I had no idea what I was getting into, I had stocked up on enough flesh flies, guide model beads, Thingamabobbers, split shot, hooks and leaders to supply a small guide service for a season. Collin suggested we start off with a tangerine 6mm guide model bead. Although the water was fast and getting a good drift was tough, we started catching fish as soon as we hit the water. Within an hour of launching the boat I had hooked and landed several nice rainbows, with one taping out at 24 inches long!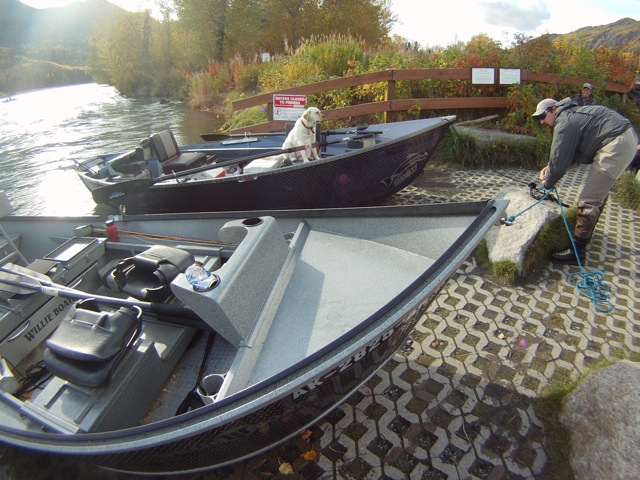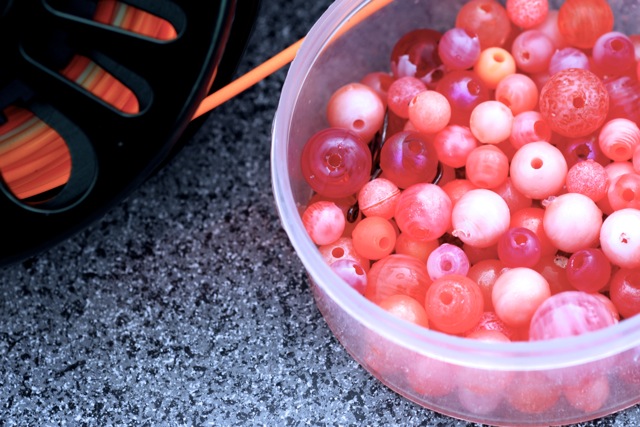 When the Kenai is running high, looking for back channels to fish can be a solid bet. Collin would pick a gravel bar, we would pull the boat over, and hike and fish our way up a channel. Although the water in these channels was still off color, the current was slower than in the main river. I cast into the murky water and felt a stout tug on my line but wasn't sure if it was a snag or a fish. I was totally engrossed in the fishing when suddenly I heard Collin yell "Bear! Bear!" Twenty feet away on the opposite bank two brown bears burst out of the under growth.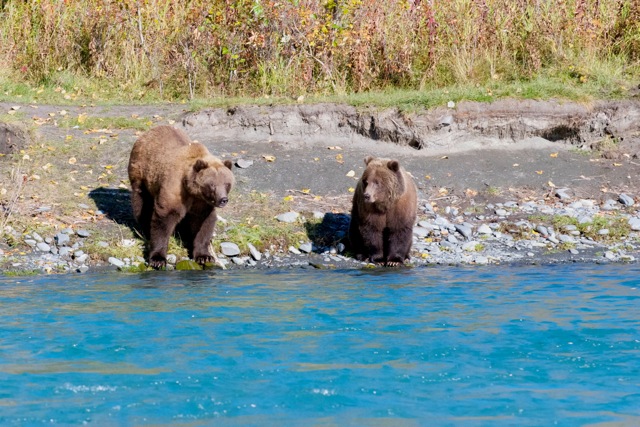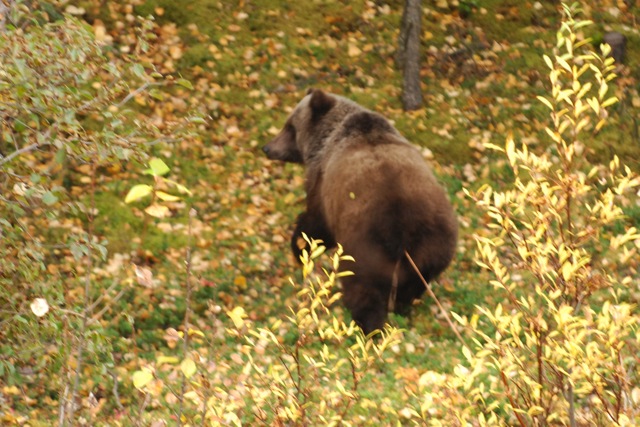 It was a sow with her nearly full grown 3 year old cub. I reeled up and walked slowly backwards towards the boat. The bears, wondering what all the yelling and commotion was about, wandered up the bank and disappeared into the brush. By this time whatever I had felt tugging on my line was long gone. Two casts later a rainbow crushed my bead and took off down river in the direction of the bears. Fighting an angry rainbow, while looking over your shoulder to see if a bear is approaching, is harder than you'd think. Despite all of this, I got him to the shore, took a quick photo and released him back to the river.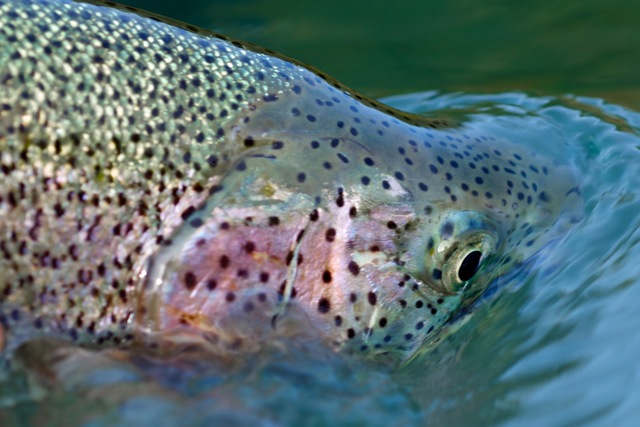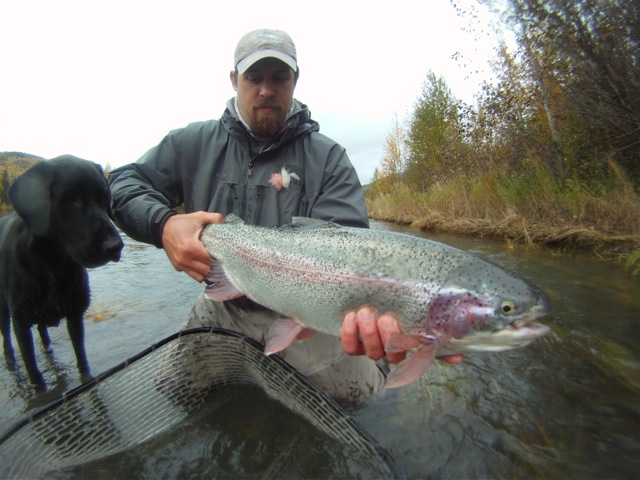 Each day the river dropped and revealed gravel bars where we could stop and fish. The sockeye were moving back into their usual spawning areas and this helped consolidate the rainbows and Dollies. These gravel bars were hugely productive and yielded up not only fat rainbow trout but also fully colored up Dolly Varden Char. The Dollies were getting ready to spawn and their bright orange spawning regalia was a sight to behold.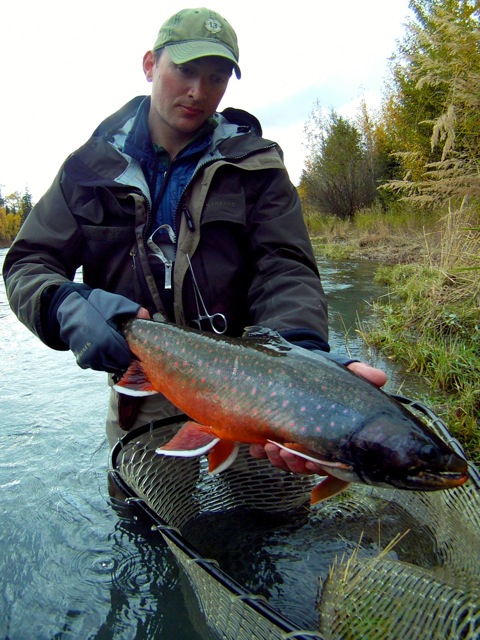 As the water dropped, we noticed that sockeye carcasses were piling up around snags and branches. We tied on flesh flies. Nothing. We tried changing colors, tried huge flesh and then micro flesh. Still nothing. Apparently, there was so much salmon flesh in the water that the trout had lost their taste for it. But they were still digging up redds and chowing down on fertilized eggs. So we matched the hatch and fished fresh colors of 6mm guide model beads. Tangerine, Natural Roe, Dark Roe and Clear Orange all had their moments.

All too quickly it was our last day. We hit the river before dawn andquickly found our way into some seriously big fish. We were the first boat on the river and it showed as the bigger fish were gulping up our beads with abandon. However, it wasn't until we hit the last gravel bar that we ran into the biggest fish of the trip. No sooner had we landed but Collin had hooked something very BIG and very ANGRY.
His 6wt strained under the pressure and he was forced to follow the fish downstream. I caught up with the net and Collin repeatedly tried to bring the fish to hand. This fish was seriously large and just as I was about to scoop him the behemoth rolled and spit the fly. We watched him slowly right himself in the current and then dart away. How big was he 26", 27", bigger? We'll never know, but one thing I do know is we'll both be thinking about that fish all winter. And I will be planning to return next fall to look for him.