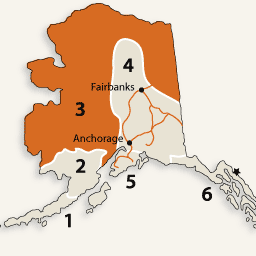 Below is a general table of when certain species of fish arrive. Early season (e.g. April and May) is always difficult to predict since the weather, severity of winter, and a number of other factors affect early season fish availability. It is not uncommon for lakes and streams in the Arctic to be iced-in until late May. Salmon runs tend to be more consistent in their return times and are rarely off more than a week.
The key to understanding flyfishing in the arctic is to understand the behavior of anadromous fish. Anadromous fish spend the majority of their life at sea and are only accessible to anglers for a limited time when they return to freshwater streams. As well, summer in the arctic is a very short season. In short, timing is everything.
These run-timing tables indicate the presence of fish in the area but do not indicate the legal fishing season. Some areas may be closed so be sure to check a current regulation summary before planning your trip.
P = PRIME FISHING
A = AVAILABLE
X = NOT AVAILABLE
| | | | | | | | |
| --- | --- | --- | --- | --- | --- | --- | --- |
| WHAT/WHEN | APR | MAY | JUNE | JUL | AUG | SEPT | OCT |
| KING | XXXX | XXXX | XAAA | PPPP | AAXX | XXXX | XXXX |
| COHO | XXXX | XXXX | XXXX | XXXX | AAAP | PPPP | AXXX |
| CHUM | XXXX | XXXX | XXAA | PPPP | AAAA | AAAA | XXXX |
| RAINBOW TROUT | XXXA | AAAA | APPP | PPPP | PPPP | PPPA | AAAA |
| DOLLY VARDEN | XXXA | AAAA | APPP | PPPP | PPPP | PPPA | AAAA |
| LAKE TROUT | XXXA | AAAA | AAAA | AAAA | AAAA | AAAA | AAAA |
| GRAYLING | XXXA | AAPP | PPPP | PPPP | PPPP | PPPA | AAAA |
| NORTHERN PIKE | XXXA | APPP | PAAA | AAAA | AAAA | AAAA | AAAA |
| SHEEFISH | XXXX | XXXA | AAPP | PPPP | PPPP | PPPA | AAAA |