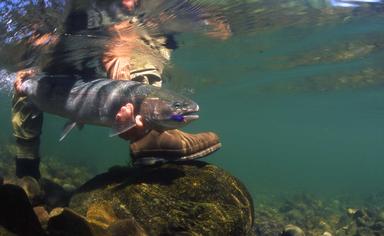 Meet The Fish: Steelhead
Perhaps the least abundant but most sought-after species of Salmonid is the steelhead. These sea-going rainbow trout are found in over 500 river and creek systems throughout Southeast Alaska, the Kenai peninsula, and Kodiak, but most watersheds support small runs numbering to perhaps 200 returning adults. The "fish of 10,000 casts" is divided into 2 discrete stocks, a spring run available from March to June, and a fall run from September to November, with some unique systems in southeast supporting both runs. Averaging 8-12 lbs with trophy specimens topping 20 lbs, the steelhead is one of the wariest salmonids and rates near the top of the "angling challenge" scale. To view photos of fly caught steelhead, click here.

Gear and Flies
The steelhead is a formidable opponent once hooked, capable of mad dashes and skyrocketing leaps. The prudent angler gears up with a 7 or 8wt rod matched to a high-capacity reel with a good drag to battle these chrome rockets. Two-handed (Spey) rods can be used on some of the larger rivers such as those found on the Alaska Peninsula. In general, they are too long for most Alaskan steelhead streams. Depending upon the method of presentation, fly line choices include weight-forward floating lines, sinking tip lines, and multi-tip systems to deliver your offering to the proper depth. Steelhead flies are as numerous and varied as the folks that fish for them. Some Alaska favorites are the Garcia Sculpin, Black Thunderhead Mega MOAL, and the Pink String Leech.
Rods
Winston BIIMx 9' 8 wt
Sage-One 9' 8 wt
Sage VXP 9' 8 wt
Winston B3x 9' 8 wt
Sage FLight 9 ½' 8 wt
Sage 99 Series 9'9 8wt
Reels
Abel Super 7 Steelhead
Nautilus NV 7/8, CCF 8 , FWX 7/8
Lamson Konic, Guru, Velocity, Litespeed 3-3.5
Galvan Torque 8
Sage 4280
Lines
Rio Versitip
Scientific Angler Steelhead Taper floating line
Rio Grand floating line
Scientific Angler Wet Tip IV sinking tip line
Rio Salmon Steelhead 9' Tapered Leaders 12lb
Flies
AFG Situk Steelhead Selection
Thunder MOAL Hot Pink
Black Egg Sucking Leech
Jerry Garcia Glo Bug
Money Bug
Liquid Wrench
Beads
Cerise Trout Bead 10-14mm
Mark's Metalhead Magnet -Steelhead Red
Mark's Metalhead Magnet-Guide Pink
Mark's Metalhead Magnet-Dark Roe
Mark's Metalhead Magnet-Orange Clear