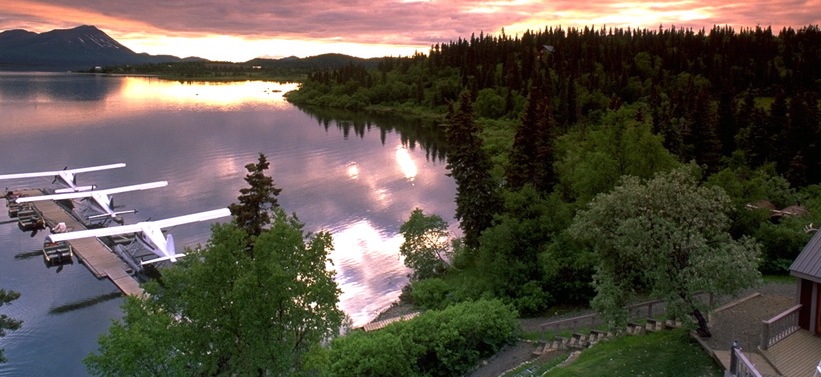 Mission Lodge
Mission Lodge is considered to be Alaska's finest fly-out lodge operation. Those who go to Mission never forget their memorable week and many return year after year. Surrounded by mountains, water and breathtaking scenery, Mission is located at the headwaters of the Wood River on Lake Aleknagik in the heart of the Bristol Bay region of Southwest Alaska. This location puts Mission within easy flying distance of the finest streams and rivers in the state. Each day you will fly out by floatplane to a different location, where you can target, depending on the time of season, all five species of Pacific salmon, trophy rainbow trout, arctic char, Dolly Varden, arctic grayling, lake trout and northern pike. The owners and staff at Mission Lodge are committed to providing the very best service possible with the ultimate goal being for you to have the time of your life while catching lots of fish.
Mission is a special place where guests become friends and family of Mission Lodge. Many guests, guides and staff return year after year and their familiar faces bring smiles to everyone. The relationship between guests and staff is a special one that is unique to Mission Lodge. If you and your family, friends or business partners are interested in a first class luxury experience without compromising great fishing, Mission is your kind of place.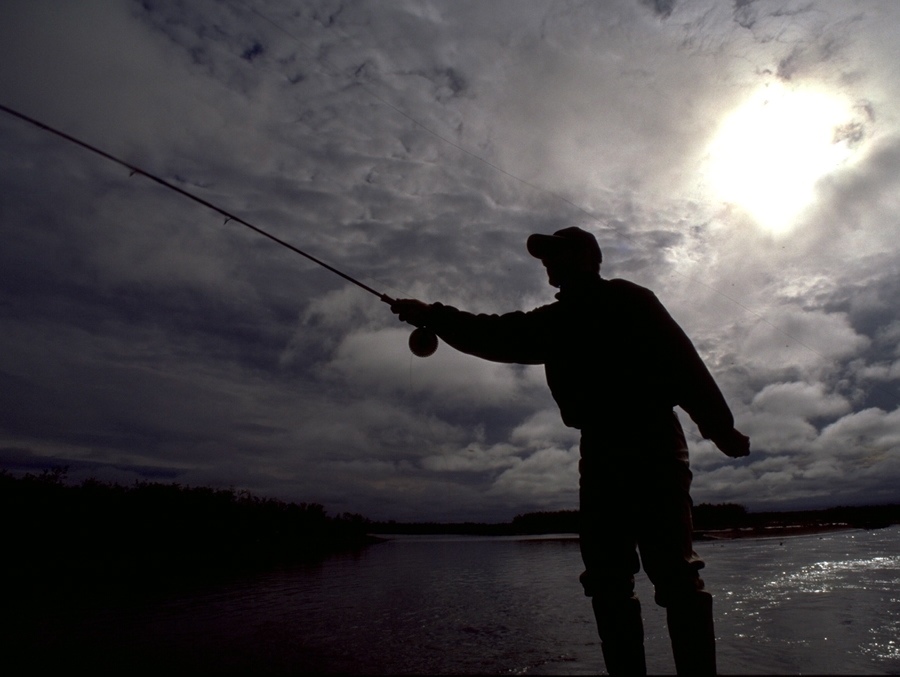 Fishing At Mission Lodge
The fishing season at Mission Lodge starts around the second week in June when chrome bright kings are the salmon of choice. Rainbow trout ravage the rivers feeding ferociously on salmon smolt, sculpins and mice. Arctic char dominate the river mouths annhilating the out migrating salmon smolt, competing only with arctic terns.Swinging streamers ia a popular technique used during this time.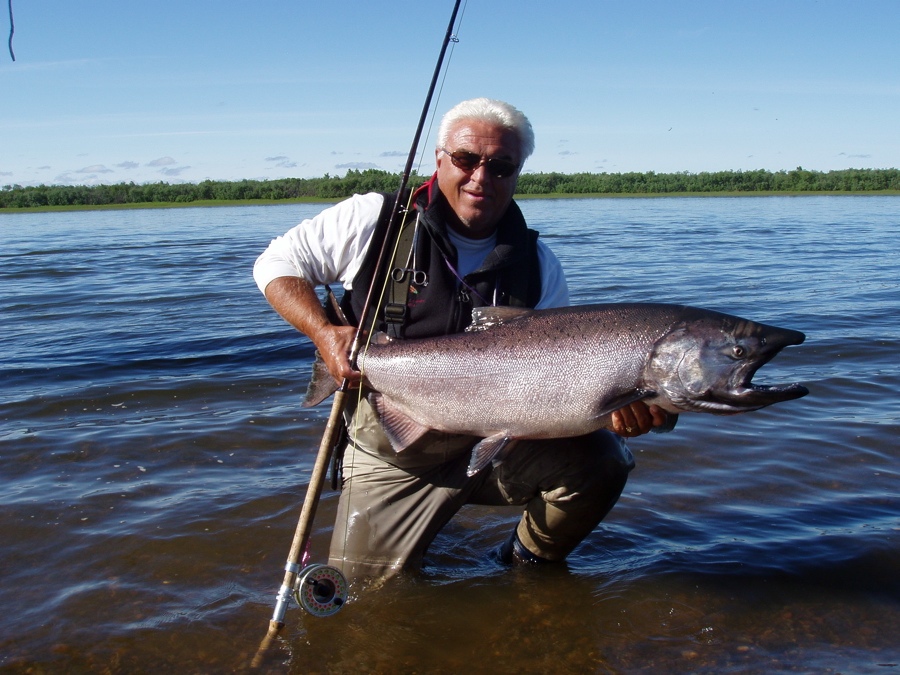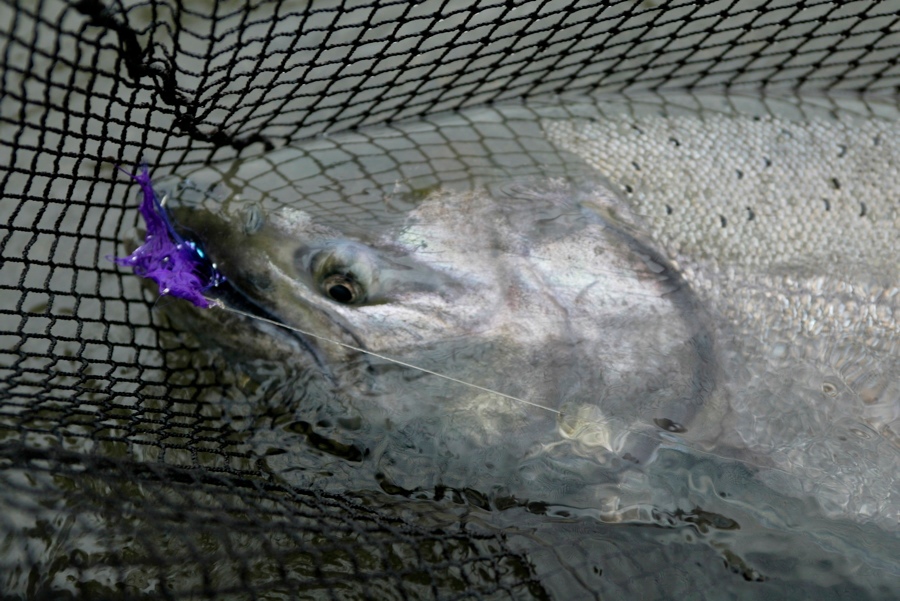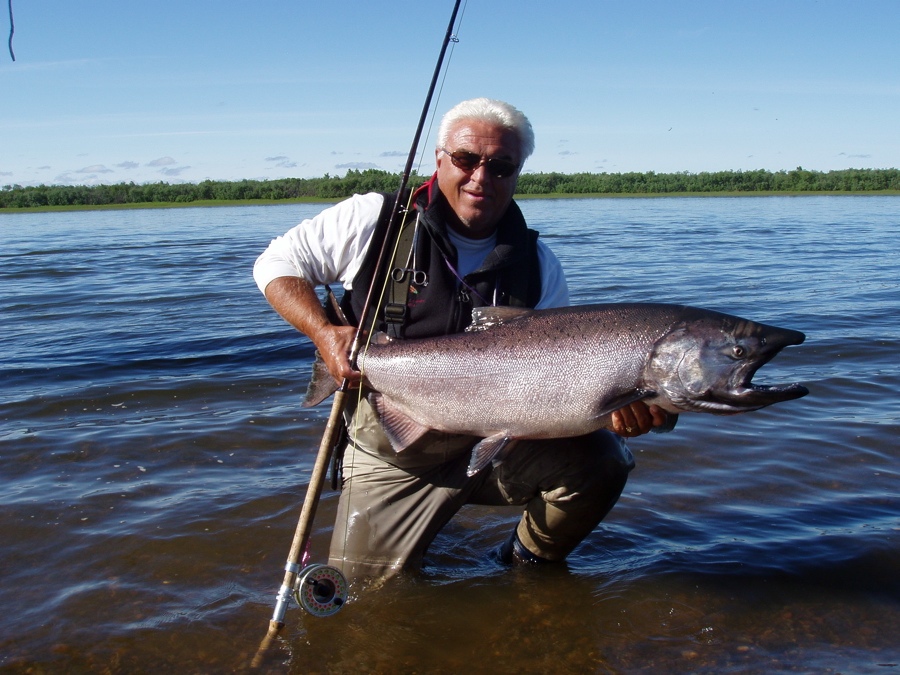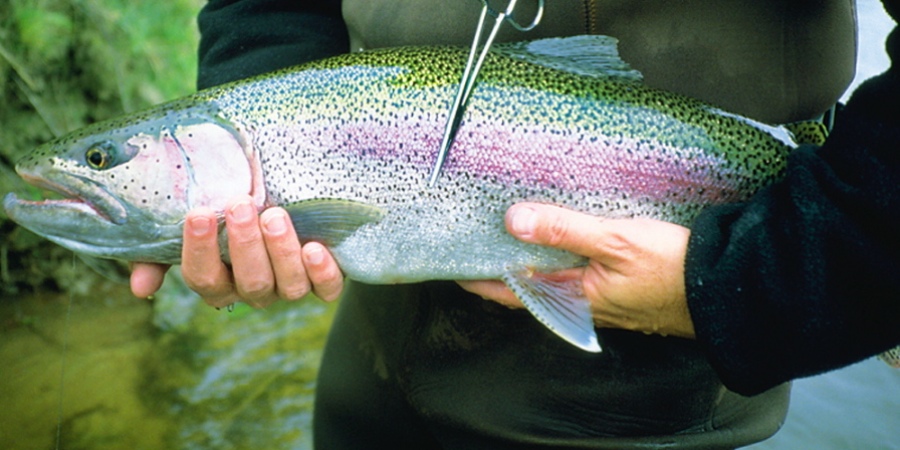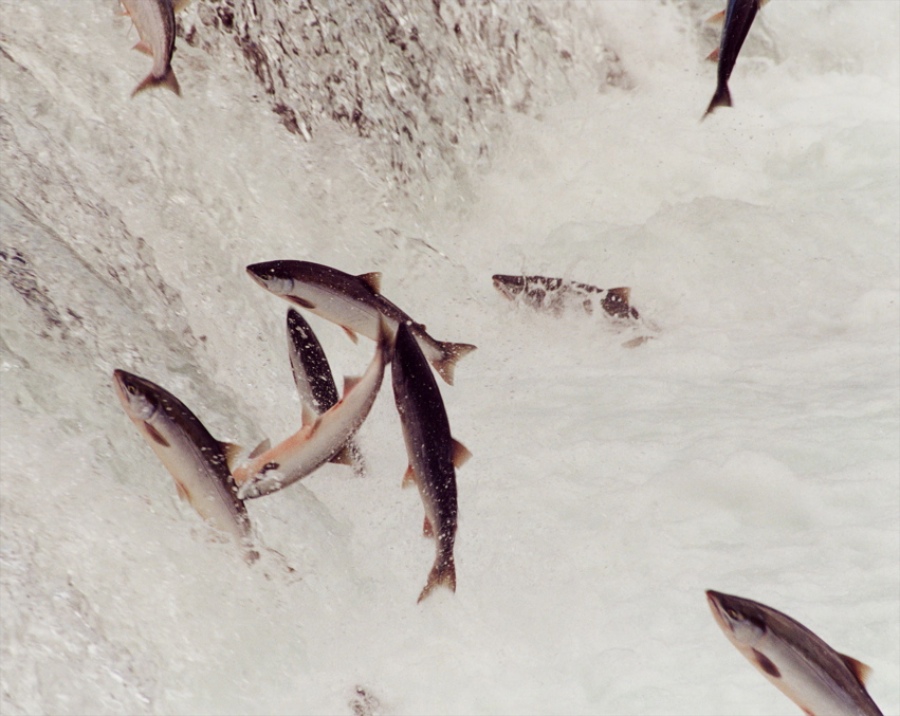 As June pushes into July, millions of migrating sockeye salmon join the ranks with kings. Chum salmon are also returning in good numbers opening the options up. Trout and char continue their onslaught on smolt, sculpins and mice. In some rivers, mayflies and caddis start to emerge in good numbers making dry fly and nymph fishing for trout and arctic grayling a favorite technique. This continues throughout the month. With the millions of salmon returning, brown bears start to frequent many rivers making bear viewing an exceptional part of a great days fishing.
When July comes to an end, so does the king season. Sockeye turn from silver bullets into red submarines and chum take on their alligator-like appearance. Kings and chum start the spawning season with sockeye following a few weeks later. This marks a change from traditional fly patterns into egg imitaions. Rainbows and char gorge on the salmon spawn. The end of July thru early August mark the start of the silver run and on even years pink salmon flood the rivers, too.
Silver and rainbow fishing continues on through the end of the season which is typically mid September. The largest trout and silvers are usually caught around this time. Some trout will gain up to a third of their body weight over the short summer season. Grayling fishing stays good through the end of season with some systems seeing large Dolly Varden and char joining in wth the rainbows.
A Typical Day
With Mission's line up of DeHavilland Beaver float planes, the options for fishing are unlimited. One day can be spent chasing salmon and the next chasing trout and char or a combination of both. If bear veiwing is in the cards, a flight into Katmai National Park is possible. Or a breath taking scenic lake hop into the Togiak National Wildlife Refuge to chase trout, char and grayling as you fly from lake to lake. Other options include a short boat ride to fish the famous Agulawak River or start at the lodge and fish the Wood River and a tributary.
After a long day of fishing a dip in the hot tub or a short stay in the sauna is the way to end the perfect day. When the shoulders and back are crying after fighting fish all day, a professional masseuse is on staff and ready to remedy.
Quick Facts: Mission Lodge
• All inclusive lodge packages
• Private room accommodations
• Alaskan gourmet meals
• Sauna & Hot tub
• 2:1 Angler to Guide Ratio
• All equipment provided
(waders, rods, reels, flies & lures)
• Three Float Planes
(DeHaviland Beavers)
• Twenty Five plus years in operation
Trips run from Friday to Friday.
$7,500 per person plus 5% local sales tax. All inclusive from Dillingham, Alaska.
**shorter or longer stays may be possible depending upon availability.
Please call us at 907-586-1550 to discuss the best dates for your trip.