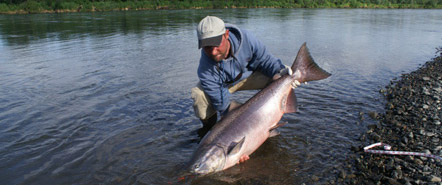 Justin Tenzler Photo


Meet the Fish: Chinook Salmon

The reigning heavyweight champ of Alaskan salmon, the chinook has earned the nickname "king" for its size, fight, and table-worthiness. Chinooks are available from May to September, with most runs peaking in late June and July. Although Chinook are available in all regions of the state, the biggest runs occur in Bristol Bay, the Kenai Peninsula, and the Anchorage-MatSu area. Chinooks can be fished in both fresh and salt water, with the best fishing occurring in the large, long rivers that they spawn in. Averaging 18-30 lbs, the chinook can reach 80 lbs or more in some river systems and represents the pinnacle of the North American freshwater fly fishing experience. To see some photos of fly caught kings, click here. For more on how to fly fish for kings check out Mike Cole's Swinging for Kings article.
Gear and Flies
The king is a large, hard-fighting fish that requires stout tackle to subdue. Rods in the 9-11wt range are recommended for kings, as are high-capacity reels with good drag systems. King salmon prefer to hold in deep holes and runs. Good fly line choices include sinking tip lines and multi-tip systems that deliver your fly to these deep lies. Mid- to large-profile flies, often tied in two contrasting colors, are the ticket for kings. Some favorites include Stinger Prawns , Guide Intruders, Fat Freddies, and Articulated Hareball Leeches.

Rods
Winston BIIMX 10wt
Sage VXP 10wt
Sage Flight 10wt
Reels
Abel Super 11
Nautilus CCF 10
Galvan Torque T-10
Lamson LItespeed4
Lines
Rio Versi-Tip
Rio Dredger Versi-Tip
Rio Streamer Tip 300 Grain Sink Tip
Rio 6' Salmon Leaders in 16lb or 20lb
Flies
Bjorn's Stinger Prawn
Fat Freddie
Signature Intruder
Articulated Hareball Leech