| | |
| --- | --- |
| Kenai River Report 7-12-09 | |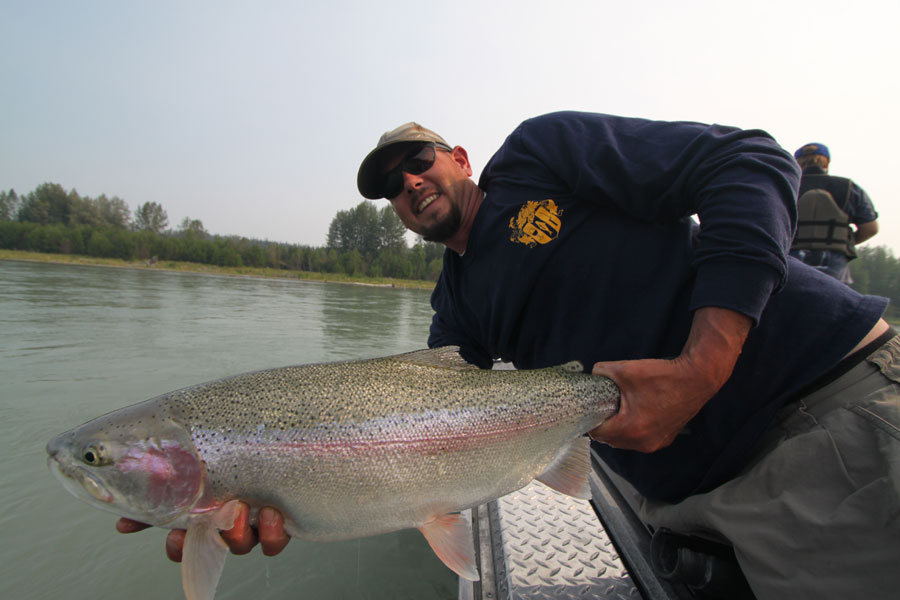 Trout fishing on the Upper Kenai River this week has turned on again. High temperatures have been melting the glaciers and snow pack, giving the Upper Kenai more water and silt. This has put some big trout back on the bite and fly fishermen once again are back in the game. Second run Sockeye Salmon are beginning to trickle into the Upper River and along with them are big ravenous packs of Dolly Varden. These Char-manders are on the prowl throughout the Upper Kenai and should not be slept on. Fresh 6 mm and 8 mm caliber beads are deadly weapons, and anglers should strap on their combat boots for the Char Battle. Some magnum rainbows have been getting hit in the crossfire as well on Peachy Orange Twofer and Chocker flesh flies.
The Kenai River Canyon continues to fish strong this week. Higher water levels are pushing lots of carcasses around in the boils and rainbows are feasting on meat like a Friday night at Sizzler Steakhouse. Try offering up a big Barely Legal in washed out pink and 6mm beads make a fine dessert. Dry flies are also working in select spots and some big fish will come up on big mayfly imitations. There is still a Trout Party going on at the river delta into Skilak Lake. Big Lake Rainbows and Dollies are pulling all nighters and anglers should be ready to get bounced out the back door into the lake.
The Middle Kenai River this week is still producing for trout anglers that are on their game. Big leeches are still producing from the lake to the Killey River in the early mornings and late evenings. Water levels continue to be ultra clear in the upper stretches and big trout with PHD'S continue to humble rookies. The Killey River is producing big silt flows with the Africa in Alaska temperatures, and fishing below the Killey is tough at this time. However, for those anglers that persist, there are some ultra magnum rainbows feeding heavy in the mud and a 9-10 weight rod is advisable.
More Reports to follow. Billy