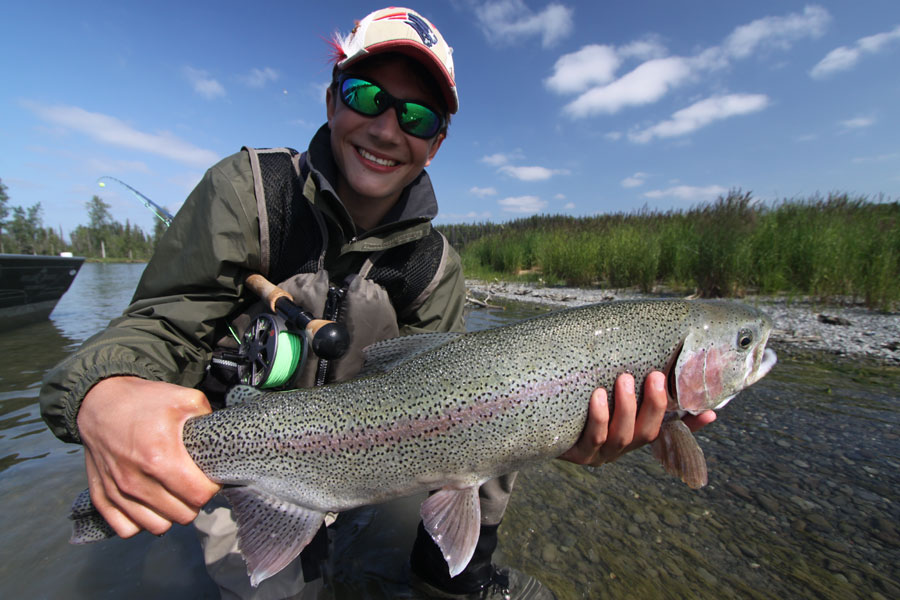 Trout fishing on the Upper Kenai this week between Sportsman's and Jim's Landing has turned "ultra-tech" as water flows continue to drop and the water clarity is New Zealand caliber. Old School Kenai River fly fishing tactics have been nullified, and anglers approaching the drift ninja style are hooking slabs. The Centerpin anglers have been killing it with 3lb tippets and 150 foot dead drifts, and fly fisherman with skills to pay the bills are connecting with ultra micro flesh, 4mm beads, and dry flies. This is not a beginner-friendly section of river at this time, but if anglers are looking for a challenge, strap on your guile suit and be prepared to get humbled.
The Kenai River Canyon is producing some awesome fishing this week. Deeper water and less sun exposure is putting some big trout at ease, and fly fisherman who know how to drift the complex boils and back eddies are consistently going airborne with red stripe natives and Skilak Chromers. Be ready for that magnum Dolly to put you in a log jam!
The Middle Kenai River this week continues to amaze and humble anglers. Water clarity from Skilak Lake to the Killey River has become crystal clear again, and anglers who can successfully present flies away from their boats are seeing hot tub size boils on the takedown. Big leech patterns are getting crushed as well as big articulated flesh. Fishing from the Killey River to Bings Landing is still worthy. Big Rainbows are concentrated and stacked up in key spots and are ready for battle. Big Flesh and 10mm beads are starting fights and anglers should be ready to go 12 rounds.
More reports to follow. Billy
(Editors note: Check out the fine rainbow landed this past week by Sam Wronoski.)