| | |
| --- | --- |
| Kenai River Report 6-14-09 | |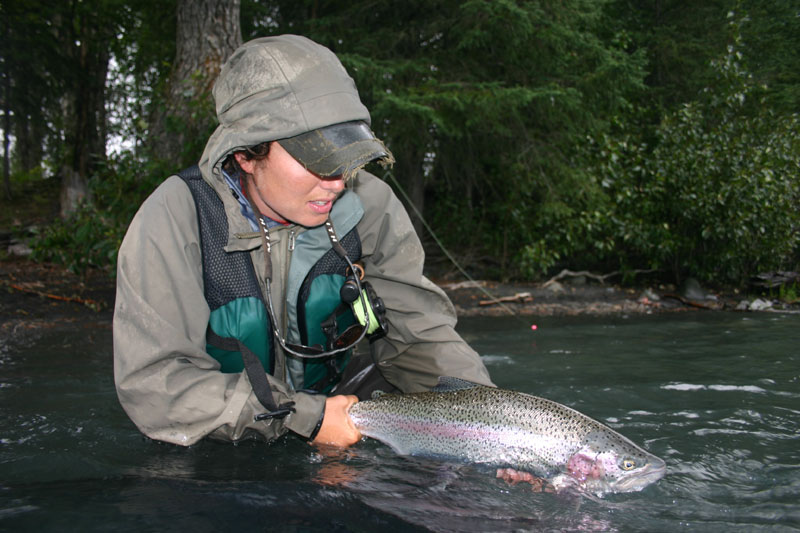 The 2009 Upper Kenai River opened up full force with one the biggest runs of first run sockeye to hit the river since the glory days of Quiet Riot! Fly fishing Sockeye has been fast and furious and the run seems to just keep building. We have been spotting massive schools throughout the entire river system. These fish are all bound for the Russian River, a major clear water tributary of the Upper Kenai. This Legendary run is producing tons of trout food in the form of filleted carcasses, guts, and egg sacs. Big Skilak Lake rainbows and Dollies are flooding into the upper Kenai to feast and anglers targeting trout are going into the backing. Micro-Flesh patterns and beads are on fire and the trout fishing on the upper Kenai should continue to get even better as the week progresses.
Water conditions are exceptionally clear, and pro trout anglers that are bending rods are running 12 foot leaders and 6-8lb fluorocarbon tippets. The trout fishing in the Middle Kenai River below Skilak Lake has been insane as well. Trout anglers that are concentrating in the deeper runs are hitting super-charged, smolt-eating chrome rainbows in the 6-10 pound range all day. Big 4 inch sculpin patterns in black and olive are producing magnum takedowns. As in the Upper Kenai, the Middle Kenai is extremly clear and long leaders and light tippets rule. There are still a lot of big spawning rainbows in this section of river on the the shallow gravel bars and anglers should show some respect to these legends and leave them be.
More reports to follow as the week progresses on the Kenai.
Billy Couillette