Kenai River
The last few days of June and the first few days of July are often thought of as the "in-between time" here on the Kenai. The first run of kings are mostly gone, and the second run of kings has barely started to enter the river. July 1st marked the opener of the king salmon fishery on the Kenai, which according to all reports (and most expectations) has been dismally slow. Water conditions are not great- but you can expect the second run of kings to begin showing up on the Kenai any day now. (We hope!)
The sockeye are typically on a similar timeline as the kings and the late June/early July timeframe can be a slower time. But not this year! The Kenai has seen strong sockeye fishing in late June and early July of 2014- possibly the best it has been in years during this time frame! Anglers have been regularly hitting their daily limits of sockeye through the middle and lower sections of the Kenai for the past week or more. Several of the past few days have seen 15,000-30,000 sockeye swim past the sonar. The best part is that it should only get better through the next few weeks. Crowds will be plentiful, but so will the Sockeye, so get geared up with your waders & sunglasses and be ready for combat!
Middle Kenai
The Middle River (Skilak Lake to Bings Landing) has been very productive for salmon fishing. Grab a bank and find those reds! Try simple and sparse flies for the best chance at success with the reds.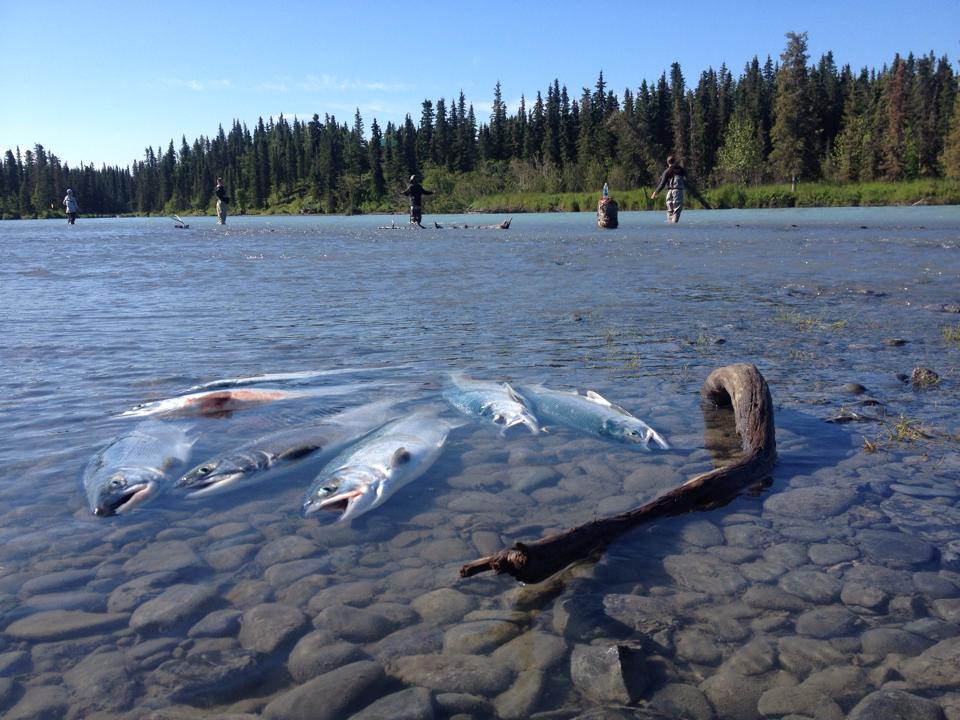 Trout anglers are seeing mixed results throughout the Middle River. The trout are phasing out of spawn mode at this point, moving off the gravel beds and settling into deeper pockets of water and other lies. Try swinging sculpins, dolly llamas and other larger streamers through deeper pockets and riffles. Flesh flies and beads are starting to be productive in areas where large amounts of sockeye are being caught and filleted.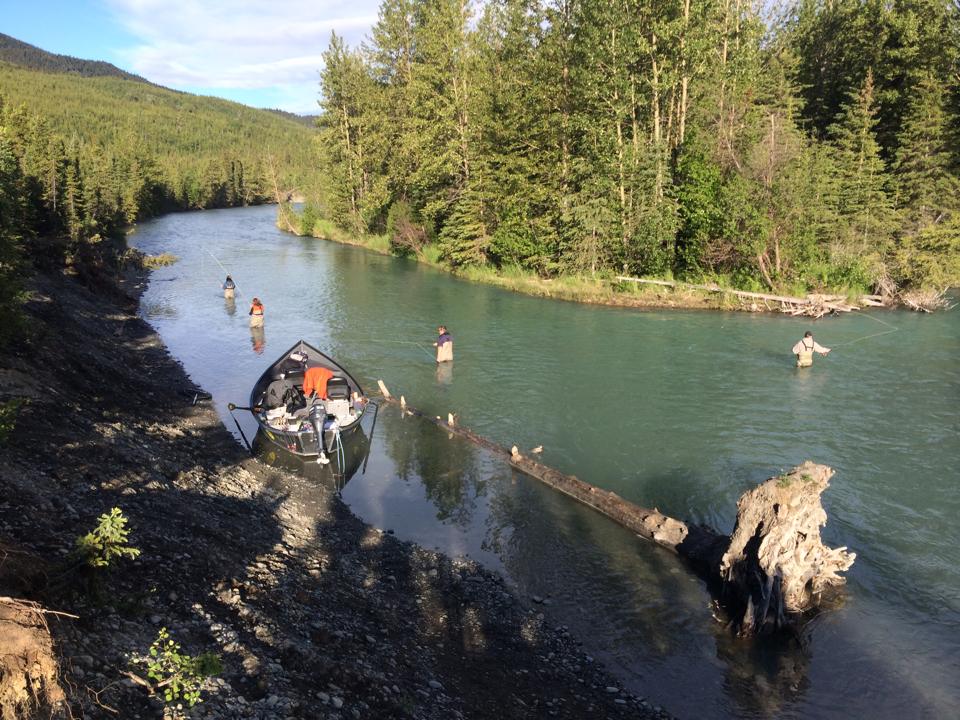 Upper Kenai
The Upper Kenai (Kenai Lake to Skilak Lake) has benefited from the strong first run and early second run of sockeye salmon with anglers regularly hitting their limits.
The mass abundance of salmon movement has had somewhat of an adverse affect on the trout fishing though- with the salmon schools pushing trout out of some of the normal holds and lies. This had made the trout fishing a little more sporadic on the Upper Kenai. Try exploring atypical spots for trout and experiment with your fly selection. Near cleaning stations, flesh flies and beads are productive. Through other stretches experiment with leeches, nymphs and smolt patterns.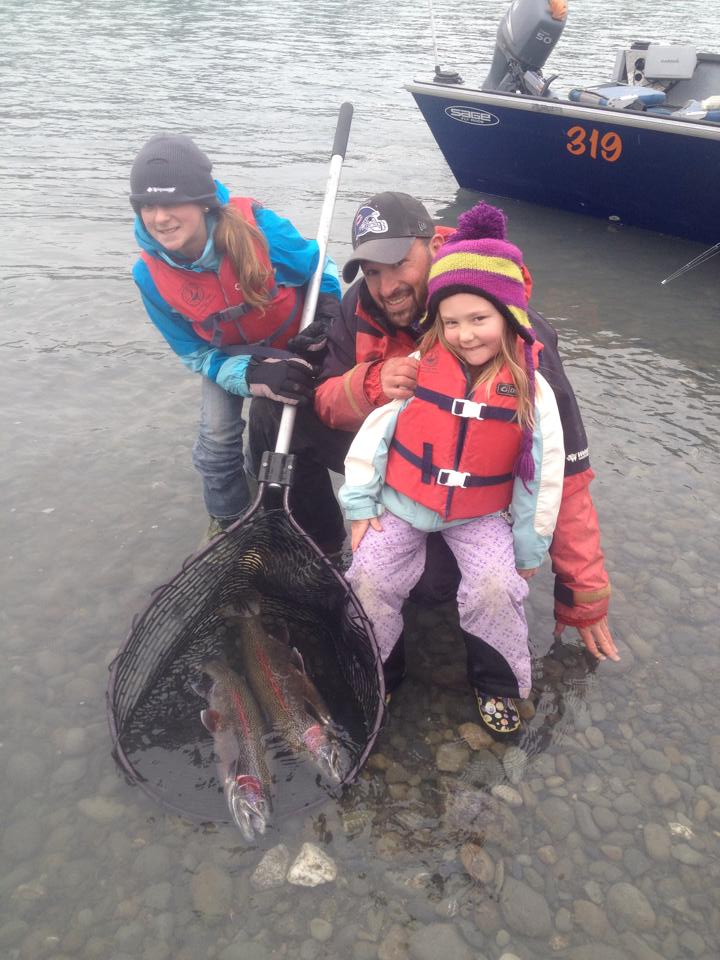 Kasilof River
The Kasilof kings have acted more like they're supposed to compared to the Kenai kings. The majority of the first run kings have made their way into Crooked Creek to spawn, and the second run kings are slowly beginning to make their presence felt. There is still a no-bait regulation in effect, but kwikfish and spin & glows have produced a few nice fish in recent days, especially on the incoming tide and extreme early mornings... as usual. Try large bright streamers on the fly rod.
Kasilof sockeye have also been coming through in good numbers, and so many entered the river early on that ADF&G has increased the bag limit, and are currently allowing dip-netting much further upstream than usual. Fish the lower river a few hours before the high tide for best results. Some tides bring thousands of fish, while other tides come up dry... but you have to be there to find out. Find a good bend or gravel bar and get your line wet!
Summary
As expected, the Kenai king fishery is looking to be a disappointing year. However, the abundance of sockeye will hopefully make up for it for you anglers out there. Enjoy the July weather- get out there and fish! Best wishes for tight lines and a fun safe time on the water.
Fishing report compiled by Brendyn Shiflea of Pretty Fly For a White Guy with in river action reports and pictures submitted by guides Lee Keuper of Alaska's Angling Addiction, Mark Wackler of Fishology Alaska, and Kyle Kolodziejski of Keen Eye Anglers. All are current or past board members of the Kenai Chapter of Trout Unlimited.