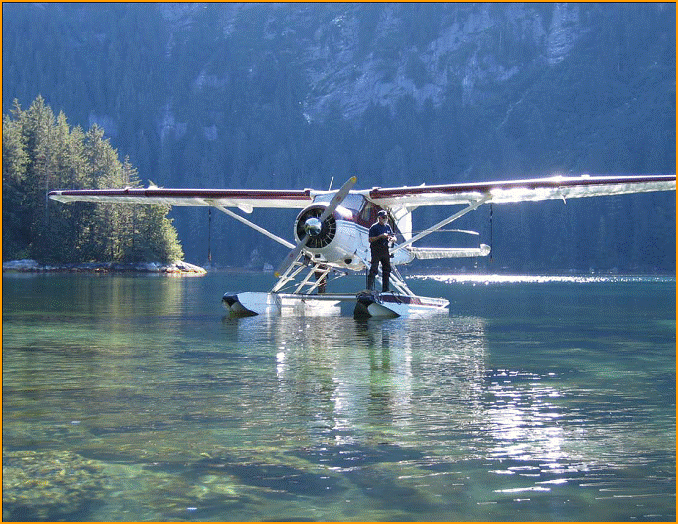 If you are looking for something a little out of the ordinary on your next Alaskan fishing trip, you should consider Dove Island Lodge. Sitka is known far and wide as a hot spot for ocean fishing for halibut and salmon. What has remained a secret is the fantastic fly fishing in the remote areas around Sitka. These locations have long been nearly inaccessible to fly anglers due to their remote locations and the difficulty in reaching them.
Dove Island lodge has solved the access problem. They are the only lodge in Sitka with a DeHavilland Beaver float plane and the U.S. Forest Service Permits needed to fish these amazing waters. The Beaver is a legendary float plane that can carry up to six passengers and safely reach remote streams. Now the steelhead, rainbows, cutthroat, Dolly Varden along with pink, chum, and silver salmon are all within striking range of Sitka.
So, how good is the fishing? The steelhead in the photo to the left was caught by a Dove Island angler and was estimated to weigh 36.5 pounds! It is the new catch and release world record. If fly fishing small streams with no other anglers for miles around sounds good to you, take a good look at Dove Island.
Dove Island Lodge is also the perfect place to bring your spouse, special business client or all the guys in the family. Not everyone in your group is a fly angler? No problem, Dove Island has a full fleet of boats to access some of the best salmon and halibut fishing in Alaska. Want to stream fish a few days and then catch some halibut for the freezer? You can do that, too.
Lots of lodges claim to have world class accommodations and food. Dove Island actually does. The owners, Duane and Tracie Lambeth, cut their teeth hosting guests in California's Napa Valley. They don't take the word gourmet casually. When it comes to luxury and comfort in a remote setting, Dove Island Lodge hass taken it to a whole new level. Check out the Accommodations page for more on Dove Island's amazing meals, rooms, and lodge.
Packages and Prices
Packages at Dove Island start at 4 Day/3 Night and go up to 8 Day/7 Night. Depending on the length of your stay and how many days you wish to fly out and how many days are spent saltwater fishing, prices range from $2995 to $8395. There are many packages that fall in between these amounts. Please call us at 907-586-1550 to discuss trip options.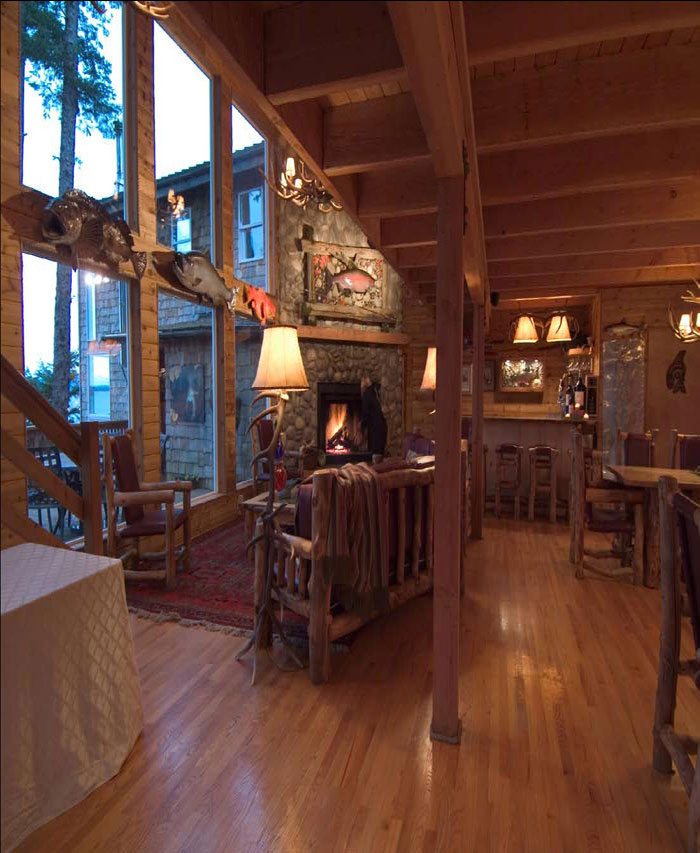 Refund Policy
Due to the short season and high demand, Dove Island's cancellation policy is as follows. Deposits are 100% refundable only if the date can be rebooked. If you think there is any chance of cancellation we strongly suggest purchasing travel insurance.