Upper Kenai 101
by
Mark Hieronymus
Trophy rainbow trout. Massive Dolly Varden. Beautiful scenery. A no-motorized-vessel area, as well as fly-only water. Less than 150 miles from a major International airport, and road accessible for much of its length...Sound too good to be true? Welcome to the upper Kenai River, one of the best-kept non-secrets in Alaska.

Stretching a mere 17 miles from the outflow of Kenai Lake to its braided terminus at Skilak Lake, the upper Kenai and its tributaries host large runs of 4 species of Pacific salmon as well as Dolly Varden and rainbow trout in great numbers. The salmon - specifically, the sockeye salmon - are the summer's featured attraction, with hundreds of anglers lining the bank hoping to land a limit of these tasty fish. As the salmon begin to color up, the crowds begin to disperse, and by August 15th, the last of the salmon anglers have left for the year. The rainbows and Dollies, forced out of their feeding lanes early in the year by the sheer volume of salmon, are once again on the move, looking to make an easy meal out of both salmon eggs and flesh.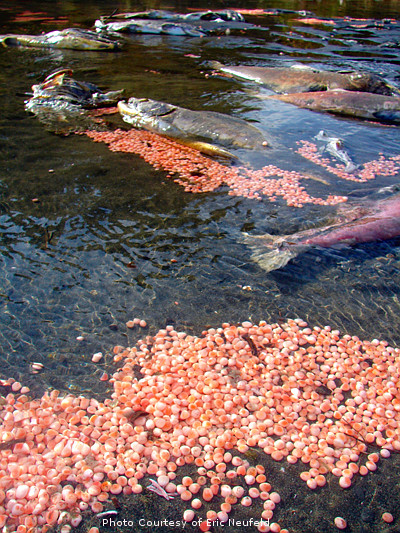 Late summer is the time of the egg imitation on the upper Kenai, and while glo-bugs, unreal eggs, chenille eggs, and other "traditionally tied" egg patterns work most of the time, the undisputed heavyweight champ of salmon egg imitations is a well-painted bead. "Bead? Paint? Huh?" Yes, a painted bead. Beads were once a closely guarded secret shared by a few guides in Southwestern Alaska, but these days it isn't a secret that beads catch fish when very little else will - and they also work on big, hard-to-fool trout in high-traffic areas. While some may argue that fishing a bit of plastic "isn't really fly fishing", you can't argue their effectiveness when it comes to angling for fish that are keyed in on salmon eggs.

A basic upper Kenai bead rig is made up of 6 to 10 feet of leader, 18 to 24 inches of tippet material, a few split-shot, a hook, and a bead. Strike indicators are often used to fish bead rigs, especially when fishing the upper Kenai from a boat. As a bead rig is generally tip-heavy due to the use of split-shot, the use of tapered leaders isn't really necessary - in fact, the added drag of a heavy butt section can be a hindrance in deeper water. In most situations, a single piece of 12 or 14lb test monofilament is enough of a leader to get you into the action. Tippet selection is a little more important, and there are many schools of thought as to what the best tippet material is. While some favor the abrasion resistance and inexpensive cost of monofilament, others espouse the virtues of fast-sinking, nearly invisible fluorocarbon. There are pros and cons to each material, but as long as your tippet is in the 8 to 10 lb test range, you are good to go.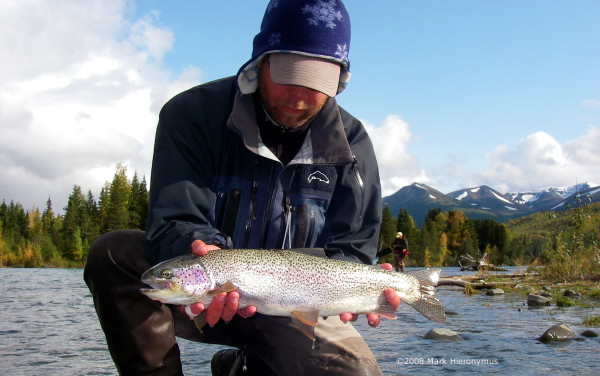 As with the tippet material, there are a wide variety of bead hooks to choose from. Short-shanked scud-style hooks are probably the most popular hook style for beading, followed by octopus-style hooks. Once again, there are pros and cons to each hook type - scud-style hooks with straight eyes can't be snelled like octopus-style hooks, but the straight point of the scud hook tends to snag less than the kirbed (offset) point of the octopus hook. Another consideration in hook choice is size, and for this we recommend the smallest hook possible, taking into consideration the size of the bead. For 6mm beads, a size 8 or 10 is appropriate, and for 8 and 10mm beads, a size 6 hook is standard.

Overwhelmed yet? We haven't even gotten into bead selection yet, so hold on tight. There are many different factors that go into bead size and color selection, so many that we can only begin to list a few of them...What salmon egg are we trying to imitate? How far along is the spawn? How fast is the water? How deep is the water? How much visibility does the river have? What time of day is it? Is it overcast, or is the sun out?...You get the picture. There are no hard and fast rules to bead selection, but here are a few things to consider when making your bead selection for the upper Kenai:

To imitate King eggs, use 10mm or 12mm beads.
To imitate Sockeye eggs, use 6mm or 8mm beads.
To imitate Pink salmon eggs, use 8mm or 10mm beads.
Oranges, reds, and other natural, semi-transparent hues imitate freshly dropped eggs.
Opaque pinks, darks, and washed-out colors imitate eggs that are...not so fresh.
You can get away with larger beads in faster water, but fish slow water with smaller beads.
Bright beads are often most successful on bright days, and dark beads often outfish others on dark days or in darker (more turbid) water.
If all else fails, fish something orange and round.

There are many schools of thought on tippet type, leader construction, and hook and bead selection, but one thing the experts agree on is that to be properly rigged, a bead needs to be "pegged" or stopped on the leader above the hook to be fished correctly. If you haven't already, check out Mike Cole's excellent article "Beads: The Bare Naked Truth" for good advice on how to properly peg a bead. Mike's article also has a great section on how to fish beads, so we'll let him do the heavy lifting on this one.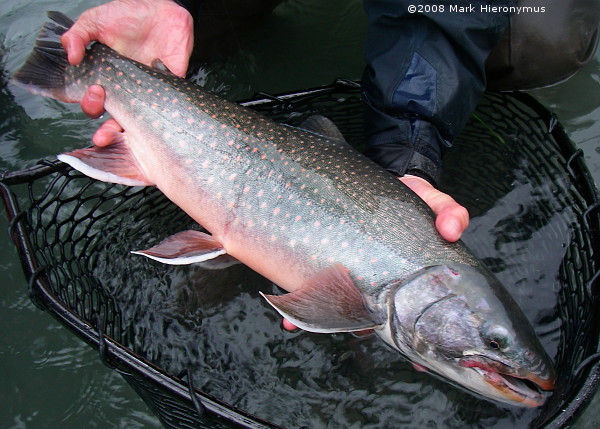 Throwing flesh flies under an indicator is another popular method of fishing on the upper Kenai. For this, the leader, tippet, and split-shot are the same, but instead of a bead, a fly meant to imitate decomposing salmon flesh is used. The big trout and char of the upper Kenai are "calorie hogs", and won't pass up a big chunk of salmon meat if they can get it. While flesh flies can be effective in the main channel, they really shine in back-eddies and slower water.

If bead and indicator fishing isn't your cup of tea, the upper Kenai also hosts some excellent swinging water. Two-handed rods (often called Spey rods) in the 11'6" to 13' range and between 5 and 7 weight are a perfect match for even the largest trout and char that the river has to offer, but will still "get bent" under the weight of a more modestly-sized fish. Swinging a two-hander on the upper Kenai generally means fishing large, weighted flies on sink-tips and a Skagit-style line. Flies meant to imitate large strips of salmon flesh are popular, as well as MOAL-style leeches and sculpin patterns. Fish these flies in the "down-and-across" style on soft insides and current seams, but don't be afraid to swing the long tailout flats as well.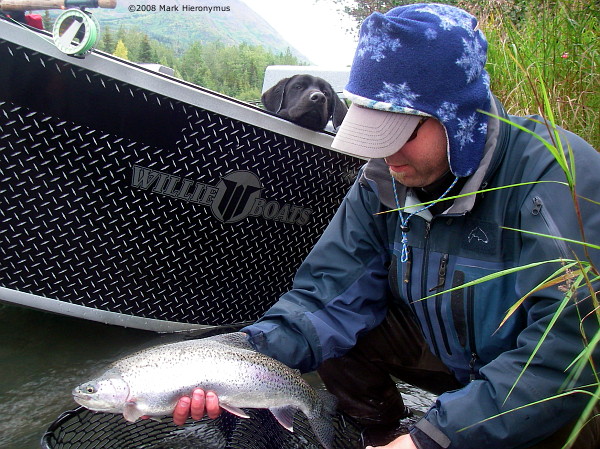 Eggs and flesh aren't the only game on the upper Kenai, however. Even in the midst of the salmon-parts feeding frenzy, trout and char can be seen sipping at bugs or slapping at smolt and fry swimming near the surface. When the uper Kenai fish are "on" and in feeding mode they can be coaxed to the surface to take a dry fly, even if there isn't a major hatch occuring at the moment. For the swinging crowd, try skittering a caddis or skating a salmon fry imitation on current seams and across tailouts - you might be pleasantly suprised.

The middle section of the upper Kenai, also called Sportsman's to Jim's landing, is the most heavily fished portion of the upper river, but good action can be had from Cooper Landing at Kenai Lake all the way to the braids at Skilak Lake. For the bank-bound angler, access is somewhat limited, but good fishing can be found at the mouth of the Russian River, as well as a few other areas that have turnouts or parking lots. The upper Kenai is fairly flat and hazard-free and can be floated in most river-safe watercraft, but only experienced oarsmen should try the Kenai canyon, home to some class II and III whitewater. For folks coming to experience the upper Kenai for the first time, we highly reccomend hiring a guide for a day or two to get the "inside scoop" on the river's mood. The folks at Troutfitters in Cooper Landing know the upper Kenai inside and out, and can give you the chance to hook the trout of a lifetime.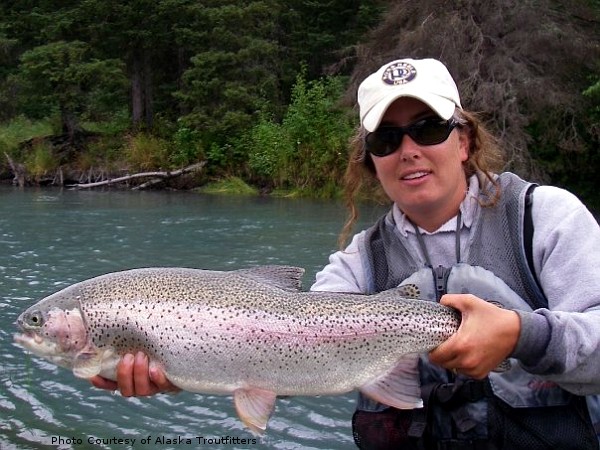 Be sure to consult the ADFG regulations before you fish or boat on the upper Kenai, as there are seasonal bank closures, motor prohibitions, and gear restrictions in place for much of the year. The friendly Alaska State Troopers maintain a presence on the river and have heard all of the excuses before, so we strongly suggest that you do your homework before you head to the river. Also, be mindful of the local wildlife - the banks of the upper Kenai are home to a large population of Brown Bears and Moose. Both the United States Forest Service (USFS) and Alaska Department of Fish & Game (ADFG) have a tremendous amount of information on traveling and fishing safely around the wildlife of Alaska. We strongly recommend reading this and getting a clear understanding of the essential practices.

The Kenai River is the most heavily used sportfishing river in Alaska, and the upper Kenai in fall gets quite a bit of loving attention from trout fanatics from across the globe. It might be crowded occasionally, but the amazing thing is there are always enough fish to go around. If the opportunity to fly-fish for trophy trout and char is on your "to-do" list this year, do yourself a favor and hit the upper Kenai - odds are you won't be disappointed.

GEAR WE LIKE
Winston BII-x 7100-4
Sage Z-Axos 7110-4
Sage Z-Axis 6110-4
Sage Flight 7100-4

Ross CLA 3
Sage 2080
Nautilus FW 5+
Abel Super5N

Scientific Anglers Sharkskin Magnum Taper
Rio Nymph Line
Sage Indicator Taper
AirFlo Skagit Compact
Airflo CCT sinktip
Rio T-series sinktip

Kenai "Big Hitter" Package
Kenai "Getting Started" Package

Kenai Deluxe Large Bead Selection
Guide Model Beads
Eggs and Flesh Fly Selection
Articulated Lady Flesh
Barely Legal
Happy Meal
Choker
Twofer
Dolly Llama
MC's Sculpin
Titanic Caddis