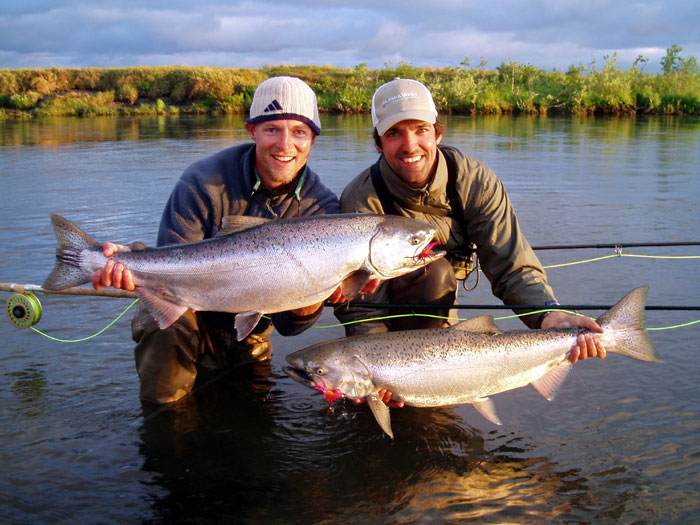 Alaska West is a remote, fixed tent lodge in far western Alaska on the coast of the Bering Sea. In our opinion, it is one of the most perfectly situated camps in all of Alaska. If swinging flies to ocean-bright king salmon sounds good to you, Alaska West is the place to be. If fishing a top-water mouse pattern for rainbows on a river with few other anglers is your idea of a good time, Alaska West is your kind of place. If huge waves of bright silver salmon surging up a river appeals to you, check out Alaska West.


The Fishing
The camp is located 5.5 miles from the mouth of the Kanektok River in the Togiak Wildlife Refuge.The Kanektok River is a medium to large, clear water river that hosts all five species of salmon, rainbow trout, Dolly Varden, and grayling.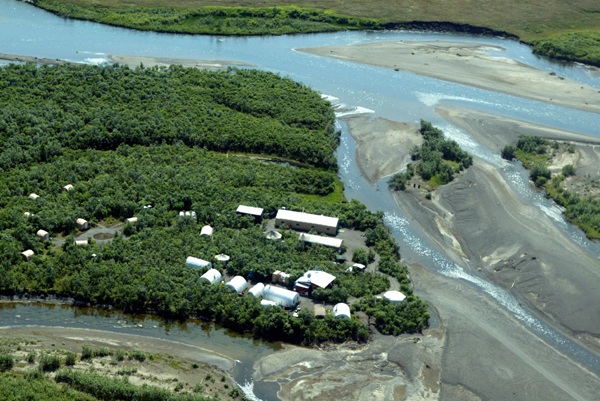 Alaska West sits smack in the middle of some of the finest water in the world for swinging flies at king salmon. Steelhead and Atlantic Salmon anglers take note! It is no easy task to find swing-friendly water with abundant king salmon in Alaska. If fishing from long gravel bars, using a two-hander to deliver a fly, and hooking chrome bright kings sounds like a dream come true this is your kind of place.
Downriver from the camp is the larger water, including the long gravel bars where the kings hold, the deep snaggy channels where the big rainbows lie, the backwaters that load with silvers and the tidewaters full of salmon fresh from the salt. Upriver from the camp, the river makes a transition to smaller water, side channels and tributaries. These sections allow hiking up channels for rainbows, targeting salmon in smaller water, making day-long drifts fishing for "anything" and working extremely productive Dolly flats.
Through an exclusive partnership with the Native Village of Kwinhagak and the Coastal Villages Region Fund, Alaska West operates daily guided fishing on the nearby Arolik River. Guests staying at the Alaska West camp can commute to the Arolik each day. Imagine a 50 mile long river in Western Alaska that only has 4 guided anglers a day on it. The Arolik has excellent clarity and is about half the size of the Kanektok. It is home to all five Alaskan salmon species, rainbow trout, Dolly Varden and grayling. There is no more beautiful rainbow than an Arolik rainbow! Their vivid spotting and bright colors are the epitome of a "leopard bow." To spend a day on the Arolik is to see Alaska as it was 100 years ago. As one of only 4 guided anglers permitted to fish per day on the Arolik, you will rarely see other anglers. We're very forunate to have the opportunity.
The Camp
Alaska West is a fixed tent lodge. What does this mean? In short, comfortable but casual. For more on the accommodations at Alaska West click here .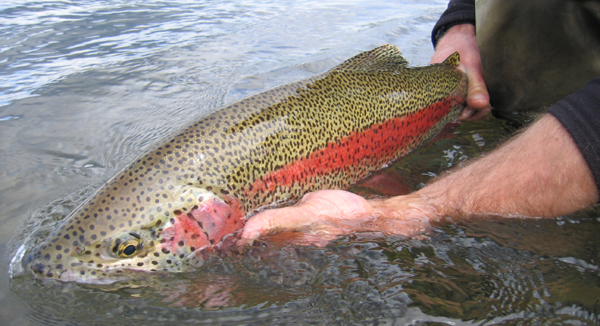 Rates for the 2012 season:
We often hear from our guests that Alaska West is a tremendous value in the world of Alaskan lodges. Once you've come to experience the fishing and hospitality here, we think you'll agree.
Fishing with Alaska West on the Kanektok River costs $5000. That price includes 7 nights and 6 days of guided fishing, meals, lodging, flies, terminal tackle and loaner gear. In addition, guests tip an average of $500 and purchase their plane tickets between Anchorage and Quinhagak, Alaska for approximately $700. Fishing on the Arolik River for a week with Alaska West costs $5600.
The 2012 season runs from June 11th to September 4th. Plus, all trips to Alaska West include emergency medical services provided by Global Rescue.
The seasons book quickly on a first-come, first-serve basis. If you're interested in booking on specific dates or pursuing specific salmon species at the peak of their run you'll want to contact us well in advance. Call us at 907-586-1550 to discuss the best dates for your fishing trip.

For more information on the gear to bring to Alaska West click here .